Be careful what you wish for…
I'm starting to think I liked it better when the Australian Christian Lobby never mentioned Jesus.
The ACL's website describes the organisation's mission in the following terms:
"Righteousness exalts a nation, but sin is a reproach to any people. Proverbs 14:34

To this end, Christian institutions are being undermined. Churches are being pressured by new moral and legal norms. Individuals who speak or live consistent with truth are made a prey.

To stand for truth in public as a relentless, unquieted, and effective voice, is a leadership role that is desperately needed. It requires divinely inspired courage, wisdom, and endurance.

But the courage of one inspires the courage of others. And the truth, whenever it is spoken, will yield fruit."
It also says:
"Isaiah 59 records God's displeasure at the paradigm in Israel which so closely mirrors the concerns articulated in Australia. In particular, the Lord marvelled that "there was no one to intercede."

ACL seeks to ensure that such a statement cannot be made of modern Australia. To intercede for the cause of truth, righteousness, and justice in the public squares is our burden and our core business. This includes interceding for the cause of those who are made a prey."
And finally:
"We want to see Christian principles and ethics accepted and influencing the way we are governed, do business and relate as a society. We want Australia to become a more just and compassionate nation."
Now. These might sound like noble aims; the sort of thing that most Christians would want to get on board with out of love for our neighbour. This courageous standing for righteousness in the public square sounds like a tremendous thing to do, and the 'leadership' it involves sounds positively heroic. Glorious even.
It sounds a lot like Rodger Ramjet. Now, whenever I read anything by the ACL I'm going to be singing this theme song in my head.
Martyn Iles now likes to dish out his wisdom and leadership via his video blog and his Facebook Page. Now, I'm not really in a position to judge; I have a blog, after all. And a Facebook page. But I did read this missive from  Sunday night, reflecting on the sort of leadership the yoof of todayTM require, the sort of leadership or example the ACL and its head hero would like to bring to the public square in pursuit of truth, justice, and the Christendom way.
Iles says:
I am constantly asked questions along the lines of "how can we reach young people?"

One thing I have learned over the last decade is, if you are a man, today's young person will be drawn to your:

1) Strength
2) Wisdom
3) Goodness
Put simply, they are searching for people to look up to; people who tower over them.

Stop trying to be their bestie and their equal. Stop living like an apology to them. They don't want friends and equals – they have people their own age for that, who will always be better at it.

They want trustworthy leaders and examples.

And here's the tragedy: they often don't find them.
People just need to know where to look for this sort of leader. One who stands above the fray and fixes problems not by being a 'bestie' to those they're leading, or their equal…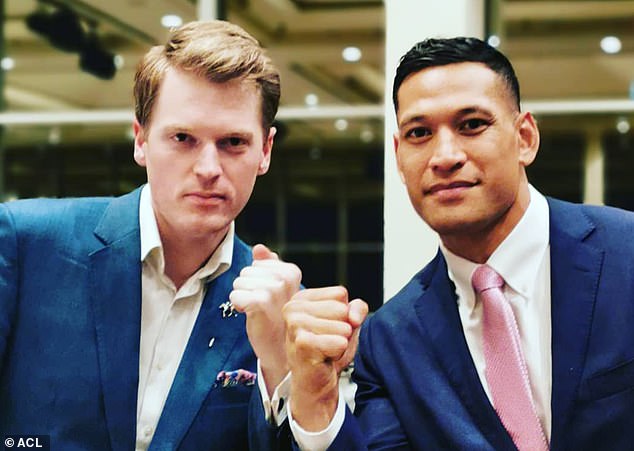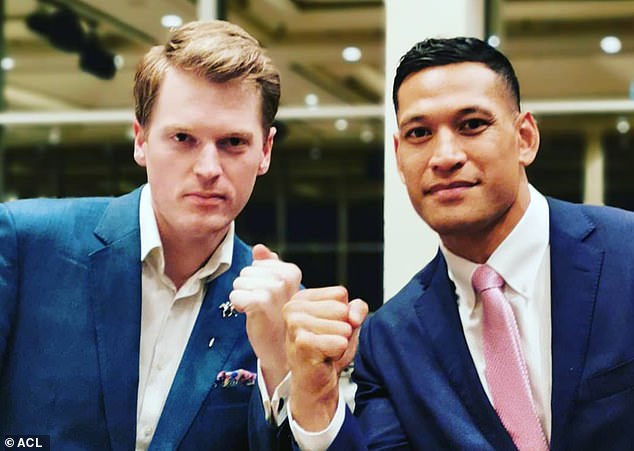 … But by being 'trustworthy' — you know, not slandering women who come forward with embarrassing information that your new bestie and equal is someone you're not equally yoked with because they deny the fundamental tenets of your faith… like the Trinity, and even your own salvation because you were presumably baptised in the name of Father, Son, and Spirit… Trustworthy, like coming forward and saying "yes, this is true, Israel's beliefs put him outside the Christian church as we understand it, but we support his rights to hold religious beliefs we profoundly disagree with." Instead of attacking someone as "having an axe to grind"…
I just want to very briefly unpack the problems with both the ACL's 'about' page, and Martyn's logic in this Facebook post, just for a moment.
The ACL has a strong track record of making natural law arguments and wisdom arguments for public and private morality and righteousness in the Australian cultural frame; and I tend to agree that natural law and wisdom are good things because they tend to be oriented towards the intended telos of all created things — they reflect the divine nature and character of God; nature is ordered to grace. God has two books of revelation — the natural world, and his revealed word, which culminates in the person and work of Jesus Christ, the word made flesh (John 1:1-18, Hebrews 1, Luke 24, etc). But here's the thing; the ACL wants their leadership on moral and political issues to influence Australia, and they seek to exercise this leadership through wisdom and natural law arguments, and often through political power and legislation (they are a political lobby group, after all). Their approach to social change is 'top down' though they are a grass roots organisation (so they're attempting to change the top down approach from the bottom up). Confused? Good. It gets worse.
The Bible suggests there might be a problem with this approach; the human heart. Romans 1 says that rather than creation being ordered towards grace in the human heart, creation is ordered towards self; while all things that have been made were made to 'reveal the divine nature and character of God,' we humans take creation and worship it in God's place (Romans 1:20, 25). This does things to our capacity to recognise wisdom, and, in fact, we humans become fools. Romans has an answer for this foolishness; the new hearts that come through the Gospel, which Paul calls the power of God (Romans 1:16). The Gospel reveals the righteousness of God. The righteousness of God is actually revealed not in the law — whether natural or Old Testament moral law; but in Jesus, through the Gospel (Romans 1:17). The law, the Old Testament variety, actually reveals our unrighteousness (Romans 3:20), it isn't so much a guide for righteousness but a pointer to its fulfilment (the same logic from Matthew 5, and Luke 24 — the law and the prophets point to and are fulfilled in Jesus). The ACL wants a more righteous Australia, but Paul says that righteousness comes from only one source, he says: "But now apart from the law the righteousness of God has been made known, to which the Law and the Prophets testify. This righteousness is given through faith in Jesus Christ to all who believe." (Romans 3:21-22).
Without the Gospel our attempts at righteousness will come to naught and our claims of wisdom will be foolishness in God's sight. Paul makes a similar argument about the Cross being the wisdom of God, but foolishness to the world in 1 Corinthians 1. Without the Gospel we do not receive God's Spirit which unites us in Christ, and so gives us God's righteousness. Without the Gospel of the crucified Jesus — God's wisdom — and the transformation we receive by faith, there is no righteousness. Paul says this sort of endeavour is pointless.
Those who live according to the flesh have their minds set on what the flesh desires; but those who live in accordance with the Spirit have their minds set on what the Spirit desires. The mind governed by the flesh is death, but the mind governed by the Spirit is life and peace. The mind governed by the flesh is hostile to God; it does not submit to God's law, nor can it do so. Those who are in the realm of the flesh cannot please God. (Romans 8:5-8)
Campaigning for righteousness without the Gospel, as Christians, doesn't make you Roger Ramjet; it makes you a kamikaze Don Quixote; flying planes into windmills.
Which brings me back to Martyn Iles and the tall man syndrome on display in his post; he has observed a pattern in creation (wisdom), whereby the 'yoof of todayTM' require "strength, wisdom, goodness" and a towering presence; a Roger Ramjet like figure. Trustworthy leaders and examples who will stand strong against the dragons (possibly windmills) of modern life. Leaders like himTM who happen to be tall and chiseled; not that there is anything wrong with being tall. I am tall. There's a bit of Jordan Peterson's upright, shoulders back, top lobster in Iles' observation — his suggestion that the sort of person the world wants, the type who might lead the sort of charge the ACL wants led, will be a person "who tower[s] over" others. A towering leaderly type who is strong, and wise and good. Now strength, and wisdom, and goodness are all virtues. But this towering righteous figure of courage; this dragon slayer; who is going to set an example — he's going to have to do that in one of two ways. He can do it Ramjet style, and seek to bring righteousness to the public square through law and order (not the TV show), through politics and power, through 'towering strength' while people look up to them… standing up against anyone — even Christian women concerned about the Trinity — who'll get in the way of truth, justice, and the Christendom way; or he can do it like the Apostle Paul, as he imitated the Lord Jesus Christ.
These two choices are choices Martin Luther described as the choice between adopting a "theology of glory" or a "theology of the cross"… Paul had a particular understanding of the posture Jesus took towards others; it wasn't one of 'towering over' but of sacrificial service; of lowering and letting go of status; to the point of humiliating death on the cross; Jesus went as low as could be (Philippians 2). This was the example Paul followed; he saw the cross as God's wisdom, which meant he didn't come into the public square as a burnished up champion in armour riding a steed in triumph, towering above all, but as the vanquished captive at the end of the procession. The humiliated loser. He contrasts himself with a Corinthian church who perhaps think they're campaigning for a more righteous Corinth, but really they're campaigning for a more worldly Jesus; the Corinthian church is obsessed with worldly power and status and influence. And Paul wants to turn their whole world upside down by pointing them to the cross.
"For it seems to me that God has put us apostles on display at the end of the procession, like those condemned to die in the arena. We have been made a spectacle to the whole universe, to angels as well as to human beings. We are fools for Christ, but you are so wise in Christ! We are weak, but you are strong! You are honoured, we are dishonoured! To this very hour we go hungry and thirsty, we are in rags, we are brutally treated, we are homeless. We work hard with our own hands. When we are cursed, we bless; when we are persecuted, we endure it; when we are slandered, we answer kindly. We have become the scum of the earth, the garbage of the world—right up to this moment." — 1 Corinthians‬ ‭4:9-13
And when it comes to the example Paul thinks he is following in this posture — one that shapes his 'becoming all things' including a servant, to all people, is the example of Jesus; the Jesus he describes in Philippians 2. He says to the Corinthians:
"Follow my example, as I follow the example of Christ." — ‭‭1 Corinthians‬ ‭11:1‬ ‭
And if it's not clear that he means the crucified Jesus he's been preaching about — as he has resolved to know nothing but Jesus and him crucified; preaching the Gospel — the power of God — when he writes a return letter to the church in Corinth after they've signed up a bunch of Roger Ramjet type Super Apostles who keep attracting people to themselves by being tall, and wise, and eloquent and all the things the Corinthians wish Paul was… he returns fire with:
"If I must boast, I will boast of the things that show my weakness." — ‭‭2 Corinthians‬ ‭11:30‬
‭And then describes his calling, from God, and his understanding of the rationale for delighting in the world treating him the way it treated Jesus.
"But he said to me, "My grace is sufficient for you, for my power is made perfect in weakness." Therefore I will boast all the more gladly about my weaknesses, so that Christ's power may rest on me. That is why, for Christ's sake, I delight in weaknesses, in insults, in hardships, in persecutions, in difficulties. For when I am weak, then I am strong." — ‭‭2 Corinthians‬ ‭12:9-10‬ ‭
Paul doesn't sound like the sort of figure who towers over others and who is looked up to; instead he follows the Lord who lowered himself.
Look, like the ACL, I'd love to see a more righteous and compassionate Australia; a more just nation. Unlike the ACL, I'd like to see those desires extend to policies that deal with refugees and asylum seekers, and to our first nations people, and to how we justly participate in the use of natural resource for life and our enjoyment and that of future generations… not just religious freedom, the Lord's Prayer in parliament (and not even that), abortion, etc.
Like Martyn Iles I'd like to see lots of examples of Christian leadership raised up. I'd just like to see them raised up to testify to Jesus in the public square and reveal the source of God's righteousness; and to do that by making it clear that God is revealed not in Roger Ramjets jawline and muscular heroism, but in the mess and blood and sacrificial humiliation of the cross. We're not just tilting at windmills; there is a dragon. Satan. A dragon defeated by the death and resurrection of Jesus who still has followers who like to wield beastly worldly power to fight against God's kingdom; this is John's apocalyptic vision of the economic and political power wielded by the Roman empire. John describes the witness of the faithful church — the 'two lampstands' of Revelation — and its results.
Now when they have finished their testimony, the beast that comes up from the Abyss will attack them, and overpower and kill them. Their bodies will lie in the public square of the great city—which is figuratively called Sodom and Egypt—where also their Lord was crucified. — Revelation 11:7-8
The inhabitants of the world look on and gloat, but then, in the very next chapter John reminds us that the dragon was defeated; that Jesus dealt him a death blow in his crucifixion and now he's thrashing about mortally wounded. The cosmic, apocalyptic, victory has already been won; when the curtains are pulled back on the heavenly significance of Jesus' humiliating death we see the destruction of unrighteouness secured through "the blood of the lamb, and by the word of their testimony" (Revelation 12:7-17).
So by all means, let's call for courageous leadership in the public square; but that looks like testifying to Jesus Christ, not calling people to law and order. The call to law and order will fail to produce the righteousness the ACL desires; their own handbook, the Bible, suggests theirs is a fool's errand. They are bringing a 'theology of glory' approach to a fight that requires a 'theology of the cross.' Luther coined these categories in The Heidelberg Disputations, a public debate about theology (the sort the ACL tells us, or at least Martyn does, that we shouldn't be having in public). Luther condemns those who seek to produce righteousness by 'works of man' — whether that be leadership, or the creation of laws or policies, or even the preaching of the law without grace — and says the works of God always appear ugly and foolish like the cross; lowly rather than towering. He notes that just recognising good and virtuous things in the world does not make one worthy and wise, or a theologian; a true theologian "comprehends the visible and manifest things of God seen through suffering and the cross." A true theologian; a true leader who might point us towards righteousness, is one who frames his understanding of righteousness not through the wisdom and power of the world — looking for towering leaders, but through the folly and weakness of the cross, looking for self-effacing, servant leaders.
Luther says:
"A theology of glory calls evil good and good evil. A theology of the cross calls the thing what it actually is. This is clear: He who does not know Christ does not know God hidden in suffering. Therefore he prefers works to suffering, glory to the cross, strength to weakness, wisdom to folly, and, in general, good to evil. These are the people whom the apostle calls "enemies of the cross of Christ" (Phil. 3:18), for they hate the cross and suffering and love works and the glory of works. Thus they call the good of the cross evil and the evil of a deed good. God can be found only in suffering and the cross, as has already been said Therefore the friends of the cross say that the cross is good and works are evil, for through the cross works are dethroned and the "old Adam," who is especially edified by works, is crucified. It is impossible for a person not to be puffed up by his "good works" unless he has first been deflated and destroyed by suffering and evil until he knows that he is worthless and that his works are not his but God's.

That wisdom which sees the invisible things of God in works as perceived by man is completely puffed up, blinded, and hardened. This has already been said. Because men do not know the cross and hate it, they necessarily love the opposite, namely, wisdom, glory, power, and so on."
We don't need a generation of towering heroes, or Roger Ramjets, crashing their planes into whatever looks like a dragon. We need a generation of self-emptying theologians of the cross who model service and suffering for the sake of others; weakness not strength — who truly see the cross as the power and wisdom of God, not some thing to be moved past and overcome as we seek to bring God's kingdom of righteousness through our own power, but as the very key to the kingdom and the demonstration of its ethos and power. God's glory and righteousness is revealed in the weakness of Christ on the cross; and in his power to resurrect even in the face of those evil powers who would seek to silence the testimony of his witnesses; the church.
If you want a more righteous Australia, preach the Gospel to more Australians and trust that it is God's power for salvation for all who believe.