Baby Driver is a pretty interesting heist movie you can now find on Netflix. What sets it apart from other heist movies involving driving stunts (so pretty much all of them) is its soundtrack. Baby Driver uses music differently to any other movie I have ever seen. Baby Driver's creator, Edgar Wright, had the soundtrack designed before the movie was shot. The entire movie feels choreographed (in a good way). The music is deeply integrated not just into our experience of the movie as an audience, but into the life and experience of the protaganist. Baby.
Baby, played by Ansel Elgort, loves music. Baby was raised on music. His mother was a singer. He was orphaned, so music is his memory. The accident that took the lives of his parents also gave him tinnitus, and music helps him function because it drowns out the ringing in his ears.
Music adds colour and intelligibility to Baby's world. It helps him get by. It helps him operate at peak efficiency. Without it the deafening tinnitus interferes with his decision making; his perception of reality; his ability to function as part of a team (in this case teams of heisters, where he's the designated driver).
Without spoiling things too much — the major adversity Baby faces is not prison for his crime; a potential sentence of life behind bars, it's the potential sentence of life without music — life without hearing, and without being able to make sense of the world, that threatens Baby's long term ability to flourish. There aren't really any 'good guys' in the movie; but when Baby's antagonist, Jon Hamm's character Buddy takes away the thing Baby loves most, he targets his ability to hear; not just to hear, but to hear music.
He does this by firing a gun next to Baby's ears. It's deafening. The music switches off.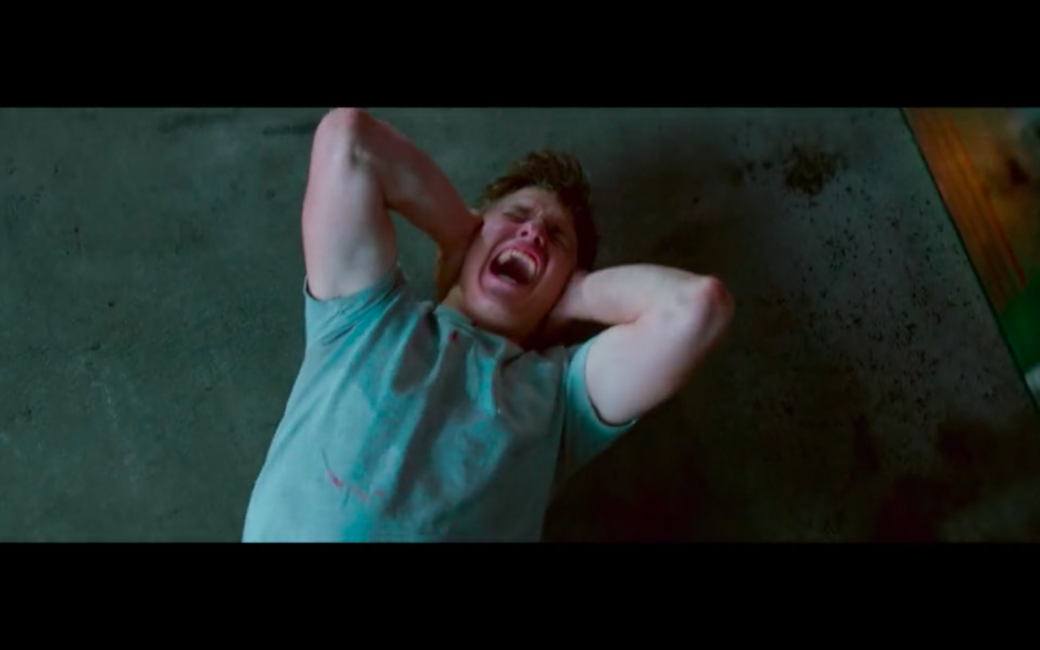 Baby is a broken man.
There's lots of talk happening right now about life beyond Covid-19 conditions; and the hope for a newer, better, restructured society emerging like a phoenix from the ashes of this disaster. Suddenly we're believing for a secular healing; a resurrection, a new creation.
Christians, of course, are familiar with this sort of hope for something better than the present; a time where disease and death are gone; where the lame run, the blind see, and the deaf hear. While my physical ailments pale in significance to others, as someone who is colour blind, I'm looking forward to a time when I might see the full spectrum of colour, just as Baby longs for a time when he might hear music again.
Indian Novelist Arundhati Roy wrote an essay imagining a better, brighter, future after describing, in bracing terms, the scale and size of the problems confronting India as it prepares for the onslaught of Covid-19 in a vast, and broken, system that takes its place globally in a vast and broken system. Roy optimistically called for imagination and revolution, with a nod towards our dependence on the transcendent (that the mighty are being humbled in the sort of revolutionary way John the Baptist predicted before Jesus proclaimed he had come to bring good news of liberation to the poor — and that the posture this humiliation brings to the mighty is a posture of falling to one's knees in dependence on some other). Roy says:
"Whatever it is, coronavirus has made the mighty kneel and brought the world to a halt like nothing else could. Our minds are still racing back and forth, longing for a return to "normality", trying to stitch our future to our past and refusing to acknowledge the rupture. But the rupture exists. And in the midst of this terrible despair, it offers us a chance to rethink the doomsday machine we have built for ourselves. Nothing could be worse than a return to normality. Historically, pandemics have forced humans to break with the past and imagine their world anew. This one is no different. It is a portal, a gateway between one world and the next. We can choose to walk through it, dragging the carcasses of our prejudice and hatred, our avarice, our data banks and dead ideas, our dead rivers and smoky skies behind us. Or we can walk through lightly, with little luggage, ready to imagine another world. And ready to fight for it."
Our issue is that like Baby, we, particularly in the west, are trying to imagine a new world without our senses; without being able to perceive the world as it is, let alone imagine it as it could be. We are deaf. There are plenty of gunshots being fired around our ears; because to raise one's head in the western world is to be caught in the cross fires of a culture war.
My friend Stephen McAlpine presciently raised this as an objection to Roy's optimism in a Facebook discussion, noting that any talk of a new society — of being able to walk lightly through this time 'imagining another world' — can't survive the reality that every element of public life now, and of civic imagination — our ability to envision and act towards a new future — every act is clouded by the culture war. And that this culture war is often fought out as a civil war within the church.
I fear that our eschatological optimism about a time beyond this age of Covid-19 will only lead to disappointment so long as we are placing our hope in the wrong source of transformation. It may well be that we emerge with a kinder, gentler, way of life together; it may even be that this pandemic heralds the disruption and end of capitalism and Babylon; it may at least serve as a wake up call to Christians that we have been far too wedded to the Babylonian structures of this world, and the conditions that give rise not just to pandemics like this, but to the awful mixed bag of responses and conditions for people in the slums of India, and outside the upper class of the United States (and in various nations around the world). There will almost certainly be a re-imagining of our politics through this crisis. The Guardian ran a piece which, depending on your political persuasion, featured the lion lying down with the lamb in Australia's national cabinet — as conservatives and progressives have come together to seek the good of the nation, rather than ideological self interest.
But lasting change — a new creation — needs an animating vision. A story. A shared vision of human flourishing — and one of the reasons we have culture wars at all is that this vision is contested. Roy's piece notes the implications that different religious, economic, and political ideologies have on the way nations and communities respond to this virus.
One of the roles of the church, in society, is that we have an animating story — a vision, that we believe to be true. We believe that we hear clearly, free from tinnitus, and able to enjoy the music hard-woven in to the fabric of creation. We have a role to play in articulating a vision, and to some extent, the problems inherent in alternative visions. Again, I'd direct you to my friend Arthur's twitter thread articulating precisely why we might need to offer an alternative vision; the idea that 'Babylon' — the status quo — will have its own inertia, and its own response, to post-pandemic life makes some optimism tricky to maintain; the idea that Babylon is actually a religious, or spiritual, impulse built from the worship of false gods and created things (those things close to, or at the heart of capitalism itself) should make us even less optimistic about new ways forward. It is likely that if capitalism is toppled, or the systems that we hope to see changed — systems that are ultimately religious — they will simply be replaced with alternative gods. Arthur also put me on to this piece from Aaron Lewis Metaphors We Believe By, that articulated the religious impulses at the heart of modern gods (in way that both he, and I, observed is reminiscent of Neil Gaiman's American Gods). His point is that the metaphors we moderns use for aspects of life that are beyond our control (like we might use Babylon, from a Christian framework), can help us understand that people behave, and pursue visions of the good, in essentially religious ways.
Which creates problems; because with that comes a tendency towards 'holy war' — god v god showdowns played out amongst religious adherents. This is what's really going on in our tendency towards culture wars (and why optimism about the post-covid age might be naive). If we don't have a shared eschatological vision — an animating story about the future, the 'ends of the world' (as in its purpose and destiny), then we won't get on the same page in recalibrating the present. This is true for different 'religious groups' (including actual religious groups), or ideologies, as we compete for territory in the new world we're imagining, but it's also true for us within Christianity, where we're just as prone to internal culture wars.
The problem with culture wars is that they are deafening. Like the gun fired next to Baby's ears, they kill the music. They kill our imagination. They stop our ability to discern truth; to speak well to others; to envisage better futures by catching hold of the song that animates creation; or the story that we were created to live and to pursue into the future — the story of the fall of Babylon and the emergence of a new eden.
Our culture's tendency to religious wars — to play the culture war game — has truncated our contribution to culture as Christians. Seeing everything through the lens of war and competition stops us being a faithful presence at the public table, in the conversation about the possible renewal of our cultural architecture or what Charles Taylor called our 'social imaginary' — the practices, culture, and physical architecture that shape how we live and what we believe and so inform how we understand reality. Our lack of ability to hear because of the gunfire happening next to our ears means we don't just not sing the song we were made to sing; we become tone deaf. And so, the very public acquittal of a clergyman on sexual abuse charges automatically gets interpreted through a culture war grid by Christian contributors to the public square; to those simultaneously imagining a post-Covid political and economic future (through that same culture war grid); because we have no other song. We are deaf. And that's a problem.
James Davison Hunter is the Christian sociologist who coined the term 'culture war'; in 'To Change The World,' he described the deafening effect of our tendency towards conflict. He describes the contest for ideas (that will still be the backdrop of any post-Covid future because they are essentially religious) as the grounds that produce this culture war. Pluralism might, itself, make an uncontested future impossible.
But pluralism today—at least in America—exists without a dominant culture, at least not one of overwhelming credibility or one that is beyond challenge. This doesn't mean that there isn't the effort to establish a dominant culture. This, after all, is what the "culture war" in America has been about—a contest for cultural ascendancy and the capacity to enforce conformity.
The question then is how we act as Christians, and citizens, in pursuit of a newly ordered world; how we stand against, rather than participate in, Babylon. How we hear the song of heaven; and live our lives oriented towards the story the Bible paints of the future of the world, rather than conforming to the patterns of the world; to Babylon. Hunter's conclusion is worth hearing as we prepare ourselves, as the church, to potentially participate in the re-shaping of the public post-Covid, without reverting to culture wars. Hunter envisages a "new city commons" (I'll touch on the prospects of such a commons below), but this is perhaps a vision that might shape a future no longer dominated by culture wars.
America was never, in any theologically serious way, a Christian nation, nor the West a Christian civilization. Neither will they ever become so in the future. The goal for Christians, then, is not and never has been to "take back the culture" or to "take over the culture" or to "win the culture wars" or to "save Western civilization." Ours is now, emphatically, a post-Christian culture, and the community of Christian believers are now, more than ever—spiritually speaking—exiles in a land of exile. Christians, as with the Israelites in Jeremiah's account, must come to terms with this exile…
He says this position means we cannot possibly play the culture war game (partly because we cannot possibly win), and that we might have to model a new way forward beginning with listening, and seeking to be a "faithful presence" in the world; a presence faithfully anticipating the renewal of all things. He notes that the first step towards a transformed commons; or a Christian contribution to such a space, is getting our own house in order; ceasing the culture wars that divide Christians who split into conservative and progressive camps, and refocusing on the centre — that which unites and animates us, the future — the story — that we share. Again, there's an optimism here that fails to recognise that some of the fundamental split between conservatives and progressives is actually a fundamentally different conception of God, and the Christian story, and yet there is much more that Christians hold in common than a 'culture war' posture allows; such a posture deafens us to the truth. But he is conscious that the "animating forces" at work in the world today — the modern gods, or metaphors — are inherently religious, spiritual, forces that serve to dehumanise and destroy (they are Babylonian in the Biblical sense). There is more than a hint of this in Roy's account of life in India. Hunter sees these spiritual forces at work in humanity's more destructive tendencies, the tendencies that might have skin in the game in re-shaping a post-Covid world for the worse, rather than for the better:
I would certainly include here such forces that create conflict and violence over scarce resources in the far reaches of the world, often in the name of peace; the underside of technological innovation that instrumentalizes human beings, even while the technologies themselves claim to improve conditions for human life; and the processes in the economy and in society that undermine the bonds of family, friendship, and community, often in the name of personal freedom. I would include dispositions that continue to denigrate persons simply by virtue of their social class, skin color, ethnic background, nationality, mental or physical capability, age, beliefs, gender, and so on. I would also include realities closer to home: the ideologies that predispose people to measure human worth and to find personal significance in material possessions, in appearance, in minor celebrity, or career success, or the cultural forces that orient people to find emotional stability and even serenity through various medications—prescribed, licit, or illicit. Perhaps even more profound, though far less obvious, are the destructive tendencies that emanate from the forces of dissolution. The weightlessness that attends experience and all manner of speech in the late modern world weighs heavily on Christians and non-Christians alike, but for the Christian, it undermines the very reality of belief and witness. One could go on, for the sources of bondage in the world are myriad. The good news is that the shalom of God not only exposes them for what they are but also offers a radical alternative grounded in the hope of the new creation.
Hunter's model for the church engaging with society, rejecting the culture wars, as those who can truly hear the music, is for the church to first engage itself in formative practices that see us animated not by 'culture wars' or these forces, the patterns of Babylon, but by our own song and story, living lives grounded by this "radical alternative grounded in the hope of the new creation."
We have to step out of the culture wars — within the church, and in the way we participate in the conflict around us — because these wars are deafening, and the model itself — the pursuit of power — undermines the very nature of our story and our hope. Our public square is Babylonian, like in Revelation, where faithful witnesses are executed in the public square of 'that great city' — Babylon. Rome. Jerusalem — and our capacity to change that square is limited, especially if we take up Babylonian practices; though such hope is not historically (or theologically) unrealistic. It's in times such as these — moments of crises where Christians operated as those animated by something other than animus, but rather by loving service of others shaped by the radical hope of a new creation — that there have been profound and lasting changes to the world.
Like Baby, we have a happy ending, a long drive into a future beyond pain and suffering with the one we love.
We have an opportunity to rethink the doomsday device we've strapped ourselves in to; to move away from Babylon and offer an alternative; but we won't do this without a common grounding in our story and its future.
Like Baby there is a life beyond the deafening noise of gunshots and conflict and culture wars. The culture wars — and our being caught up in them as the people of God — will kill any hope there is of a better future.
We have a radical hope that shapes our picture of a post-Covid world; a new creation. It's this hope that first has to unite and animate us as God's people, before we might have any hope of contributing to a changed world. We have to stop being deaf to the siren song of heaven.
Then I saw "a new heaven and a new earth," for the first heaven and the first earth had passed away, and there was no longer any sea. I saw the Holy City, the new Jerusalem, coming down out of heaven from God, prepared as a bride beautifully dressed for her husband. And I heard a loud voice from the throne saying, "Look! God's dwelling place is now among the people, and he will dwell with them. They will be his people, and God himself will be with them and be their God. 'He will wipe every tear from their eyes. There will be no more death' or mourning or crying or pain, for the old order of things has passed away."

He who was seated on the throne said, "I am making everything new!" Then he said, "Write this down, for these words are trustworthy and true."

He said to me: "It is done. I am the Alpha and the Omega, the Beginning and the End. To the thirsty I will give water without cost from the spring of the water of life. Those who are victorious will inherit all this, and I will be their God and they will be my children.

Revelation 21:1-7