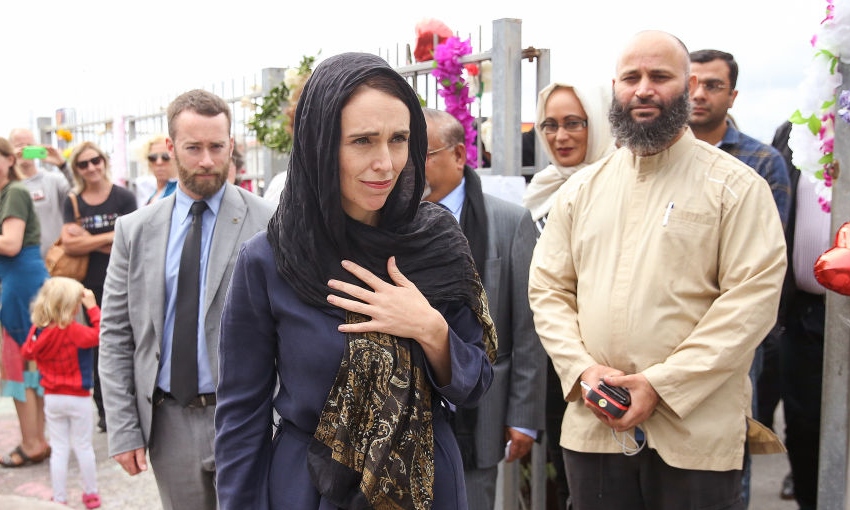 Jacinda Ardern is, from what I can tell, a lovely lady and an inspirational Prime Minister. You can tell a lot about a leader by how they respond in the crucible of a crisis; and Ardern responded to the recent Christchurch shooting with grace, poise, and a tonne of empathy. She won praise for her speeches, for her leadership in bringing people together across religious and ethnic divides, and for her humble empathy, especially when she wore the Hijab; an outward sign of solidarity with her religious neighbours. A religious symbol that she wore, not because she decided to subscribe temporarily to Islamic doctrine, but as a symbol of another sort of religion; unity and solidarity. In Ardern's speech at the memorial service she said the answer to the problem of terrorism lies in finding our shared humanity, and that the events in Christchurch now form part of our shared experience, and that this comes with a new responsibility.
"A responsibility to be the place that we wish to be. A place that is diverse, that is welcoming, that is kind and compassionate. Those values represent the very best of us."
She finished her speech quoting the national anthem; a call for unity across creed and race, and a call not just to our humanity but a prayer for divine intervention.
Men of every creed and race,
Gather here before Thy face,
Asking Thee to bless this place
God defend our free land
From dissension, envy, hate
And corruption, guard our state
Make our country good and great
God defend New Zealand
The attack on a mosque, a place of prayer, was for many in our modern age a racist attack (and though I haven't read the shooter's manifesto, race was certainly a part of it). But there's something more insidious about such an attack for those who have beliefs about the nature of religious belief; that exploring religious questions is part of what the podcast The Eucatastrophe described in an episode that discussed Christchurch as the fundamentally human 'religious quest.' For those of us with religious convictions the attack on a place of prayer is not just a hate crime, it's a different sort of sacrilege; an attack on something so profoundly located at the core of our experience of being human that we should have a deep empathy, even across religious or doctrinal divides; not simply because we believe our muslim neighbours are made in the image of God, but because they were killed while pursuing something so intimately connected to the fabric of reality; an experience we, as religious people, can relate to with a different lens. Our 'solidarity' with our muslim neighbours at this point should be of a different depth to the solidarity expressed by our secular neighbours, not because they care 'less' about the humans involved, but because they care less about the religious experience and religion as it defines our personhood. Though our 'secular age' might see religious belief, or any belief in the supernatural as contested or superfluous for understanding life in the material world; religious people see more to this world than just the material, more robust motivations for and solutions to 'terrorism' than just 'our humanity' (though most religious belief gives humanity a certain sort of sacredness), and more to the hijab than simply a marker of cultural practice that can be appropriated to whatever narrative we see fit (though, it's true, that there were people in the Muslim community who appreciated the expression of solidarity).
Ardern's use of the headscarf, and the praise she received for it, reveals something about how the modern world understands religious belief. Religious belief is just one commitment amongst many; one consumer choice, that we use to construct and perform our identity; one path to our 'authentic self'. Again, The Eucatastrophe digs into this brilliantly, but they, like the book Disruptive Witness, are digging in to Charles Taylor's work not just in A Secular Age but in Sources of the Self. When something 'transcendent' or divine is removed from our common 'social imaginary' — the backdrop of beliefs and 'things' that give our life meaning and help us understand who we are — we're left constructing meaning for ourselves. We can don religious garb without it meaning anything deep, because religion is no longer a fundamental driving part of our personhood — God and the 'givenness' of our life no longer constitutes who we are; religion is a market choice. That it is viewed this way explains, in part, why religion always loses out to sexuality in clashes of identity. Our modern world is not equipped to see religion as inherent to a person's personhood in the same way we understand sexual preference. You don't don your sexual attraction like a hijab; we can't, following a shooting at a gay bar, adopt those things that constitute a 'gay identity' the way we can use the words and symbols of religion after a shooting in a house of prayer.
It's interesting, with Islam, that it's so often understood in public dialogue in ethnic or 'race' terms; a reality that became starker as Sonny Bill Williams, a muslim, publicly participated in the mourning process around the events in Christchurch. Here's a man who obviously believes things deeply, but who also, when he isn't on the football field, is comfortable wearing the symbolic markers of his faith.
It's also interesting, with Islam, that because it's understood in ethnic or race terms, so little is said about Islamic doctrine on social issues; one can, it seems, don the Hijab in the western world without asking what that symbol means in other parts of the world; one can express solidarity with muslims without sharing any belief in the substantial elements of religious belief (that prayer isn't just to an empty room, but is part of a search for the divine); and one can do that only so long as one never has to come into contact with not just the question of the reality of a transcendent God, but the particularity of the sort of creeds brought together under the human banner 'New Zealand'… While I believe in a fundamentally different God to my Islamic neighbours, I believe in the one revealed in the divine person of Jesus, and so my doctrinal commitments are utterly different to other religious commitments, there is a 'shared quest' that I recognise in this community, and a shared framework of sorts, that stands at odds with the modern secular account of reality. I can stand with my muslim neighbours the same way the Apostle Paul stood with the religious philosophers in Athens, recognising this religious quest, while making a claim about the exclusivity of the truth found in Jesus, see how he balances this 'religious quest' with this claim of truth, while engaged in dialogue with other 'very religious' people:
The God who made the world and everything in it is the Lord of heaven and earth and does not live in temples built by human hands. And he is not served by human hands, as if he needed anything. Rather, he himself gives everyone life and breath and everything else. From one man he made all the nations, that they should inhabit the whole earth; and he marked out their appointed times in history and the boundaries of their lands. God did this so that they would seek him and perhaps reach out for him and find him, though he is not far from any one of us. 'For in him we live and move and have our being.' As some of your own poets have said, 'We are his offspring.'

"Therefore since we are God's offspring, we should not think that the divine being is like gold or silver or stone—an image made by human design and skill. In the past God overlooked such ignorance, but now he commands all people everywhere to repent. For he has set a day when he will judge the world with justice by the man he has appointed. He has given proof of this to everyone by raising him from the dead." — Acts 17:24-31
Paul speaks in categories almost universally shared by religious people; an assumption that there is a transcendent reality out there, and that the human religious impulse is not simply an act of identity construction, but the pursuit of something real and true. Something that will, ultimately, define who we are and shape the way we live. Not just a 'tack on' or a fashion accessory, but something fundamental to how we understand our personhood. Our muslim neighbours understand this in a way that our 'secular' neighbours do not.
It'd be curious to see how Sonny Bill would respond on Twitter if someone asked him what God's plan for gay people is. And curious to see how long people comfortably don the Hijab when confronted with genuine religious conviction. Which is an interesting hypothetical because of what is happening at the moment with Israel Folau. Another footballer. Another religious believer for whom religion is substantial not just symbolic; for whom religion is public, because it is part of his understanding of his personhood, not just private, and not just a consumer choice that he's made to look good on Instagram.
Israel first kicked off controversy because he was asked just that question, and he responded according to his beliefs (note, again, he responded in a way that I wouldn't). He 'doubled down' on that after much discussion, and apparently a new contract with a social media clause, and now he has been fired because he's in breach of his contract; because his comments (an articulation of his religious convictions) are in breach of Rugby Australia's inclusiveness policy (and, apparently also the NRL's own 'inclusivity' principles, that will allow a bloke convicted of a violent rampage in New York, and accused of domestic violence, to be registered to play despite public outcry). This is the same Rugby Australia who are sponsored by QANTAS, whose CEO is a well known activist for inclusion and rights of the LGBT+ community (as he should be). QANTAS put pressure on Rugby Australia last time Folau spoke up, and were vocal again this time, but this is the same QANTAS who partner with nationalised airlines from Islamic nations where homosexuality is a capital offence; it seems their real religion might actually be the more conventional god of 'mammon' (money), with 'inclusivity' a convenient piece of religious garb to don when it will make more dollars.
Rugby Australia's inclusivity policy includes religion as something they'll include… here's part of the statement they made in announcing they were going to no longer include Folau in the Rugby family:
"Rugby is a sport that continuously works to unite people. We want everyone to feel safe and welcome in our game and no vilification based on race, gender, religion or sexuality is acceptable and no language that isolates, divides or insults people based on any of those factors can be tolerated."
It's clear from the Folau case that it's not a definition of religion that would be shared by religious people with the sort of conviction about reality expressed by Paul in Athens; it's the approach to religion that sees religious garb as a bit of bling added to make an 'authentic' you, but a 'you' with a pre-commitment to a different religious framework — the one where 'humanity' is our solution, and where 'diversity' and 'tolerance' mean sameness (or a conviction to those things as ultimate 'goods' not as 'means' by which we live together through thick disagreement. If Folau's religious commitments were more like Ardern's hijab — something he'd hold loosely so that he could reach out to the Islander community, or the Christian market, and there was a dollar, or a fan or two, in it, then Rugby Australia might not come down so hard. But the reality is, Rugby has its own religious commitment to uphold, and Folau is now a heretic. One could ask if some of the commentary around Folau comes pretty close to intolerance and vilification of Folau based on his religious beliefs; but to do that, you'd have to convince the people you were asking that they've misunderstood religion.
But to come full circle, Ardern, who led her nation through a time of mourning; who modelled empathy and compassion to the religious other, showed that while she might be happy to grab a Hijab, so long as it doesn't mean anything substantial (or so long as she can re-appropriate it to mean what she wants it to mean), isn't really a fan of actual religious conviction. She, too, was asked about Folau's views:
"Obviously at a personal level I clearly don't agree with what he said, and … very mindful of the fact that he is for many a role model. He's a person in a position of influence and I think that with that comes responsibility. I'm particularly mindful of young people who are members of our rainbow community, there is a lot of vulnerability there. As I say, I totally disagree with what he's said and the way he's using his platform."
She could've said something like: "our unity as humans comes from our capacity to hold different creeds, and profound disagreement — even about each other — and still be united as people. I support Israel's right to hold these religious views, even as I disagree with him. I love watching him play football — even if it's for the Wallabies — but I believe these views are harmful to our rainbow community, and here's my alternative vision for our society…"  But she didn't. Because that's not how religion operates in our society, it's meant to be kept to privacy of the prayer house — until people who hate religious convictions (or people who hold competing religious convictions) attack religious people, then we'll "come together." We can't ask for unity amongst people of different religious convictions in the public enterprise on one hand, and then exclude those we disagree with on the other…
It's well within Ardern's rights to disagree with Folau; I disagree with Folau, but there's not a whole lot of 'solidarity' from the secular world for religious people when it comes to actual religious beliefs, or substance, and our right to operate in life in a way that doesn't just see 'religion' as a thing we tack on to this new, secular, view of humanity but as the thing that most profoundly defines who we are.
And so, the question for those of us who claim religious beliefs is increasingly going to be — is this how religion operates in your life? And if it isn't, could it be that your 'religion' is, to you, a 'consumption decision' that is about performing some identity, signalling something, just as Ardern's hijab was for her. And if so, what's the point? Especially if Paul's words in Athens are right, that our 'religious quest' comes from a creator God, a God who wants to be the foundation of our life, but who'll also judge us for false religion — for building our lives around 'idols' or 'gods' other than him; for taking our 'religious quest' and using that impulse to pursue 'human' solutions like "diversity," "welcome," and "inclusion" — good things though they are — at the expense of pursuing truth, love, and the God who made the universe.