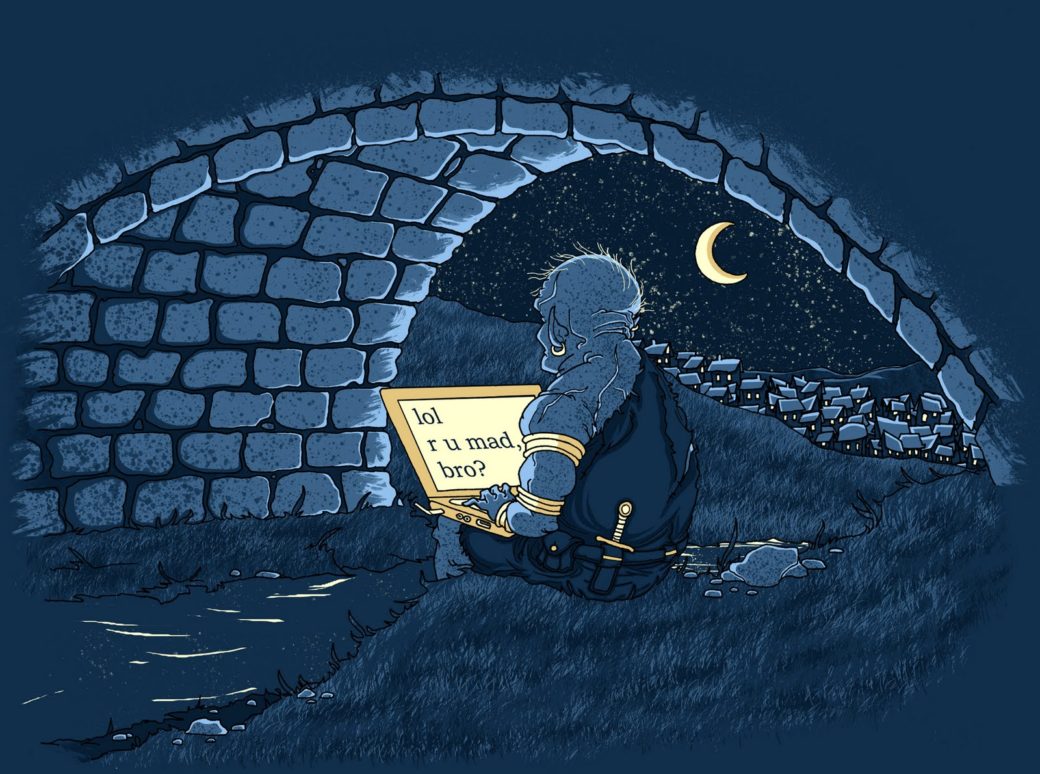 Image source: Threadless
What do you do when a small band of trolls attacks you, or your church, online? Whether its a bunch of people rocking up to vandalise your Facebook page, or people invading the comments section of your website, whether it's someone known to you, or a stranger, how are you going to respond to trolls? What'll you do if some disgruntled member of your community turns to a trolling community and asks them to target your page just for LOLs?
I confess, I hadn't really thought about this specifically until a merry band of trolls turned up dropping offensive comments and 1* reviews on our church Facebook page on Saturday. It's very hard to undo the sort of damage they do to your rating (but if you pick a church based on its Facebook rating, we need to talk). We received a tip-off that the comments were coming from a Facebook group dedicated to trolling, after somebody looking to cause a bit of trouble and damage decided to target our page; so I decided to head into the troll's den to see what I could learn, and I replied to a handful of the reviews. I think it went ok.
The trolling stopped soon after; but it'd be easy to get a little bit stirred up if a bunch of vandals started wreaking whatever havoc they could on your Facebook wall. It's in events like this that your approach to social media, and Jesus, really gets tested, and I had these handy principles bouncing around in my head as I replied. This stuff might all be obvious, but it is a fusion of PR principles and Gospel principles, which I'm in a position to offer, so having this framework might be useful for someone else when trolls attack.
1. Love your troll: Remember the inherent image-bearing dignity of the troll
If trolls are guilty of forgetting that the people at the other side of the pixels they create are people, with feelings, and families, and stories, and anxieties and pain, then it'd be a shame if we forgot that about them when responding. Trolls aren't, by their nature, being particularly nice, but they're people, and there has to be some sort of motivation for becoming a troll. Because they're people, they're people who are fearfully and wonderfully made by God and their trolling doesn't totally eradicate the image of God in them. How we treat people who are hurting, and who are hurting us, privately or publicly (and if you're responding to a troll it's likely going to be public) shows what we believe about humanity, and about who's ultimately in control. There are also these fine words of Jesus to consider, not to mention his example as he's beaten, nailed to a cross, and jeered.
"Blessed are you when people insult you, persecute you and falsely say all kinds of evil against you because of me. Rejoice and be glad, because great is your reward in heaven, for in the same way they persecuted the prophets who were before you."
Matthew 5:11-12
2. Pray for your troll.
Your troll is a person; a person who might one day put their trust in Jesus and be a person you spend eternity with; an immortal who will be made to be gloriously like Jesus. So maybe rather than tearing into them with your wit, or your perfectly planned response, you could pray for them first. That God might be at work in their heart.
"You have heard that it was said, 'Love your neighbour and hate your enemy.' But I tell you, love your enemies and pray for those who persecute you, that you may be children of your Father in heaven…" — Matthew 5:43-45
3. Respond by taking up your cross; not your sword (or fighting pen)
Thinking this way about your troll; remembering that even if they're acting like your enemy, you're called to love them, should take a little sting out of your response. Sure, they're probably saying stupid and hurtful things about you, and probably about Jesus too — and there's a real cost to that. But part of loving and forgiving our enemies is taking on that cost and not paying it back in kind.
You have heard that it was said, 'Eye for eye, and tooth for tooth.' But I tell you, do not resist an evil person. If anyone slaps you on the right cheek, turn to them the other cheek also. And if anyone wants to sue you and take your shirt, hand over your coat as well. If anyone forces you to go one mile, go with them two miles. — Matthew 5:38-41
The pay-off, of sorts, is that in responding this way you actually score a win for the good guys. Responding in kind — repaying evil with evil, makes you evil and loses your neutral audience.
Do not repay anyone evil for evil. Be careful to do what is right in the eyes of everyone. 18 If it is possible, as far as it depends on you, live at peace with everyone. Do not take revenge, my dear friends, but leave room for God's wrath, for it is written: "It is mine to avenge; I will repay," says the Lord. On the contrary:

"If your enemy is hungry, feed him;
    if he is thirsty, give him something to drink.
In doing this, you will heap burning coals on his head."

Do not be overcome by evil, but overcome evil with good. — Romans 12: 17-21
Plus, if you can't love your enemies when they're flinging some words at you, what are you going to do when they want to crucify you?
If you have confidence that Jesus really is king, and the cross is really a victory, then you don't have to grab a sword (or the 'mighty pen') to respond to an attack, you can keep taking up your cross.
"Put your sword back in its place," Jesus said to him, "for all who draw the sword will die by the sword. — Matthew 26:52
4. Criticism and crisis are an opportunity to show what you believe is truer and better than the alternatives
This is the best thing I learned (apart, perhaps, from the persuasive power of stories) working in public relations, and especially crisis management. You get more attention in a crisis; people are watching to see how you respond. A crisis is a chance to demonstrate the coherence and consistency of what you stand for, because if you can't stand under pressure then what you stand for is basically useless. A crisis is a chance to respond in an unexpected way that demonstrates your point of difference. Fight fire with fire and nobody will be able to tell you apart from the person trying to burn you… but be different, and the contrast is greater still.
If you can't respond to a troll with the Gospel — the good news of Jesus, his rule over your church and his example being what guides your response because at the heart of the Gospel is God's love for you — who've chosen to be his enemy —  then you need to check that the Gospel really is your 'key message'… the great thing about the Gospel is that it is the best and most disarming response to a troll. What power does someone who wants to harm you have when you know that Jesus wins, but that he wins by being crucified by God's enemies.
5. Respond with Humour — especially at your own expense (don't take yourself too seriously)
Being combative or unnecessarily defensive when everyone can tell your troll is a troll is what gives a troll their power and satisfaction. They want to cost you time and attention. They want you to get grumpy. Do the opposite. If you are quicker to admit your faults and failings than they are to point them out, you rob the troll of any power to say anything particularly hurtful. This makes you look human to those looking on, and like your identity doesn't depend on the words of your 'enemy' — it shows that your identity and security lie else where. And that's a good thing for those of us who are in Christ.
6. Humbly avoid getting into a silly argument, or exchanging insults, with your troll
Nothing wastes more time online than stupid arguments; and often the reason these arguments waste such time is a prideful desire to win, or to defend yourself and your reputation over and over again in the face of silly attacks. This point, and the next one, may mean that sometimes you shouldn't respond at all.
It's very easy to slip into the idea that thriving online, particularly on social media, is about getting as much attention as possible, and about managing your reputation so that you amplify Jesus' reputation. But his reputation is amplified when we are humbly confident in him. His reputation is damaged when we argue and joke and bicker like the trolls who are trying to make life difficult for us. Your presence on social media — as a church, or a Christian, isn't about you, but about Jesus. You are God's media — his image bearers who are being transformed into the image of Jesus. You represent him, not yourself. So be prepared to let it go, and realise, when you don't, it's Jesus you're representing with your words. Stay humble (this also helps you be self-deprecating).
Do not conform to the pattern of this world, but be transformed by the renewing of your mind. Then you will be able to test and approve what God's will is—his good, pleasing and perfect will. For by the grace given me I say to every one of you: Do not think of yourself more highly than you ought, but rather think of yourself with sober judgment, in accordance with the faith God has distributed to each of you. — Romans 12:2-3

Do nothing out of selfish ambition or vain conceit. Rather, in humility value others above yourselves…Do everything without grumbling or arguing, so that you may become blameless and pure, "children of God without fault in a warped and crooked generation." Then you will shine among them like stars in the sky as you hold firmly to the word of life.  — Philippians 2:3, 14-16

Nor should there be obscenity, foolish talk or coarse joking, which are out of place, but rather thanksgiving. — Ephesians 5:4

Avoid godless chatter, because those who indulge in it will become more and more ungodly. — 2 Timothy 2:16
7. Use wisdom to decide whether or not you should even reply
Turning the other cheek is an active thing, not just passive, so you might have to offer yourself up to your troll; but that's not always the wisest course of action. Responding is the absolute best way to feed a troll if you don't respond in such a way that it de-escalates the situation. There's wisdom in responding well, and it might take wisdom to realise that not responding at all is the best bet. I lean towards responding because of the next point. But Proverbial wisdom reminds us that there's a paradox to navigate here so that we don't end up looking like we're part-troll ourselves.
Do not answer a fool according to his folly,
    or you yourself will be just like him.
Answer a fool according to his folly,
    or he will be wise in his own eyes. — Proverbs 26:4-5
One thing to bear in mind on social media is that there are many people watching — not just the fool who might be wise in his or her own eyes, but the friends of the fool, and your friends too. There's risk involved in replying so be careful.
8. Respond with the Gospel; invite your troll to de-trollify by meeting Jesus
Your troll is a person; your response to their warped view of God's world, his king, and his people, is a chance to model the Gospel, but, in your love for your troll, it's also a chance to model the Gospel directly to a person who has taken the time to engage with you, who wants to waste your time in conversation (albeit to score points and LOLs), why not follow the steps above and see if you can also attempt to persuade your troll to give up their trolly ways, or at least have those looking for LOLs second guessing just how funny or effective that trolling is.
Bonus Tip
Always try to move the interaction from the safety and comfort of the computer screen to the real world. It's much harder to troll a real person. It's also the pattern of the Gospel to move from 'disembodied word' to 'word in the flesh.' Plus, it's just surprising.