Facebook is changing. Again.
The newsfeed is getting more compelling. It's getting a facelift. The dross is being cut, and that mostly means that pages will suffer because people's profiles will trump them. Very few people (I'd say "nobody") join Facebook because they want to follow brands.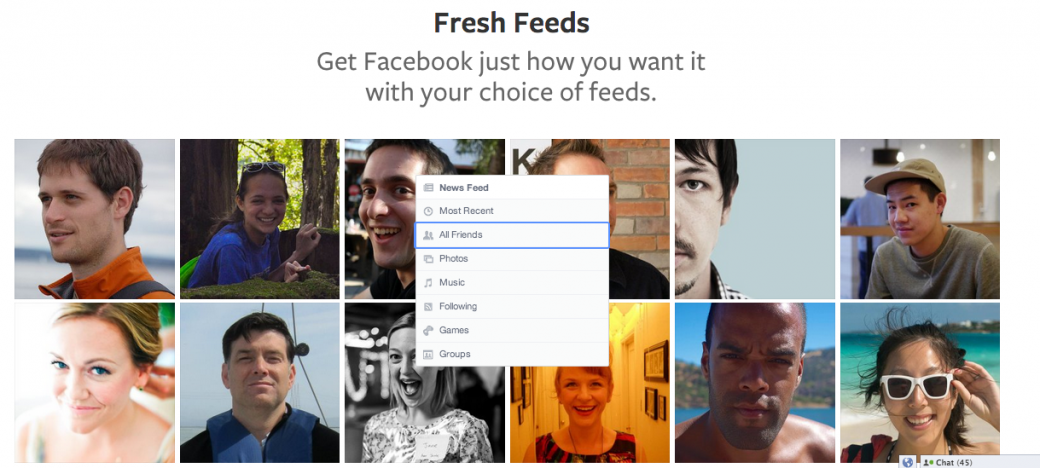 Such is the way of Facebook.
They have no business model if they can't entice people to spend money on advertising, and if they can't keep users interested and on the site. They're already losing out to other sites because they're a little more boring than your average social media platform.
The key to success on Facebook is being interesting. Getting people talking about your brand.
Facebook has this thing called "EdgeRank" – it's an algorithm they use to decide what gets into newsfeeds and what gets edited out. You'll see stuff you want to see because Facebook tracks who you interact with, and tracks what other people are interacting with. This doesn't seem to be changing in the new newsfeed – pictures, check-ins, and video get interacted with (shared, liked, and commented on) more than text. The changes are emphasising what is already popular.
This means, if you're running a page, there's more value in multimedia content than text updates.
But the key for pages is as it always has been – producing good content.
I feel like I've said this all before. Because I have.
What do these changes mean for your church?
We've been thinking about how we use social media as a church as part of thinking about how we use the web. Here's our Facebook page.
We're interested in sharing stories, and sharing this sort of multimedia content – at the moment, we're especially interested in sharing videos.
The key, as far as I'm concerned, to succeeding on social media – and in most PR – is getting other people endorsing your product, talking about you, and pushing your agenda. I'm convinced almost nobody listens to anything that sounds "corporate" or like advertising. But people do listen to other people. Especially other people they trust. The real power and value of social media is in people talking about and sharing things.
Our strategy is to get other people sharing the content we're created. People who are bought into the idea of using Facebook for Jesus.
These changes mean this is even more important than ever. Because as a page you need people who come to your page, without being hooked, in order to share the content you're producing.
It works. We're in pretty early days of our strategy of asking people to share our content (offline as well as online), and it seems to be working. Here are some stats from recent posts on our church page. We were starting from a relatively low base in terms of sharing and views per post, and we have less Facebook likers than we'd like.
On the 31st of December – our last post for last year – a link to our podcast (coincidentally, one I preached) scored 152 "organic" views on Facebook – that's 152 views where the link made it into the newsfeed of people who already like the page, or where people came to the page.
A month later, on the 30th of January, we posted a promo poster thing to announce the launch of our new 4:30 service, it was shared 10 times, but only liked twice – it scored 141 organic views, and 4 "viral views" – where people saw it beyond the "organic" process, because it showed up in their newsfeed when a friend shared it.
We posted another post card type picture for our big term 1 teaching series "Got Questions" – it was shared 37 times, liked 10 times, but was only seen by 213 people.
We started sharing our vodcast instead of a podcast – and the numbers began a steady increase. A video of our podcast on Hell was viewed 503 times, 356 of those times were "viral"…
A video post featuring a friend of mine from our church wondering if the Bible was anti-gay was shared by 8 people and scored 684 "viral" views. Then, last week, a young woman from our church anonymously shared her testimony as a story on our page, which was shared 6 times and scored 50+ likes and was seen by 1500 "viral" viewers, and 300 organic viewers.
In the same time this was happening – a business I do some social media consulting for spent $200 on advertising on Facebook to reach about 21,000 people a day during the 6 day campaign, and increase likes on the page by 145 people (in a targeted demographic based on a location).
We could start paying for advertising for church – but because I'm a PR type not an advertising type – I'm biased towards not paying and trying to get people talking about our product – the good news about Jesus. I think this fits with our message too. It's a person-driven message and anybody who becomes a follower of Jesus has their own story of transformation to share. That covers our "content"…
One of the other big markers for communicators/advertisers is the ability to "convert" messages into results. A "conversion" for us, online, is getting someone to church in the real world, or seeing someone come to know Jesus. When it comes to conversations with our friends – the real power of social media rests in the ability of Christians to engage in gospel conversation online that they take offline.
I think our non-paid model is a good long term strategy. It's a better fit with who we are and what we're on about.
Getting people to like and share our content has seen our reach on Facebook increase by a multiple of seven. The only way Facebook is going to work for your page – if you're not going to pay to promote it – in the long term is by encouraging real people to share your content and to discuss it with each other on social media.
If your social media isn't "social" you're doing it wrong.
We have a pretty great story to tell. And telling real stories of real transformation – especially our own stories of transformation, offered by Jesus – like the story the girl from Creek Road shared – is something that can work in just about any platform. Social media or otherwise.
The Facebook newsfeed changes mean we need to think about how we're sharing our message – the media types we use – so pictures and images are in, and text is mostly out. But the method and content is the same – we're ambassadors for Jesus sharing the good news about what he means for us and can mean for others.
2 Cor 5:17 Therefore, if anyone is in Christ, the new creation has come: The old has gone, the new is here! 18 All this is from God, who reconciled us to himself through Christ and gave us the ministry of reconciliation: 19 that God was reconciling the world to himself in Christ, not counting people's sins against them. And he has committed to us the message of reconciliation. 20 We are therefore Christ's ambassadors, as though God were making his appeal through us. We implore you on Christ's behalf: Be reconciled to God. 21 God made him who had no sin to be sin for us, so that in him we might become the righteousness of God."