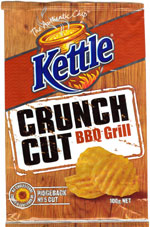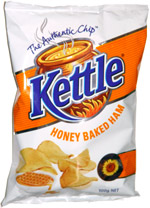 The debate rages. I received a bunch of comments on my Facebook status on the question of the superior brand of chip. Here's an interesting little bit of chip trivia. There are two main players in the Australian chip producing landscape. Arnotts and Smiths (a Frito Lay distributor).
The Real McCoy produce Kettles, Samboy and Tasty Jacks (as reported April 08 – but not reflected on their website). They also distribute Pringles.
Smiths produce Smiths and Red Rock Deli.
Here I was thinking that Red Rock Deli was a successful little boutique chip start up made good. Oh well. Their sweet chilli and sour cream line still scores highly on my taste-o-metre.
Here's my top ten "potato chip" varieties – this excludes Twisties, Cheezels, Burger Rings,  and Cheese, Doritos, CCs, and Bacon Balls – I do appreciate all of those on their merits.
1. Red Rock Deli – Lime and Black Pepper
2. Red Rock Deli – Sweet Chilli and Sour Cream
3. Tasty Jacks – Chicken
4. Kettles – Crunch Cut BBQ Grill
5. Pringles – Texas BBQ Sauce
6. Red Rock Deli – Morrocan Spiced Chicken and Lemon
7. Smiths – Thinly Cut Thai Sweet Chilli
8. Tasty Jacks – BBQ
9. Kettles – Honey Baked Ham
10. Pringles – Sour Cream and Onion
Honourable Mention – Smiths – Thinly Cut Roast Chicken – for longevity.