So. I've written before about how wonderfully my friend Mike O'Connor in Rockhampton models using the local media to share the gospel with his community. Here is another example, and another.
I posted a picture of a story the Rockhampton Daily Bulletin ran on the back of an interview with Mike following the ACL's unfortunate comments the other day. The headline was slightly misleading, and the story truncated one of his statements – but it was a great example of speaking lovingly about Jesus.
Mike decided to clear up some of the misconceptions with a follow up letter to the editor, written with grace, and dripping with gospel. I told him it was too long, so we put together a shorter version – but the paper went with the extended edition. Though with a similarly unfortunate heading (that Mike didn't write)…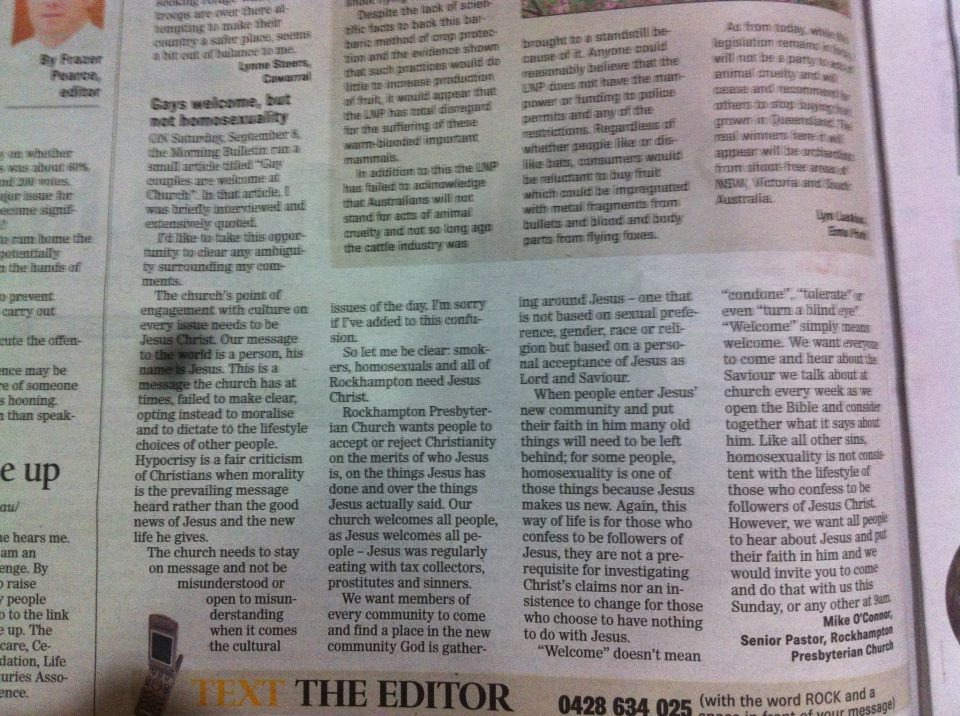 Here's the text:
Gays welcome, but not homosexuality
On Saturday September 8th, the Morning Bulletin ran a small article titled "Gay couples are welcome at Church". In that article, I was briefly interviewed and extensively quoted. 

I'd like to take this opportunity to clear any ambiguity surrounding my comments. 

The church's point of engagement with culture on every issue needs to be Jesus Christ. Our message to the world is a person, his name is Jesus. This is a message the church has at times, failed to make clear, opting instead to moralize and to dictate to the lifestyle choices of other people. Hypocrisy is a fair criticism of Christians when morality is the prevailing message heard rather than the good news of Jesus and the new life he gives.

The church needs to stay on message and not be misunderstood or open to misunderstanding when it comes the cultural issues of the day. I'm sorry if I've added to this confusion.

So let me be clear: smokers, homosexuals and all of Rockhampton need Jesus Christ. 

Rockhampton Presbyterian Church wants people to accept or reject Christianity on the merits of who Jesus is, on the things Jesus has done and over the things Jesus actually said. Our church welcomes all people, as Jesus welcomes all people – Jesus was regularly eating with tax collectors, prostitutes and sinners. 

We want members of every community to come and find a place in the new community God is gathering around Jesus – one that is not based on sexual preference, gender, race or religion but based on a personal acceptance of Jesus as Lord and Saviour.

When people enter Jesus' new community and put their faith in him many old things will need to be left behind; for some people, homosexuality is one of those things because Jesus makes us new. Again, this way of life is for those who confess to be followers of Jesus, they are not a prerequisite for investigating Christ's claims nor an insistence to change for those who choose to have nothing to do with Jesus.

"Welcome" doesn't mean 'condone', 'tolerate' or even 'turn a blind eye'. 'Welcome' simply means that: welcome. We want everyone to come and hear about the Saviour we talk about at church every week as we open the Bible and consider together what it says about him.

Like all other sins, homosexuality is not consistent with the lifestyle of those who confess to be followers of Jesus Christ. However, we want all people to hear about Jesus and put their faith in him and we would invite you to come and do that with us this Sunday, or any other at 9am.

Mike O'Connor

Senior Pastor
Rockhampton Presbyterian Church
So, for anybody who says it's not possible to be clear, winsome, speak against homosexuality (or at least call it sinful), and for Jesus – here's a bit of published evidence to the contrary.