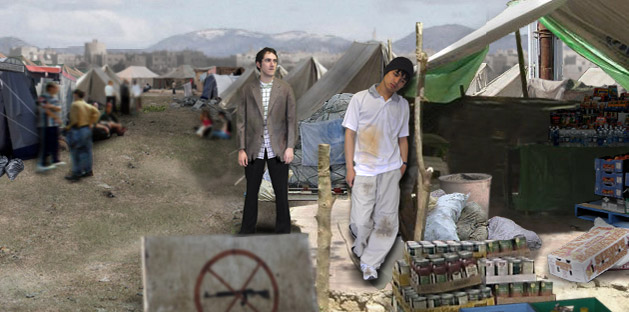 Image Credit: SBS Go Back To Where You Came From Refugee Simulation.
A friend gently chided me for the image I used in that last post – suggesting it represents a bit of a caricature of what it is that causes people (average, conservative voting, Australian citizens) angst when it comes to boat arrivals, border security, and the rest.
I find it pretty hard to put myself in the headspace of someone who doesn't think we should be looking after people displaced by hardship in their home countries – but I've spent the few hours since trying to do it.
It could be, as my friend suggested, something more like the fear that if we don't get our policies right the floodgates will be opened and we'll suddenly have all sorts of resource problems – there's certainly an element of that when it comes to protesting about skilled migration and plans to find off shore workers to fill so called "Australian Jobs"… and doubtless some of the refugees who come here will be employed, and others will be on welfare, and thus, some will consider them a tax burden.
Most of the hyperbole surrounding this debate is pretty bizarrely short sighted. Population growth in Australia, rapid expansion at least, has almost always been as a result of migration. Right from white settlement, through the gold rushes, waves of migration in various industrial booms, and the boom when the White Australia Policy was revoked in the 70s, our culture has been enriched and our population has been boosted, by the arrival of people from other nations (arguably not so much in the convict settlement). We wouldn't have a great coffee scene in Australia if it wasn't for migration. Almost 1 in 3 people who currently live in Australia were born overseas, almost half of us had one or both parents born overseas (according to the 2011 Census Data).
Another friend on Facebook mentioned that white Australia's inability to truly come to terms with Australia's indigenous history makes dealing with new arrivals pretty hard, he said it in a slightly more profound manner (and I'm still trying to figure out if I agree)…
"Until we reconcile our own history of arriving on boats, and mistreating the original people and failing to assimilate (and creating our own segregated communities) we will never appropriately and lovingly approach refugees in the 21st century."
Most of my disagreement with that line of thinking is because I'm not sure assimilation is the answer – I don't think assimilation and segregation are the only options, I wonder if integration or something where unique identities are maintained and differences appreciated is more worthwhile and achievable… but I also wonder if there's a correlation here rather than causation.
Anyway. I reckon most fears are misplaced – though I appreciate that a huge influx of migrants would put a pretty major strain on our infrastructure and economy and would need to be something we strategically planned for rather than an overnight thing.
I realise that comments made on articles online aren't a great way to represent the population – they're opt in, they're usually made by people who are overly passionate, rather than objective, and often they're made by PR people or their friends who are trying to boost some sort of cause without disclosure.
But here are some comments from two different articles – from the left and the right, dissenting and agreeing with the content of the articles in question…
First we've got Clive Palmer who makes what I think is actually a fairly sensible and worthwhile policy suggestion (I wonder what it would look like if we got some big cruise ships and picked up people wanting to come to Australia and processed them en route. But that's pretty pie in the sky stuff). Here's the story as reported by the Herald Sun, and here are some of the choice comments:
"Perhaps Clive Palmer should fly out. His suggestion would open the floodgates for anyone who can raise $1,000. Coming here at one tenth of the cost means the numbers will increase tenfold."
"SINK THEM. Lets face it most Australians don't want them here and they are que jumpers so, SINK THEM at sea and they will stop coming."
"At the risk of incurring the wrath of all the do gooder human rights activists, if they try to come here via the back door, put them on the first plane home. That is the only plane we should be supplying them with I refuse to apologize for wanting a country that has a viable economy to support my children's future."
"Allow refugees to come here safely? Or queue-hoppers? THAT is the question. If we do that then anyone can come, whoever wants to and the hell with the normal application process that others have to go through. All we're teaching them is how to be dishonest and move easily into a better, welfare-laden life. I don't want hundreds of thousands of these people in my beautiful country, I would rather focus my energy on those whom I know to be genuine, those who struggle to eat, let alone buy expensive passages here that I could only dream about (as a fulltime worker i get no breaks from the govt but i constantly struggle on one income including paying private family health insurance). Does mr Palmer then propose that the money these illegals would save on their boat fares will then be used to support themselves instead of centrelink? No? I didn't think so…"
"How bout they don't come here at all, I want my tax dollars used for things that benefit me not these free loaders."
"That s a Great Idea, lets fly them in First Class. Some champagne to celebrate coming to Australia. Free 5 star accommodation for 5yrs. Free Child care, Free Cigs and Food. Centrelink benefits for life. Australia best place in the world Come one come all. Were the bloody hell are ya.? Come off it…"
Interesting reading.
Now here's the response to refugee advocate Julian Burnside and his excellent piece responding to Abbott's "unchristian" comment on ABC Unleashed…
"It is strange that people seem to justify not accepting the boat arrivals by the fact that not every refugee is able to get on a boat. Hence "queue jumper".
It is not legitimate to use one unfairness for which you are not responsible to justify another inhumanity for which you are."
"Well said Mr Burnside but don't expect Abbott to respond to your question. He knows that a majority of Australians are so anti-refugees that they don't want to know about the logic of your argument. He is simply waiting to walk into office as PM, that's all he cares about. And as for the aforementioned Aussies, well they don't really care what happens to "queue jumpers" so long as it doesn't concern them. What happens when he is PM (if ever)and the refugees continue to arrive? Will he again resort to christian rhetoric to justify his failure – like washing his hands of the whole affair?"
"What is unchristian is Abbott's inhumane policy and his refusal to genuinely engage in some plan to prevent the loss of human life at sea"
"Point 1 – When a nation has a set number of assylum seekers or refugees that it will take in per annum, your chances of being accepted are greatly influenced by your circumstances. If you are in a refugee camp anywhere in the world, you are applying through the UN to be resettled. If you came by boat, you are taking up space in one of our numerous detention centres at great cost to the taxpayer – who do you think will be the first one processed simply because they are occupying space in a detention centre?
Point 2 – the moral question. I think that it is immoral to award limited annual intakes of refugees and assylum seekers to those who can afford it over those who can't. Argue with that.
Point 3 – Dog whistle? This just lives in the minds of activists. We are talking about undocumented illegal arrivals who have paid for transport to Australia. Don't care what their colour or race is. Its the method of arrival and the associated documentation you require for different types of arrival thats in question here.
Point 4 – You forgot to add that that hypothetical person also has a wad of cash to pay the smugglers. Which others do not. I thought progressives thought that financial position should not lead to advantages. Apparently not in this case however."
This is a wide spectrum of views being presented in two different forums, featuring two fairly different demographics. It's interesting that so many of the reasons against accepting boat people, or any refugees, are selfish and oddly nationalistic – especially given the stats about the current make up of Australia's population. There's a trend in comments dismissing refugees to see living in Australia and being Australian as something exclusive and worthy of protection – as though the place you're born is somehow meritorious, deserved, or gives particular human rights. Caring for refugees should be part of being a global citizen – but sadly we live in a globe full of sinful and selfish people – which is why being a Christian citizen, living as a foreigner and caring for outsiders is something radical.
But tying these two posts together – what is there that Australian Christians, or concerned Australians, can do to be better global citizens. I have a few ideas.
Get informed. It would be hypocritical for me to say that "raising awareness" is an activity – but combating ignorance probably counts for something. Direct people to Go Back To Where You Came From, or some facts about asylum seeking and Australia. I haven't gone much past this point to date, most of this is a knee jerk response to this week's idiocy.
Get welcoming. This is cool. Welcome To Australia wants to connect Australians with refugees. One of my Facebook friends had a BBQ with some Iranians recently, and inspired me to think about how I can do stuff like that. A guy in Toowoomba drives a busload of Sudanese guys to Bible study and church every week. There's a football team made up of migrants/refugees in the church league I play in. There are lots of ways I can think of – but if you've got other ideas tell me (and I'd be interested in knowing more about how the BBQ came about – that's for you Matt). Given the stuff I said yesterday about Christians having special motivation to welcome the outsider (because we were all once outsiders) – our welcome of refugees should reflect and present our view of reality. Churches can play a huge role in welcoming refugees – we've got all sorts of collective resources and a pre-existing community that should be good at welcoming already.

Get active. My friend Joel is riding for refugees with a team from his church – you can donate to their team – or get involved in other ways. The Refugee Council of Australia has a list of other ways you can volunteer.
Write to a politician. Don't send a form letter. They suck. Say something you mean. Tell them what you really think. I need to change my enrolment and figure out what electorate I actually live in. In the mean time I've sent a link to my last post to the Australian Christian Lobby, hoping they'll one day change their tone a little.
If you've got other ideas I'd love to hear them…