Friends, countrymen, lend me your ears, your eyes, your wallets, and then give me $5. And in return, I'll give you an eBook that I like to call 5 Steps to Better Coffee.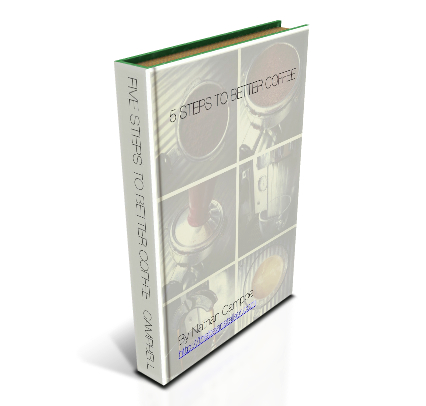 Seriously – at $5 this is a bargain. It contains way more than $5 worth of valuable information that you will find nowhere else except the internet. Buy one. Tell your friends. It'll change your life.
I learned some fun things about eBooks in the process of putting this together. Here are some of my reflections.
1. Amazon's self publishing thing doesn't really like PDFs, especially those with text boxes and pictures.
2. You can make pretty nice (free) 3D covers using 3D Box Maker.
3. There's a really easy way to sell files if you've got a PayPal business account – it's called UploadnSell.com. I looked for all sorts of ways to deliver files to people automatically when they gave me money. They were all difficult. This was easy.
4. Pricing eBooks is hard. It's hard figuring out what something intangible is worth. If you go too cheap people will think it's rubbish, too expensive and people won't buy it… I went for $5 because that's $1 a step (as people have now pointed out both on Facebook and Twitter).
I've got a few other little eBook ideas up my sleeves. So watch this space.
What do you reckon – is $5 a fair price for a 25 page eBook? What would you charge?