Also. While we're on the subject of Christmas. I'm preaching on John's nativity scene at our Christmas Eve service this year.
But wait. You say. John's gospel doesn't have a nativity scene.
Indeed. But Revelation does.
A great sign appeared in heaven: a woman clothed with the sun, with the moon under her feet and a crown of twelve stars on her head. 2 She was pregnant and cried out in pain as she was about to give birth. 3 Then another sign appeared in heaven: an enormous red dragon with seven heads and ten horns and seven crowns on its heads. 4 Its tail swept a third of the stars out of the sky and flung them to the earth. The dragon stood in front of the woman who was about to give birth, so that it might devour her child the moment he was born. 5 She gave birth to a son, a male child, who "will rule all the nations with an iron scepter."
This ain't no stable story.
I've preached on it before – but my last talk wasn't great. So I'm gutting it. And rewriting it. It's difficult to turn this pretty weird passage into something evangelistic. But I like the coolness of it, and the timing – given that the Hobbit is coming out on Boxing Day and it is pretty dragony.
I'm going to lean heavily on this bit, and just fly over the weird stuff with a short, sharp, explanation of why Revelation tells the Christian story in a symbolic way.
10 Then I heard a loud voice in heaven say:
"Now have come the salvation and the power
and the kingdom of our God,
and the authority of his Messiah.
For the accuser of our brothers and sisters,
who accuses them before our God day and night,
has been hurled down.
11 They triumphed over him
by the blood of the Lamb
and by the word of their testimony;
they did not love their lives so much
as to shrink from death.
Sound enthralling? Come along.
Meet this guy… and the baby who smashes him.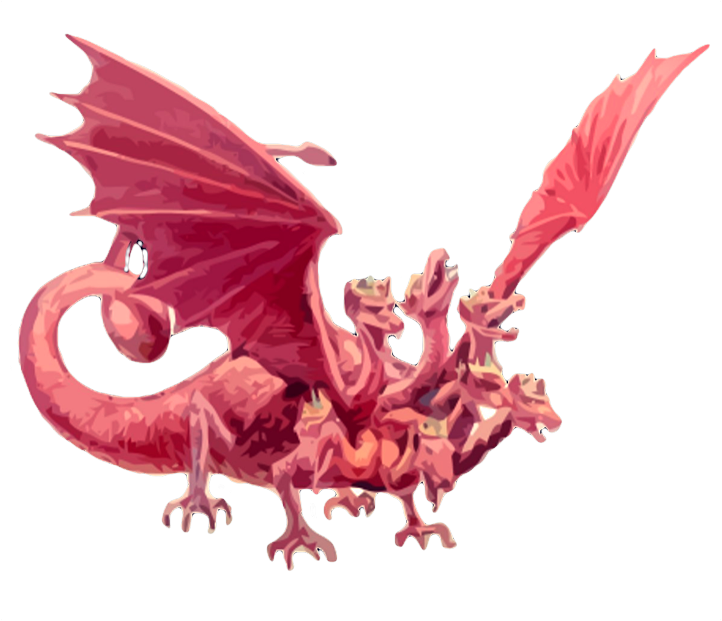 One of the things I'm finding tough is how to articulate that as Christians we do believe in something bigger than ourselves, something supernatural, other than the intangible God and his tangible son, Jesus. That we believe Jesus' birth, death, and resurrection had some meaning beyond what it achieves for us as individuals, and for humans with the arrival of the crucified king of the world… that there was, and is, an entity who didn't want this to happen. The dragon. Satan.

I find it pretty easy to talk about Jesus. Because he was a man, in history, who is historically plausible. But Satan? And Satan presented as a dragon? I'd rather deal with that in brush strokes and get back to safe and rational ground as quickly as possible.

I can't figure out why.

We're pretty good at buying in to struggles between good and evil in just about every story we consume – the Hobbit is an example – so I can't figure out why I baulk at presenting the "evil" entity, not just the evil that dwells in each sinful person, when it comes to telling people the gospel.

[ssba]