I once bagged vaguely funny (or not funny at all) church signs for very rarely being "on message" or at all related to what goes on if the people the signs are for (passers by) choose to come through the doors of a church building. I was, perhaps, too dismissive, and my discussion with a guy from Outreach Media on that post presents a bit of a middle way… But my position hasn't really changed all that much – most church signs are used poorly, and if they make Christians cringe, must be worse for outsiders.
I'm also not generally a fan of outdoor advertising – partly because it's visual clutter, partly because in my opinion, unless you're saturating a city with a very clear proposition to the people of the city, they're a fleeting reminder of something people don't care about – they're intrusion marketing personified. Or boardsonified. They work for Coke – because Coke is in every shop you walk past after seeing the billboard, they work for people promoting longer lasting satisfaction in the bedroom – because they get media coverage for being shocking – and generally, they haven't worked all that well for Christianity (thanks Harold Campling and the ACL). They do work if they're attention grabbing and controversial, and an attempt to be part of a conversation that is actually happening – not the conversation you think is happening that people cared about 30 years ago.
Many churches have the capacity for outdoor advertising – be it a small sign, a letterboard, or a big space. It does not follow that all churches should use them. But if you've got the time and resources to think carefully about what you're going to say, it's the low hanging fruit of communicating with the people around you.
If you're going to do them, you may as well do them well… While my preference would just be for clear brand information and a clear, and related call to action, something like: "This week here at church we'll be looking at X – will you join us at TIMES" – but in a much more engaging, non-boring, non-templated way. The rationale for this approach is – statistically speaking the same people are passing by your church on their way to school, work, home, etc, so the sign outside your building is a long term visual presence for them, and if you can, over time, build the expectation that you're not a weird cult, but are a church that tackles interesting issues in an interesting way, that will make their decision to come through your doors a little more informed.
I wonder if there's something like the equivalent of a lectionary for church signs – where the whole gospel is communicated in a year, and if that could be made more winsome and engaging – maybe something like a catechism for church sign writers… but I digress.
This has, indeed, been a rather long digression. A setting of the scene, if you will…

A Sydney Church has cracked the pages of the Sydney Morning Herald for using this poster from Outreach Media.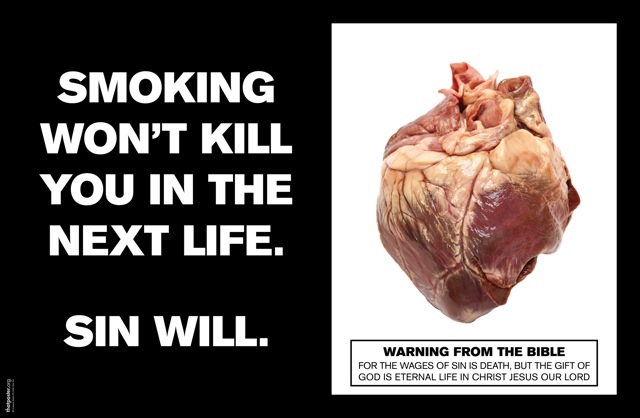 Image Credit: Outreach Media
I have mixed feelings about this – I'm not sure, following the unfortunate issues of a few weeks back, that I want smoking and sin being associated so closely together. It's a bit like Tony Abbott using the words "die of shame" – there's going to be an immediate association drawn, especially when part of the argument is essentially the same, just with an explicit, rather than implicit, reference to the theological underpinnings.
But the story is pretty brilliant and engaging – and doesn't draw the comparison.
St. Peters Anglican Church is on a highway. The sign is getting plenty of attention. I'm not sure how big it is, and how legible it is from the road – someone from Outreach Media might care to comment on that… but the "warning from the Bible" box is pretty gold.
Ignoring the response from the anti-smoking lobby – who used this as an opportunity to stay on message for themselves – this article is pretty brilliant, Andrew Bruce, the man on the ground at St. Peters, got a great opportunity to get some good quotes in, and he took it.
"Better to be a smoker that goes to heaven than a person who doesn't smoke and falls under the judgment of God," the Reverend Andrew Bruce said.

The billboard outside his St Peters Anglican Church, on the Princes Highway, is seen by about 40,000 cars a day, he said.
"Jesus is good news for smokers and non-smokers alike."

The health risks for smokers are not a patch on the prospect of eternal damnation, he suggested.

"One is eternal and one is only for this life; I think that's the point."
Love it. I love this endorsement of Outreach Media too – at first read I had a problem, but I'll explain why I don't think it's a problem after the quote…
"Mr Bruce said the organisation's posters and billboards, which some churches pay to use each month, were deliberately designed to attract attention.

"I think the biggest sin of the lot is being boring. If we put up a sign saying 'Jesus loves you' that's what people expect us to say. You need to strike deeper than that and engage people or it's here today, gone tomorrow.""
Yes. Being boring kills. You won't get an argument against that in these parts… I'd rather see churches put up signs about Jesus love than signs that aren't about Jesus at all – but this quote isn't saying "we'll engage by not talking about Jesus" but "we'll talk about Jesus in an engaging way"… the first is a possible interpretation of that quote, but the idea that we're to "strike deeper" not "strike elsewhere" is pretty critical, and a point well made.