Nothing.
These recent changes to the newsfeed algorithm "EdgeRank" are bad if you're a business that isn't committed to engaging people via Facebook, but just wants all your fans to see every inane thing you have to say.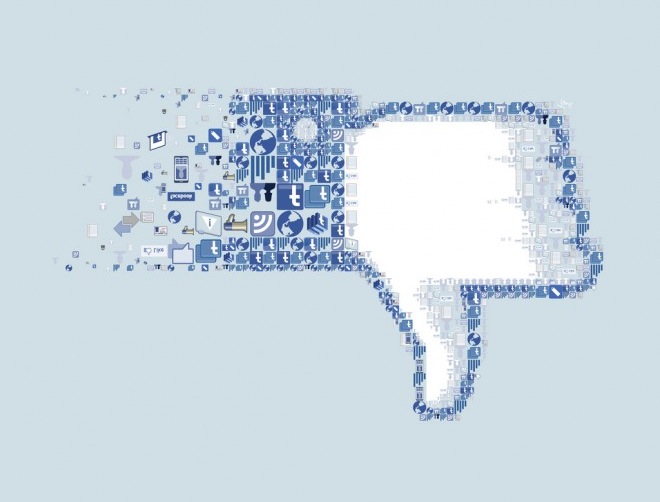 Image Credit: I turned the pic from this page "upside down"
Facebook has controversially made pages less prominent in people's newsfeeds – but other than page admins, is anybody really bothered by this?
Who likes pages on Facebook to hear from them regularly?
And if you do, the honus is on you to keep engaging with the page. If you run a page – you can still pay to promote your posts. But that's dangerous – because, as a commenter on that post points out – people will disconnect from your page if you serve up content they don't care about. Facebook is even going to introduce a "pages only" newsfeed. I'll probably use it occasionally, but I doubt many other people will…
Content publishers and Football teams (well, their owners) are up in arms. Because apparently Facebook owes them something. There's a rule about this – if you're not paying, you're the product. Not the customer. Facebook doesn't owe you anything – and its job is to give users relevant content, that they want to see, to keep them engaged addicted.
Look. It's hard if you're a small business owner, or a big business owner – and Facebook changes the rules. And it'd be great to get a platform on the web for free. But that's not how life works.
You've got three choices if you want your stuff in people's feeds – pay for it, post good stuff that gets shared naturally, or game the system. You can pay for ads. You can pay to promote your posts. You can produce things that people will share. Or you can produce a team of people who are committed to sharing your stuff.
If you're a business wanting to get noticed on Facebook, then be noticeable  Naturally. You might have poured resources into getting fans – but what sort of relationship do you pay to start, but not invest in maintaining? That's not how friendship works – and it's not how developing brand loyalty works.
Yes. Facebook is turning down the reach of your page. Because you're boring. Produce good content. See what happens. If people want to visit your page, they will. And they can add it to their interests. But Facebook is just doing it's job. So stop whining.
These Changes and your Church Page
But what does all this mean for churches on Facebook?
Nothing.
No really. Nothing.
It's slightly different if you've got a business page, where you have to win people to your brand so that they'll talk about you, and don't have a ready made team of people who should be thinking of themselves as ambassadors for the Gospel (2 Cor 5:20), which I'd suggest means living the Gospel out on Facebook. The gospel is built for virality. It's built to be shared. It's good news. It's what social media is made for…
I've no doubt getting your congregation to habitually use Facebook to promote the Gospel and your is something that takes a bit of a sustained effort and creativity. But it'll be worth it. This requires a rethink about who your page is for. It's not for your church – it's for your visitors.
If you think your Facebook page is the best way for you to communicate with your members – you're doing it wrong. Get a Group. 
Facebook pages are for outsiders. Not insiders. People barely ever come back to a page after liking it. That's reality. They're liking it because they've landed on it – they've either been pulled there by something you've done, an ad they've clicked, or something someone has shared, or better yet – because they've landed in town and they're searching for a church.
The content on your Facebook page should be aimed at helping people connect to Jesus, via your church, in the real world. Or for equipping your ambassadors – your congregation – with good stuff to share with their friends so that they can connect to Jesus, via your church, in the real world. The Gospel, and the church, are real world deals – not something to click around online. But providing stuff to click around, so that people can get a sense for how your church works, is pretty vital for the primary visitor to your page – the newcomer.
I'm rethinking the way we do this stuff at Creek Road, and I'm nowhere near settled on a working model, nor does our page do the stuff I'm advocating here – this is my thinking out loud, but my e-friend Steve Fogg, who's the Comms genius at Crossway in Melbourne, has been posting some good stuff on boosting engagement on his page lately (and this list of tips for church leaders). He also suggests promoting posts as a good way for churches to deal with the EdgeRank changes, but I think there's a better way.
Stop thinking that your Facebook page is an extension of your community, where community stuff happens – there are better tools for that, a Facebook Group, or something like The City. And start thinking of it as an extension of your mission.
Here's some tips.
Use it to share stories – about being part of your church, but ultimately about being a follower of Jesus.
Use pictures as wall posts. They rank better, and people share them and like them more frequently.
Post engaging content that challenges people. Preferably with the message of the gospel, not your spelling, or your emphasis on silly things.
Make it about people. Help people see themselves in your church on a Sunday.
Make it interesting. Make it informative. Give people as much information, as many photos, videos, events, and introductions to what's going on as they're prepared to click through while they think about coming to your church.
Share good content that people can share with your friends that promotes the gospel.
Be real. Make sure the church people read about on Facebook is the church they experience if they rock up on Sunday.