A few months ago I was asked to talk to some final year students at Queensland Theological College about 'Ministry in an iWorld.'
You can see my (mostly) self-explanatory set of slides from my presentation here.
This weekend I'm repurposing what I said at this presentation for a group of young adults, so-called 'digital natives,' from church at South Bank. I'm hoping they'll teach me some stuff about social media beyond the walls of Facebook.
This post will hopefully be something like a bridge from that college presentation to this next one… and hopefully also work as something of a one-stop-shop for where I'm up to with thinking on this stuff. One of the things I love about blogging is the way you can see your own thinking evolve over the passage of time, and hopefully this is equally helpful for people reading along at home.
Anyway.
Here's the basic idea…
The internet presents fantastic opportunities for Christians to visibly be people who are made in the image of God, broken by sin, while being transformed into the image of Jesus, so long as we understand the medium.
That mix of being being broken by sin while being transformed into the image of Jesus is pretty important if the cardinal virtue of the new media is authenticity. And I think it is.
It's important for us to understand the mediums we're using to communicate because whether you think it's a gross oversimplification – or a meaningless cliche – the medium really is the message. Or, at least, it dictates how the message is received. So we do actually need to be thoughtful about how (and if) we should use different tools at our disposal to proclaim Jesus.
Here's a clip from Community where a baby boomer gets excited about the opportunities on YouTube. The same opportunities exist on all sorts of platforms, but we'll work better online if what we do is less baby boomer and more native. That means thinking about the platforms and why and how people use them.
I thought it might be worth distilling that presentation down into these principles, and explaining what you see in the slides a little bit. Some of these points are abstract and theological (rather than practical), so I've tried to give the implications of each point as I understand them. So here goes.
1. God is the ideal communicator/media user. And Jesus is the ultimate example of his communication style.
The Christian God speaks. He created the world (by speaking). Somehow the world, as a creation, reflects the creator. Somehow our relating and communicating is a reflection of the relating and communicating within the Trinity. It'd be almost impossible to make any logical jumps from how God operates to how we should operate without believing that God reveals himself accurately as he communicates. God communicates through revelation – in the media of the Bible (including both the content and communication methodology), but ultimately he communicated in Jesus. His word made flesh. And God's communication in Jesus shapes his communication through his people…
"In the past God spoke to our ancestors through the prophets at many times and in various ways, but in these last days he has spoken to us by his Son, whom he appointed heir of all things, and through whom also he made the universe. The Son is the radiance of God's glory and the exact representation of his being, sustaining all things by his powerful word." – Hebrews 1:1-3
"In the beginning was the Word, and the Word was with God, and the Word was God." – John 1:1"The Word became flesh and made his dwelling among us. We have seen his glory, the glory of the one and only Son, who came from the Father, full of grace and truth." – John 1:14
"Again Jesus said, "Peace be with you! As the Father has sent me, I am sending you." – John 20:21
Implications: 
God made the world, how the world works reflects him.
God provides the definition of 'good' in all areas of life, including in how we go about communicating to other creatures (other people).
We see the best example of his communication, and the easiest to imitate, in the person of Jesus – his life, his manner, his words, his method, and his audience shape our life, manner, words, method and audience.
John's Gospel starts with Jesus, the word, being sent into the world in the flesh, and ends with Jesus sending his people into the world.
2. We were made to communicate like God does, as his representatives.
In Genesis 1 we learn that God creates, speaks, rules, and relates. In Genesis 2 we see God's image bearers doing the same thing. Bearing God's image is an active thing. A job. And this job is performed by speaking (in Genesis 2 man names the animals, as God named the things he made in chapter 1). God's use of living image bearers is one of the big differences between the God of the Bible and the dead idols he triumphs over throughout the Old Testament. Dead gods are represented by dead wood in shapes made by people, the living God is represented by speaking images that he made.
Compare Genesis 1:26 with Exodus 20:4.
"Then God said, "Let us make mankind in our image, in our likeness, so that they may rule over the fish in the sea and the birds in the sky, over the livestock and all the wild animals, and over all the creatures that move along the ground."
"You shall not make for yourself an image in the form of anything in heaven above or on the earth beneath or in the waters below."
The  'image' in these two passages are different Hebrew words, but the word used in one for sky and the other for heavens above, and the words for earth and water are the same, as is the word 'make.' I think there's a strong link. God's people are meant to represent God in a similar way to how idols were thought to represent dead gods. Israel weren't meant to make images because they were meant to be images. Speaking images.
The communication power of images was pretty massive in the Ancient Near East, and in Rome, and whenever the word image appears in the Bible it is riffing off what people understand images to do in those contexts. When we follow Jesus we are transformed by the Spirit to bear his image in the world, as he perfectly bore the image of God.
"The Son is the image of the invisible God, the firstborn over all creation." – Colossians 1:15
"For those God foreknew he also predestined to be conformed to the image of his Son, that he might be the firstborn among many brothers and sisters." – Romans 8:29
"And we all, who with unveiled faces contemplate the Lord's glory, are being transformed into his image with ever-increasing glory, which comes from the Lord, who is the Spirit." – 2 Corinthians 3:18
Implications:
Our whole lives communicate about who it is we worship.
Social media is all about projecting an 'image' to the world (often using images).
We can choose to project an image of ourselves, our idols, or the idol of self, or we can choose to represent Jesus, bearing his image, like we were made to.
When we speak as Christians we should speak about Jesus and the world God made, as people shaped by Jesus.
3. God communicates by bridging the gap to his audience – especially in Jesus – so we should too.
There are some fancy theological buzz words for this – God makes himself understandable (accommodates) us when he speaks, especially through the process of coming to us, becoming like us and speaking our language (incarnation) – this is what we should be imitating. God is infinite. We are finite. Add up every human thought ever produced, published, and uploaded to the interwebs, and you're not even getting towards a drop in the ocean when it comes to knowing about God, or the universe he made. Google's Executive Chairman Eric Schmidt famously claimed (perhaps incorrectly) that:
"There were 5 Exabytes of information created between the dawn of civilization through 2003, but that much information is now created every 2 days."
This means there's a lot of information out there about the world (and the suggestion is that Schmidt underestimated how much). If you add up the lifespans, and knowledge, of every human who has existed, and will exist, you still get a finite number. And God's knowledge is infinite… God knows lots about everything that we don't (and can't). He especially knows things about infinity – and his infinite self – that we cannot possibly comprehend. In order for us to know anything about God, truly, he needs to tell us in ways we can understand. This is where the concept of revelation fits in. God bridges this gap and reveals himself in his world, by his word, by the Word made flesh (Jesus), and by the Spirit. This is called 'accommodation.' God accommodates himself to us most clearly in Jesus, in the climactic act of the story he is orchestrating on the world stage, the 'incarnation' – where he becomes human, and knowable, in the ultimate act of revelation – the act that the rest of revelation (the Bible) points towards (and points out from).
If God has revealed himself to us by his Spirit we're a little closer to the infinite than we were before this happens. We know stuff about God that other people don't yet. When we speak in this world we need to remember this gap, and do our best to bridge it.
While these words from Paul in 1 Corinthians could sound like a bit of a dodge, moving away from scrutiny, they're also consistent with the gap between God's nature and ours, and what is needed to communicate across that gap, as outlined above.
"This is what we speak, not in words taught us by human wisdom but in words taught by the Spirit, explaining spiritual realities with Spirit-taught words. The person without the Spirit does not accept the things that come from the Spirit of God but considers them foolishness, and cannot understand them because they are discerned only through the Spirit." – 1 Corinthians 2:13-14
Paul doesn't say we should leave that person in the dark and wait for the Spirit to do its work, he seems to think the Spirit works through us as we speak, and particularly as we accommodate the people we're speaking to. It's interesting to read this chapter in parallel with Philippians 2. Paul seems to be modelling his accommodating approach on the incarnating accommodation of Jesus.
"Though I am free and belong to no one, I have made myself a slave to everyone, to win as many as possible. To the Jews I became like a Jew, to win the Jews. To those under the law I became like one under the law (though I myself am not under the law), so as to win those under the law. To those not having the law I became like one not having the law (though I am not free from God's law but am under Christ's law), so as to win those not having the law. To the weak I became weak, to win the weak. I have become all things to all people so that by all possible means I might save some. I do all this for the sake of the gospel, that I may share in its blessings." – 1 Corinthians 9:19-23
He goes into this 'accommodating' thing more in his second letter to the Corinthians.
"… we have renounced secret and shameful ways; we do not use deception, nor do we distort the word of God. On the contrary, by setting forth the truth plainly we commend ourselves to everyone's conscience in the sight of God. And even if our gospel is veiled, it is veiled to those who are perishing. The god of this age has blinded the minds of unbelievers, so that they cannot see the light of the gospel that displays the glory of Christ, who is the image of God. For what we preach is not ourselves, but Jesus Christ as Lord, and ourselves as your servants for Jesus' sake. For God, who said, "Let light shine out of darkness," made his light shine in our hearts to give us the light of the knowledge of God's glory displayed in the face of Christ." – 2 Corinthians 4:2-6

Implications:
Jesus used the medium people in his day used (he spoke – but he also demonstrated his message through action, and symbols (like the Lord's Supper), using the language of the people he spoke to (Aramaic), the genres they were familiar with (parables and sermons), and adapted his message according to who he was speaking to.
Jesus words were backed up by his life. He lived a persuasive life. Our conduct backs up our message – our conduct, thanks to social media, is more visible than ever before.
We should aim to communicate with people where they are at, and try, as much as possible given the gap between how we see and understand the world and how those we are communicating understand the world, to "go native."
Accommodation will include understanding the mediums we use to communicate with these people, how people use them, and what these mediums do to shape the messages (and messengers) they carry, and communicating accordingly in ways that commend and fit our message.
We need to present the unchanging Gospel in ways that are consistent with how the people we are speaking to use the mediums we adopt.
Our communication should be us generously offering what God has given to us to others. We are giving something to the people we speak to.
4. God communicates by subverting the mediums he adopts. So we should too.
If the 'incarnation' – the word becoming flesh – is God's ultimate piece of communication, the ultimate part of this ultimate piece of communication is the cross (and the resurrection). The Cross reveals God's ethos – God is a God whose character is defined by costly other-centred love. The Cross was a communication medium – it was used to declare the weakness of the crucified, to humiliate them while celebrating the might of the Roman empire. Jesus turns the Cross upside down. Paul arguably does the same with first century oratorical conventions. The Christian message is subversive. When we 'accommodate' and 'incarnate' we are also 'subverting' – this is consistent with what the genres adopted in the Bible do to other texts in their categories, from Wisdom Literature in the Old Testament to Gospels in the New. It's this subversion, shaped by (and including) the content of our message, that will make it hard for people to accept the Gospel. For Paul, this meant living out the message of the Cross, being beaten, bloodied, humiliated and scarred – and owning that as part of his testimony about the 'foolishness' of Christ in the face of first century oratory that celebrated the perfectly sculpted orator's body and the fusion of the schools of philosophy and rhetoric. Paul is the anti-orator. But in being the anti-orator, he is also being an orator. It's a paradox. One we also have to wrestle with.
"For the message of the cross is foolishness to those who are perishing, but to us who are being saved it is the power of God… God chose the foolish things of the world to shame the wise; God chose the weak things of the world to shame the strong… And so it was with me, brothers and sisters… When I came to you, I did not come with eloquence or human wisdom as I proclaimed to you the testimony about God. For I resolved to know nothing while I was with you except Jesus Christ and him crucified. I came to you in weakness with great fear and trembling. My message and my preaching were not with wise and persuasive words, but with a demonstration of the Spirit's power, so that your faith might not rest on human wisdom, but on God's power." – 1 Corinthians 1:18, 27, 2:1-5
Implications:
Jesus becoming human is a model of drawing near to the people we want to reach, Jesus being executed on the cross shows that this drawing near should cost us something and provide a benefit to the other.
Our participation in any communication mediums – including social media – should be shaped by the Cross.
It should be loving, costly to ourselves, for the sake of the people we are trying to reach.
5. Media platforms are not neutral tools, they bring message shaping 'myths' to our communication, which in turn shape their users.
These 'myths' are what we should be subverting.
You can read more about this stuff in this massive series on what social media use does to our brains. Communication mediums are like any tool – they shape the people who wield them as we use them to do stuff. Consider the arms of a builder using a sledge hammer vs the arms of a builder using a jackhammer. Tools shape us. It'd be naive to think that we (individually and collectively) aren't changed when we make the switch from using largely oral communication to written communication, or changing from written communication with a high cost of production that is difficult to distribute to the almost frictionless publishing of the online world.
A 'myth' in this sense is the stories surrounding the platform, which provide implicit 'values' for the messages the medium carries – so, for example, with Facebook the myths are about friendship and connection. Facebook also uses an algorithm to control what people see or don't see – this algorithm is a pattern based on these 'myths' and it completely shapes our experience of Facebook without most of us being aware.
These myths shape our communication – so they shape our thinking directly (inasmuch as our thinking is shaped directly by communication), and indirectly (inasmuch as we are shaped by the tools we use).
I think the Bible has some good stuff to say about worldly myths when it comes to communication – given, especially, that the New Testament was written into a time where arguably the greatest propaganda machine that has ever existed – the Roman Empire – was defining the way media happened (and Christian media words like "Gospel" and "preaching" had meanings for first century audiences that were being subverted).
"For though we live in the world, we do not wage war as the world does. The weapons we fight with are not the weapons of the world. On the contrary, they have divine power to demolish strongholds. We demolish arguments and every pretension that sets itself up against the knowledge of God, and we take captive every thought to make it obedient to Christ." – 2 Corinthians 10:3-5
"Do not conform to the pattern of this world, but be transformed by the renewing of your mind. Then you will be able to test and approve what God's will is—his good, pleasing and perfect will." – Romans 12:2
Some of the values and 'myths' our communication platforms contain will be expressions of the function as image bearers of the living God that all humans still have so we don't necessarily have to turn every communication platform upside down in order to use them, but we do have to be aware of how and why a medium/platform works to use it well.
Implications:
If we are trying to decide whether to use or subvert a medium we should ask questions about the 'myths' or embedded values mediums/platforms contain, and the patterns these values create.
We need to know how mediums work so that our messages will be seen by the people we'd like to see them.
The Gospel of Jesus, with its 'embedded values' that renew our minds, is the story that shapes us as communicators into living communication mediums. This trumps all other mediums/myths.
What these mediums do to us as we use them is part of the cost of communication that we should be prepared to wear in order to reach people.
6. Social media platforms are 'social' and they are 'media'
Most people who get social media wrong (in my opinion – and by most objective measures of effective use of a medium) fail to take the dual nature of new media into account. It's there in the name. Social Media is both 'social' – built around person-to-person relationships in networks, and 'media' – a public and permanent form of communication. If you're not a stickler on your privacy settings (and even then – thanks to the way people can copy, record, screenshot, and share the stuff you post beyond your intended audience), when you post stuff online it's a form of broadcasting/publishing. While you might post stuff to your friends on a platform like Facebook, every friend who joins in a discussion on one of your posts is potentially broadcasting the conversation to all of your mutual friends and most of their friends. That's essentially how the Facebook algorithm works (though it is tweaked constantly).
If you're talking to your friends online it's worth remembering that it's possible that you're talking to your friends through a megaphone in a public park. Most people might not be interested in listening, but they don't always have a choice. This is truer still on platforms like Twitter where the privacy settings are almost non-existent. And on blogs. The implications of this are that while the stuff you post may have an intended context when it comes to people you know, what you say can very quickly be shared beyond that context. An example – probably far removed from the experience of anyone reading this, is how much the mainstream media is now relying on tweets for their coverage of major events and human interest stories. Twitter is the new vox-pop. It's handy for journalists because they can pick people based on their level of expertise, number of followers/retweets, or proximity to events.
Broadcast media from a central authoritative voice is dying. Authority is being determined by the market – the stuff that is shared and 'viral' rather than by expertise. This is good for those who want to publish stuff who didn't originally have the platform, but it is bad for expertise (and expertise is important). Experts need to publish for themselves, and figure out how to get their content distributed through networks.
Media distribution used to look like this: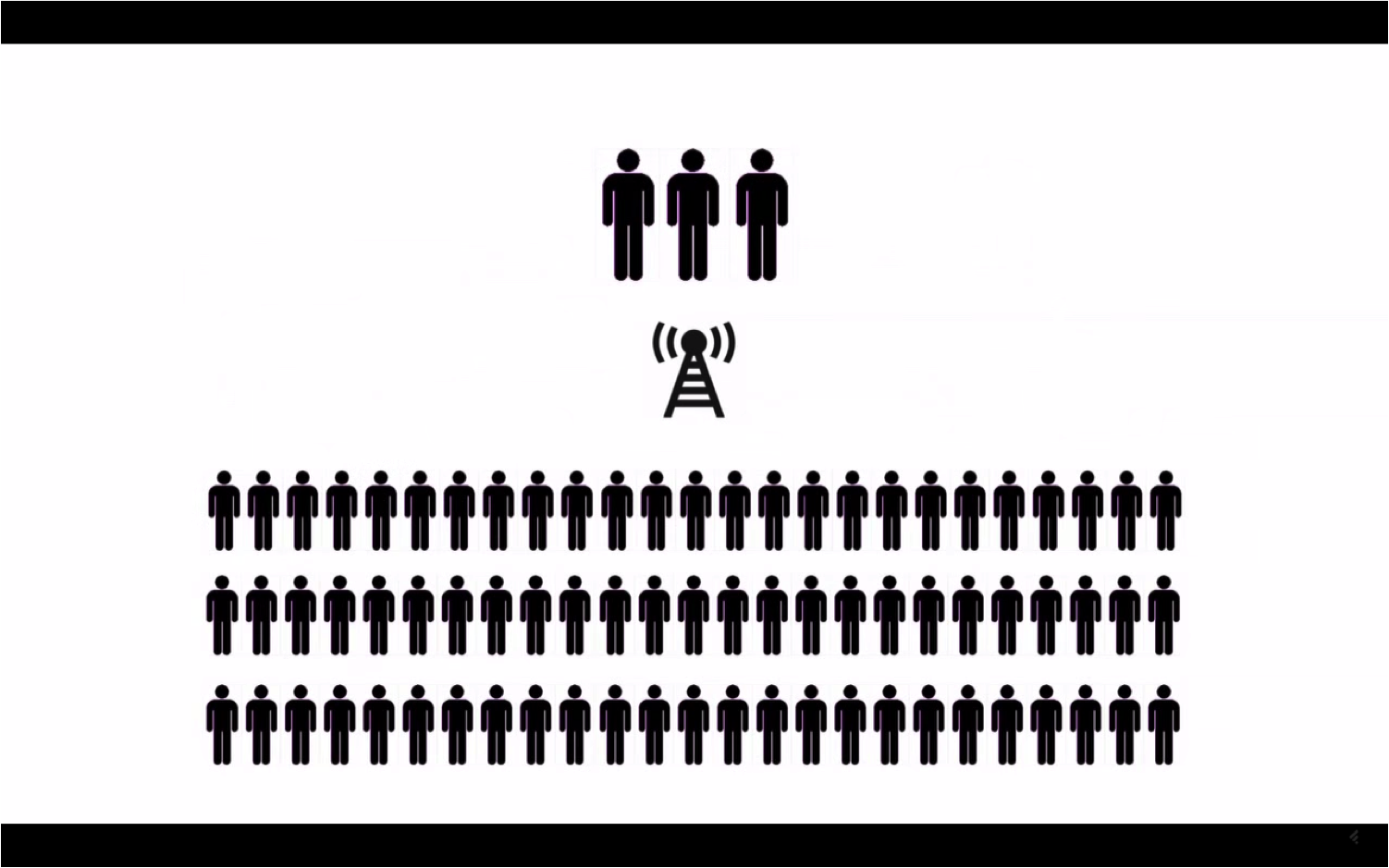 Now it looks like this.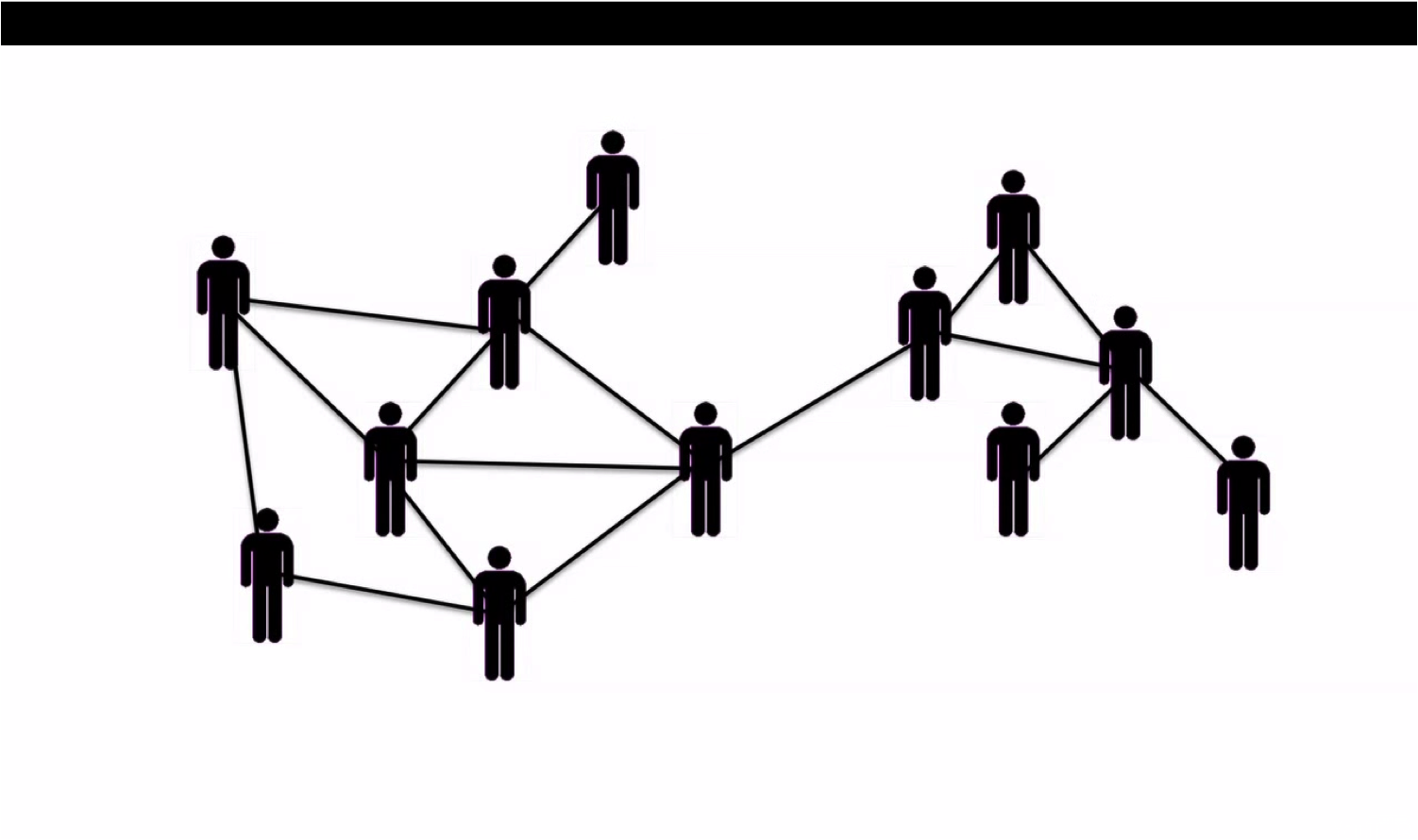 Those graphics are flogged from Tom Standage's TEDx talk promoting the excellent Writing On The Wall which explores how this shift in media is a return to how the media worked prior to the mass media – suggesting that it's mass media with distribution power in the hands of the few that is a relative anomaly once societies become literate.
Implications:
Don't post stuff on social media that you don't want broadcast to the world.
Because it's media and you have a message you have to think a bit like someone being interviewed by a journalist (or all the people seeing your stuff). So stay on message – or at least avoid doing or saying things that undermine your key message. Which is the Gospel.
When you do post stuff, be aware that the whole world could be watching on have the audience beyond you initial audience in mind (and so, provide context for people who don't know you, where possible).
When you want stuff to spread, don't act as a 'broadcaster' – social media is two-way, it celebrates user generated content not stuff that feels corporate. Post stuff as a real person, to real people, with a view to ongoing relationship and conversation – not as some sort of robot.
Credibility is hard to achieve and easy to lose.
7. Social media platforms are 'democratised' media – they make everybody a potential reporter, an editor, or a curator.
Broadcast media as we know it is dying. Most of the obituaries point to the Internet, and the changing patterns of media consumption, as the killer. I think it's also partly that our broadcast media is really terrible. Generally. And one of the ways it's terrible is that it's a completely one way street – and they've invited their demise by turning to social media to suddenly make media consumption two-way (think hashtags during Q&A, or tweets during reality TV). This trend is known as 'democratisation.'
The word 'democratised' is a buzzword that describes a few concepts that distinguish social media from broadcast media. It captures these ideas.
Everyone is free to publish online – publishing is free, or cheap (in the case of a blog).
What people see (and where people are going to see things) has now been taken out of the hands of the publisher and put in the hands of algorithms like Google's search tool and Facebook's news feed. Google will doubtless be working harder and harder to include social 'juice' in their algorithm to deliver more intuitive results.
User generated content has somehow gained traction at the expense of expert generated content and content generated by large corporations. Authenticity is the cardinal virtue of the social media world.
Authority comes from the crowd – via recommendations directly sourced, and through user-generated platforms where content is created and reviewed by the masses (eg wikipedia, airbnb, Trip Advisor, Urban Spoon, Yelp, Beanhunter, etc).
We participate in this new media world whether we know it or not – everything we share, like, interact with, and view, is monitored and used to shape the internet we, and our friends, see. We all have an audience.
Here are some handy facts about how this works. This is largely about Facebook and comes from a video called 'A World Without Facebook.'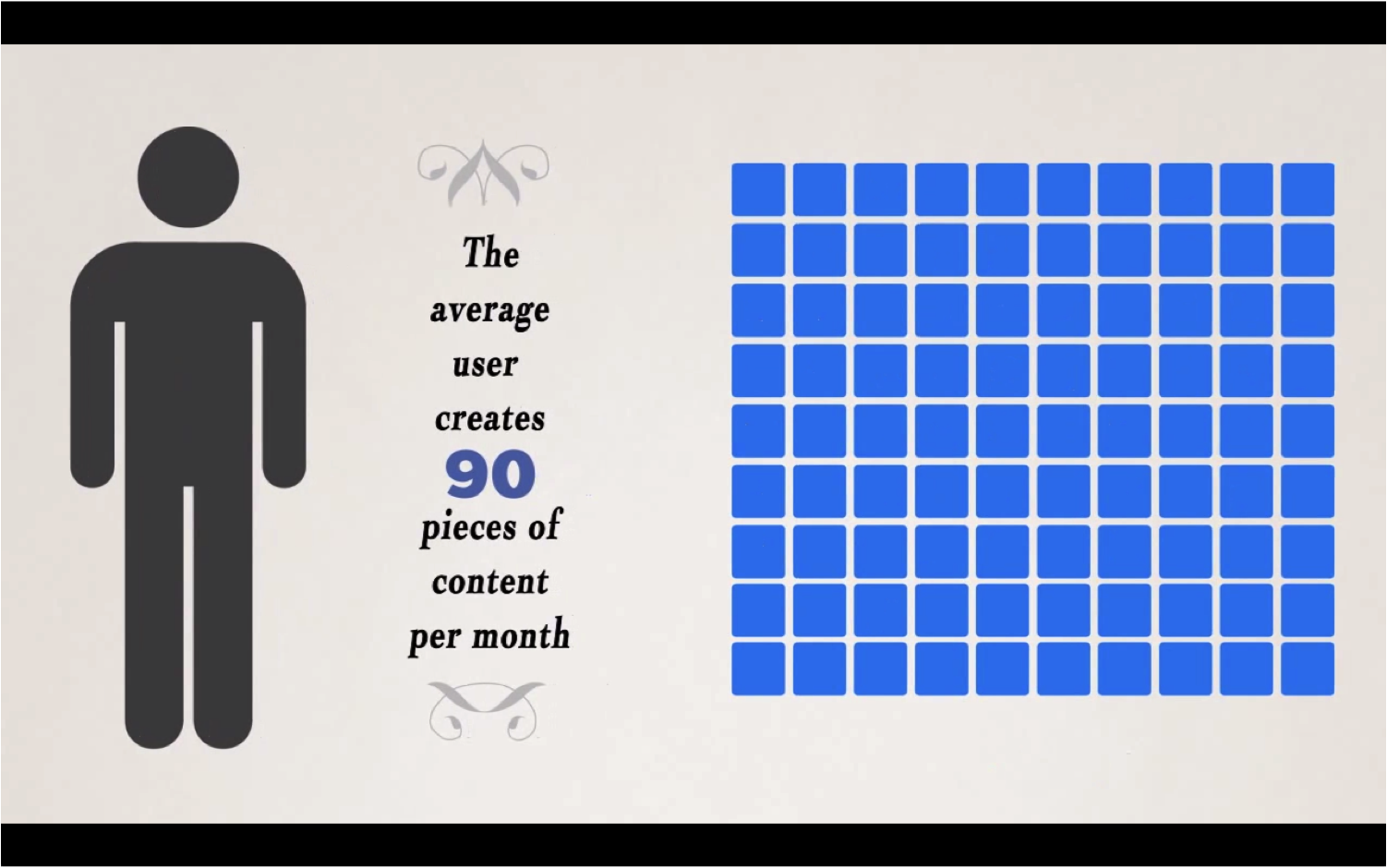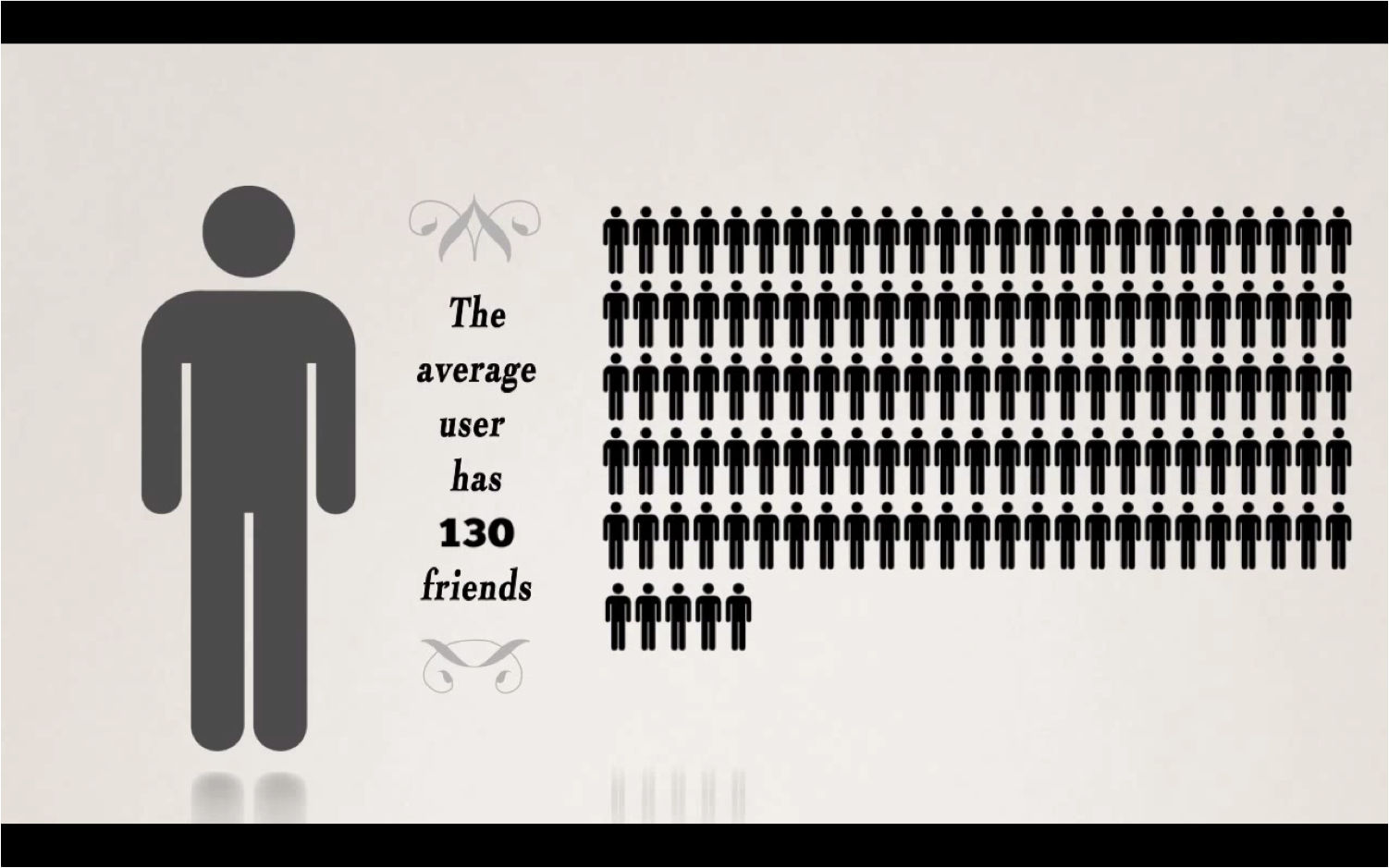 The algorithms Facebook use influence our ability to effectively report, edit, and curate. They're stuff to be aware of when it comes to the content you share. The algorithm changes all the time – but it basically measures how connected people in your network are to you (how often they interact with you), and how popular a particular post is. The algorithm is getting smarter all the time and Facebook is focused on serving up 'high quality' items. Posting lots of stuff nobody cares about is a way to guarantee Facebook will stop serving up your stuff to your friends. Maybe think about how often you interact with different sorts of posts and avoid the ones you tend to avoid.
Implications
The average person posts three things a day in their newsfeed, the average user with an average number of friends has up to 390 pieces of content they could be seeing any time they log in. It's a noisy world. If you want people to meet the authentic, Gospel shaped, you and hear what you have to say you have to figure out how to grab attention amidst all this noise. Probably it will involve paying attention to others, and responding like a person who loves them (and actually loving them).
Genuine generosity or 'providing value for free' is at the heart of most advice about social media success.
There are fun studies out there on what happens to your newsfeed when you like everything, or like nothing, that suggest the more genuine you are in your interactions online the better the experience.
Be generous and genuinely other person centred on Facebook and you're simultaneously winning and subverting the Facebook game.
8. Social media platforms are limited
Social media is 'cheap',  disembodied and pixelated, and word/verbal heavy (in the old way of talking about communication – it's logos driven).
It doesn't take long for a horrible use of a new tool to follow the invention of a tool. Historically horrible uses of tools have driven innovation – the porn industry is responsible for massive technological change, as is military research. Trolling. Cyber-bullying (really, just bullying). Horror stories about adults grooming kids. Phishing scams. Vigilante name and shame campaigns exposing people who are actually innocent as criminals. Doxing. It's easy to see the very obvious failures of new media (old media isn't much better – just google "phone hacking scandal" to see a prime example of pretty horrible stuff being done in the name of 'media'). But social media has some pitfalls for the rest of us too.
Even when we accept the premise that our communication in person is 'mediated' – as in, we choose how we present ourselves and communicate our thinking to another party – a significant portion of our communication (and our ability to receive communication via our senses) is non-verbal. This means communication online is mostly words (we can do videos and pictures as well), it's disembodied. Our communication is mediated by pixels. It's disincarnate – by nature. Moving away from costly relationships and into the frictionless online environment is a move in the opposite direction to the example Jesus gives in becoming flesh. This said, God obviously values communication via text (and other mediums), that's why we have the Bible – his written word (and why it calls us to live in ways that communicate things about who he is through our ethics, structures, and sacraments).
Part of the myth of social media is that it's free – or cheap. Which gives messages carried on the medium an implicit value – lower than the value of a plane ticket that brings people together, lower than the value of a posted letter, or a phone call. But these communication forms are still valuable because all communication says something about the communicator valuing their audience. Communication takes time, creativity, effort. It costs. Online communication is also costly in terms of what the use of a medium is doing to the person using it, following the thinking outlined above. This cost is also caught up in the old saying that if you're not paying for something you're not the customer, you're the product. Being on Facebook, or other mediums, comes at a cost to your privacy, to your brain, to your schedule…
It's worth reading this mega-essay from Michael Jensen on the ABC's Religion page to get a slightly different view on this question. He cites a whole heap of examples that back up the value of communication via writing, suggesting it is a valuable form of co-creating and image bearing. Which is absolutely true. If participating in social media wasn't of value then I've wasted the 4,800 words I've spent on this post so far…
Here's a snippet from this essay.
"Even when we say that the physical presence of a person doesn't remove the need for interpretation, it is still the case that we use written texts to substitute for the relative immediacy of physical presence. People have of course been using social media for centuries. What is a letter but the use of a written text to mediate the presence of one person to another? And ancient writers had noticed the power of a written text to convey presence-in-absence. Psalm 119 is an extraordinary encomium to the torah, verging perhaps on blasphemy, since the words and commands and precepts and statutes are themselves praised to the highest. But since the divine word conveys – or even substitutes for – the divine presence, this logolatry is perfectly in keeping with Hebrew monotheism.

The epistolary form that so dominates the New Testament canon brings this issue of presence-in-absence to the fore. Paul repeatedly pours himself into his words, keenly feeling the pain of physical absence because of distance and because of the chains of his imprisonment. In 1 Corinthians 5:3, he writes, "though absent in body, I am present in spirit"…

For Paul, the point of being present in body is not as if somehow to remove the need for hermeneutics – it is, rather, ethical. This conveys a hermeneutical advantage, but does not remove the need for hermeneutics. What I mean by that is the fact that Paul reminds the churches of his physical presence, and yearns to be present with them again, is a testimony to his integrity and affirms his love for them. It was not only his words, but his observed manner of life in connection to those words – in imitation of Christ – that establishes his apostleship, and proves his sincerity of motive. He reminds his listeners of his costly service of them and of the way in which he supported himself financially when he was with them.

What Paul reminds us of here is that bodily creatures delight in their proximity to other bodily creatures. The physical presence of another person comforts and stimulates and enlivens us in a unique way. If it were not so, then death would not worry us: we would just read what the dead person wrote. Paul's chains, and his fear of his impending death, do concern him because he will not be able to be present alongside his words so as to confirm and entrench them. It is he who will write, "now we see through a glass darkly; then we will see face to face." Nevertheless, his words can – effectively if not completely – mediate his presence to his first readers, and beyond them, even to contemporary readers. Logos can, by the powers of recollection or imagination, supply the missing pathos and ethos.

Ultimately, in fact, Paul's ministry was about the temporary absence of Christ, and about the way in which his presence could be mediated – by the Spirit, received by those who believed the preached Word of God."
This is great stuff. I've edited out a few of the Biblical references because that quote is already too long… But while I agree that text is a "substitute for the relative immediacy of physical presence" that can "mediate the presence of one person to another" – it's not a two way mediation. It only works that way for the person receiving the text. And the best 'social' media (indeed the best of any 'communication' – if it is an act of communion between two parties) is two-way. I think that's what John captures when he writes this (and he writes something that is essentially identical in 3 John).
I have much to write to you, but I do not want to use paper and ink. Instead, I hope to visit you and talk with you face to face, so that our joy may be complete. – 2 John 1:12
Implications
Social media is disembodied 'logos' driven communication, which makes ethos (and other context people use for interpretation) largely invisible – when we use these platforms we need to provide this context in our words.
A good rule of thumb given the limitations of written communication is to write with clarity, while reading with charity. Give people what they need to understand you, read people in the most generous possible way and ask for help understanding what they've said.
While we interact with other pixelated avatars online, there's a person on the other side of the screen.
The best communication – modelled on the incarnation of Jesus – is costly, and moves sacrificially from disembodiment to embodiment. Communication via pixels is easier than communication via blood, sweat, and tears.
Presence in 'embodied' communication means the relationship is simultaneously costly/valuable for both parties. In text the cost is paid by the writer in the absent presence of the reader, and the value experienced by the reader in the absent presence of the writer.
Text is a great and important way to communicate, especially when we have to be absent. It lasts longer, and, thanks to the Internet, is much less costly to transmit than for any previous generation. Once upon a time text had to be engraved into stone. Printing this post on a printing press would have required plates to be created letter by letter.
A good rule of thumb in 'costly' communication is to up the cost a step when you're responding. If someone texts you, ring them, if someone calls you, catch up over coffee, etc. The medium is the message – how we choose to communicate to someone shows how we value them.
9. Social Media has incredible potential for Christians to be the people we are called to be for the sake of the people around us.
This is more conclusion than final point, and this conclusion is the basic position I think we arrive at given the first eight points. Every communication medium has limits. That's part of our finitude. But the massive opportunities presented by the incredibly low barriers to participating in the new media landscape mean Christians who want to live out our calling faithfully should be seeking to do this online (and offline). Where opportunities present themselves.
Implications:
Christians are called to pursue generous, costly, engagement with others, seeing the value of any available medium, but always seeking to become more 'incarnate,' in order to both present and live out the message of the Gospel so that our medium and message are aligned.
Here's where things end up for Abed and Shirley, if you can remember back that far…