Everywhere I turn these days, in the pages of the Bible at least, but also in some thinking about media and communications stuff I'm blown away by how significant the "image of God" is in the storyline of the Bible. It is vastly unrelated as part of the narrative.
You can basically chart how well humanity is going at being human by how near or far they are from carrying out their function as image bearers. What their hearts are beating for. The heart functions as something of a yardstick for measuring imageness.
Like the whole story of the Bible, it culminates in Jesus.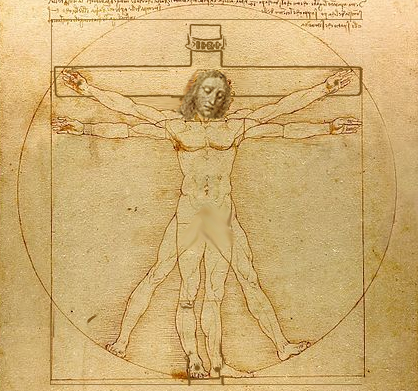 Here are some of the things I keep noticing.
1. Bearing an "image" is about representation, not just replication. Images have always had an incredible power to communicate and change others. And have been used as communication tools by nations and religious organisations since Genesis was written. Idols in ancient near eastern temples were made alive by a ceremony where their mouths were opened. Once they were "alive" – they were believed to manifest, and speak for, the god they represented. Eden is a temple. Adam is God's image in the heart of his temple. The word image in Genesis 1-2, and its near eastern cognates (words that sound like it in other similar languages), is almost universally used for these idols of gods and god-kings (kings who presented themselves as divine representatives).
2. We all bear the image of something – at the heart of Adam and Eve's rejection of God was a decision to promote their own image. You can't not bear an image of the god you worship – even if the god is yourself and your picture of success. I think it's telling that while Adam was created in God's image, Seth was created in Adam's…
5 "For God knows that when you eat from it your eyes will be opened, and you will be like God, knowing good and evil." – Genesis 3
When God created mankind, he made them in the likeness of God. 2 He created them male and female and blessed them. And he named them "Mankind" when they were created.

3 When Adam had lived 130 years, he had a son in his own likeness, in his own image; and he named him Seth. – Genesis 5.
3. The image we bear is closely related to the things we turn into idols. The things we get excited about. The desires of our hearts. Our hearts no longer desire God. They are broken.
"The heart is deceitful above all things
and beyond cure.
Who can understand it?" – Jeremiah 17:9
Son of man, these men have set up idols in their hearts and put wicked stumbling blocks before their faces. Should I let them inquire of me at all? – Ezekiel 14:3
The Lord saw how great the wickedness of the human race had become on the earth, and that every inclination of the thoughts of the human heart was only evil all the time. – Genesis 6
4. Part of the brokenness we feel, and the longing we naturally have is to do with trying to recapture the image we were created to bear. This supplies the narrative tension in the Old Testament.
But if from there you seek the Lord your God, you will find him if you seek him with all your heart and with all your soul. – Deuteronomy 4:29
Then in the nations where they have been carried captive, those who escape will remember me—how I have been grieved by their adulterous hearts, which have turned away from me, and by their eyes, which have lusted after their idols. They will loathe themselves for the evil they have done and for all their detestable practices. – Ezekiel 6:9
"But as for those whose hearts are devoted to their vile images and detestable idols, I will bring down on their own heads what they have done, declares the Sovereign Lord." – Ezekiel 11:21
5. We can only recapture that image if God re-creates us.
Therefore speak to them and tell them, 'This is what the Sovereign Lord says: When any of the Israelites set up idols in their hearts and put a wicked stumbling block before their faces and then go to a prophet, I the Lord will answer them myself in keeping with their great idolatry. I will do this to recapture the hearts of the people of Israel, who have all deserted me for their idols.'
6. The residual image of God in our humanity gives humans dignity and value, even if the image of God is no longer fully realised. It also enables us to know what "good" is, even if we can't do it. I think this is the tension Paul is reflecting on in Romans 7 (which leads to Romans 8, which culminates in Romans 8:29).
7. We become, and bear the image of, the idols we behold. Part of the damage sin does to what it means to be human is that we can't behold God the way we were made to. Our idols work because they shape our lives around our desires.
Those who make them will be like them,
and so will all who trust in them. – Psalm 115
For their hearts were devoted to their idols. – Ezekiel 20:6
I will give you a new heart and put a new spirit in you; I will remove from you your heart of stone and give you a heart of flesh. – Ezekiel 36:26
8. The tools we use shape us as much as we shape things with them. Nothing is neutral. The things we choose to use and make part of our lives rub off on us. We should try really hard not to become beholden to the things we hold or methods we use.
9. We can't re-image God without a change of heart – the whole narrative of the Old Testament, culminating in becoming New Creations in Jesus, by God's Spirit – can be understood as telling the story of humanity's repetition of Adam and Eve's attempt to make a name for themselves, not God (ie build their own image), and our inability to properly bear God's image, even in our best moments. The promise of the new covenant and new hearts is a promise to restore the image of God and its communicative function in humans.
The Lord your God will circumcise your hearts and the hearts of your descendants, so that you may love him with all your heart and with all your soul, and live. Deuteronomy 30:6
I will give them a heart to know me, that I am the Lord. They will be my people, and I will be their God, for they will return to me with all their heart. Jeremiah 24:7
7 The path of the righteous is level;
you, the Upright One, make the way of the righteous smooth.
8 Yes, Lord, walking in the way of your laws,
we wait for you;
your name and renown
    are the desire of our hearts. – Isaiah 26
10. Jesus being "the image of the invisible God" is hugely anthropologically significant. Especially when we are being conformed into his image. This transformation isn't just restoration, it's renovation.
11. The image of Jesus is at the heart of Paul's imitation of Jesus – especially, this is the image of Jesus on the cross as described in Philippians 2. It's also at the heart of the ethos bit of our communication as Christians – people who bear the image of Jesus and become more like him through the transformation of our hearts.
12.The mission of God, and thus the mission of the church, is to see the image of God restored in people, by the Gospel of Jesus, through the Holy Spirit. These people become communicative agents of God as they represent God through their changed humanity and heart.