Enough.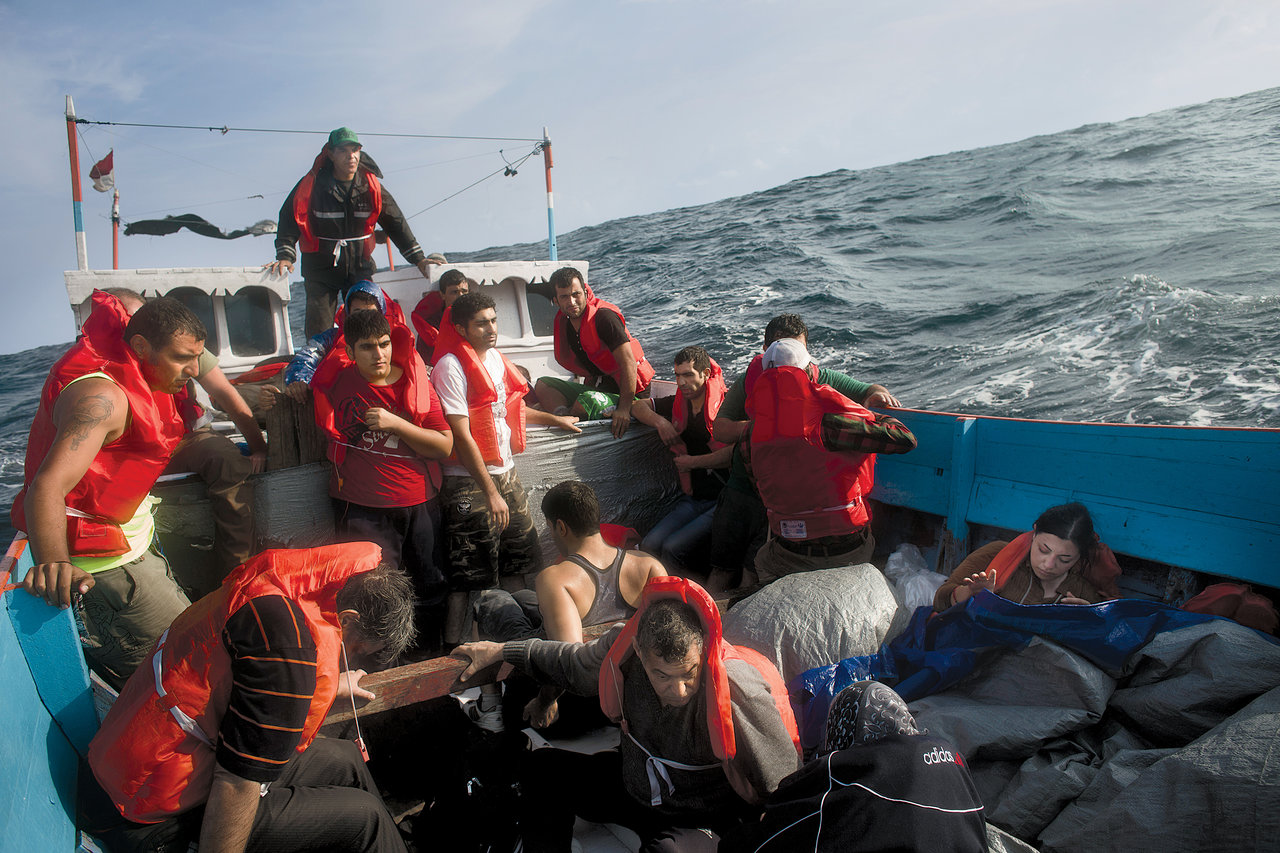 Image Credit: Joel Van Houdt, New York Times
Dear Australia
Most Australians think asylum seekers who arrive by boat are not genuine refugees and there is strong support for the Abbott government to treat boat arrivals more harshly.

A nationwide opinion poll by UMR Research shows that 59 per cent of people think most boat arrivals are not genuine refugees…

The poll, based on a nationally representative sample of 1000 online interviews, shows only 30 per cent of Australians believe that most asylum seekers are genuine refugees while 12 per cent are unsure.

A strong majority of Australians, 60 per cent, also want the Abbott government to "increase the severity of the treatment of asylum seekers… Only 30 per cent of Australians think asylum seekers should not be treated more severely, while 9 per cent are unsure.
That is staggering. We're not just talking about maintaining the status quo, which most mental health professionals and human rights advocates already believe is too harsh. We're talking about people who want this treatment to get worse.
Maybe this is purely malice. Maybe it is ignorance. Maybe it's something else. I hope it is ignorance. Though 9% of people admitted they weren't sure what they wanted.
If you're one of these 59-60%  – and statistics suggest there's a pretty good chance that you are (better than 1 in 2 (without accounting for what lovely people my readers are) – could you please commit to meeting at least three refugees this year and hearing their stories.
Why not make 2014 the year you expand your horizons beyond the lines you're fed by people with particular "special interests"? I'm not claiming not to be biased. It's pretty clear I feel strongly about this issue.
But that's no excuse for you to simply dismiss my opinion without taking steps to make your own opinion better educated, and perhaps, more compassionate. Could I challenge you – even if you stop reading right here – to put human faces on the statistics we're reading about asylum seekers, and, to avoid hypocrisy – can I offer to help. While I'm asking you, a statistic, to put a face to these statistics, can I ask you to become a face to me as well. Share your story with me. Tell me why I'm wrong. Tell me why we should be treating humans whose crime is not to be born in Australia – something not many of us have much control over for ourselves – as less than less than human (we already treat boat arrivals as less than human, so to make the treatment harsher again would be to dehumanise them further). Convince me.
If you're one of these 59% of Australians – can you contact me, speak to me, become a face for me – and allow me to introduce you to some refugee friends? I'd be happy to. If you're not in Brisbane, I'm pretty sure I can put you in touch with someone who lives near you who can help.
More than half of us don't want to look after people who are so desperate for help they flee their homes, their families, their friends – and get on rickety boats (even if they're told these boats are going to transfer them to more comfortable ships for the journey) – in the hope that Australia, the country they're heading to because we have a reputation for promoting freedom and welcoming multiple cultures – will welcome them. More than half of us don't want to welcome or care for our fellow humans. Not only do we not want to care for them – we want to treat them more harshly. This might be out of ignorance too.
If you want to read a first hand account of the boat journey – just the boat journey, without the underlying personal trauma associated with fleeing your home – two New York Times journalists made the trip, and wrote about it.
Maybe you're one of the 60%. Maybe you haven't felt about what it does to a person to be pulled off a sinking ship in the middle of the ocean, ferried into captivity, referred to by number, placed with a bunch of strangers, given no certainty about how long you'll be held…
Maybe you aren't aware that a Commonwealth Ombudsman report on suicide and self-harm in migration detention described the conditions, presently, in our detention centres – funded and operated in your name, Australian – as prison-like, featuring: "omnipresent surveillance features, including high wire and razor wire fences, surveillance cameras, body searches, room searches, roll calls, and being constantly watched over by uniformed security personnel."
Maybe you're not aware that 62.5% of people held in detention centres have significant mental health issues – exacerbated by detention, and according to that same report: "Australian and international evidence supports the conclusion that immigration detention in a closed environment for a period of longer than six months has a significant, negative impact on a detainee's mental health."
Maybe you're not aware that almost 1 in 5 asylum seekers attempt self harm in detention, and 14% of these self-harm cases involve children.
Maybe you're not aware that these conditions, and detention itself, scars detainees by causing significant ongoing mental health issues, and not only does it cost about $578,000 per offshore detained Asylum Seeker ($1 billion to keep 1,728 refugees in off-shore detention), the mental health care costs when they are inevitably released into our community are huge – about $25,000 per individual (source: T. Ward, Long-term health costs of extended mandatory detention of asylum seekers, (Melbourne, Yarra Institute for Religion and Social Policy, 2011).
It feels crass to make an economic case not to keep people in detention – or treat asylum seekers who arrive by boat "more harshly" – but that's a political reality. It seems. Which is sad.
Politicians do whatever they can to stay in power, and we keep the politicians who serve our self interests in power for longer.
Dear Australian Christians,
Statistically, about 62% of Australians identify as Christians – there has to be some overlap between that 62% and the 59% who want us to be nastier to vulnerable people. Even if the 38% who don't identify as Christians were hypothetically part of that 59%, there's another 21% of Australians who are Christians who want us to treat asylum seekers "more harshly" than we already do.
If you are one of these Christians, then let me speak to you for a moment about why your position is fundamentally inconsistent with the Gospel – you know – the foundational truths of Christianity.
Let's, for a moment, imagine that Christianity is fundamentally the story of people looking for a better future because their 'present' is filled with brokenness, and that part of becoming a Christian involves escaping the brokenness. It shouldn't be too hard to imagine. Because that's exactly what Christianity involves. But it doesn't just stop there.
Christianity involves a king, a leader, who doesn't just show compassion to us, as refugees who are fleeing a future we don't want, he grants us a future we don't deserve. He doesn't just grant us a future we don't deserve – he dies to buy our ticket to this future, to secure our place.
We don't get in on merit. We don't get in on lining up in the right place. We get in by asking for mercy from the king.
If you want to pick a stance on this issue that imitates Jesus and gets you a hearing for the Gospel message, the ability to tell the story of Jesus with consistency – a story that involves self-giving, sacrificial love from a king, not just for strangers from another country, but for his enemies – then I'd urge you to reconsider the stance you are taking on refugees.
Sure. It is possible that by being generous and compassionate people will abuse our generosity. People may come through our gates who we don't want coming through our gates. There might be "security" risks. But risks come with rewards, and at the moment we are perpetrating a terrible evil by being complicit as our leaders mistreat people in our name, while they give us what we want. It's time to want something different. To want something better.
We can start by not wanting something worse.
We can start by understanding the plight of the refugee, the complexity of the decision making process involved in fleeing one's country.
We can start by insisting on treating refugees with dignity, with love, with compassion – even if we feel strongly that they shouldn't have taken their own lives in their hands on a dangerous journey with some manipulative and unscrupulous people smugglers.
This is an issue that transcends party politics. Don't read this thinking I've got it in for Tony Abbott and the Liberal Party. It's not about the Liberal Party. It's not about the Labor Party, and while the Greens are a compassionate voice in this debacle debate, I'm not suggesting we all join the Greens. Politics in our country is far more complex than a neat dichotomy (or trichotomy) allows. There are issues scattered through history where all the obvious and popular positions were wrong, and immoral. And when we see such immorality enshrined in our legislation, or when we realise we've vicariously been participating in this sort of immorality, change requires people speaking up in every party, from every ideology.
If we want genuine change the solution to this issue needs to be something that affects every party. We can learn something from how those agitating for changes to the Marriage Act are approaching their advocacy – pushing for conscience votes, and advocating the issue on a person to person basis, through stories, rather than accepting the lock-step conclusions of two party rooms – even if you disagree with their cause, their methods are effective.
Because Australian politics is now, perhaps more than ever, predicated on giving people what they want, not giving people what they need, or what is right (because that's how you stay in office) – our Prime Minister has amped up the rhetoric on the asylum seeker issue.
"If stopping the boats means being criticised because I'm not giving information that would be of use to people smugglers, so be it. We are in a fierce contest with these people smugglers. If we were at war we would not be giving out information that is of use to the enemy just because we might have an idle curiosity about it ourselves… Let's remember that everyone in these centres is there because he or she has come illegally to Australia by boat. They have done something that they must have known was wrong."
Disgusting.
Dear Prime Minister Abbott,
Sorry Mr Prime Minister. With all due respect – we must do better as a nation, and your job is to lead us in doing better in promoting selflessness, not to pander to our self interest.
We live in a democracy, where transparency is essential for our votes to be cast in an informed and invested way, as is our right. You are robbing us of that right by promoting secrecy – it is, I feel, better to inform both the smugglers and the Australian public, rather than informing neither group. This isn't a war. This isn't an issue of national security. This isn't about mere "idle curiosity" – this is about letting the Australians who care about our international obligations, and about other people, you know, our fellow humans, keep you accountable as our elected representative and leader.
Perhaps worse than the lack of transparency is the fundamental abuse of the truth in your pandering to the "will of the people." Your statements to The Guardian are misleading and make criminals out of the victims of crime.
a) it's not illegal to seek asylum by boat. It's wrong to people smuggle.
b) none of the asylum seekers I've spoken to had any idea the thousands of dollars they spent to get here, or the boats they got on were the "wrong" way to come here. They certainly weren't paying thousands for a dangerous trip on a non-seaworthy rust bucket. "Ishmael" tells the story better than I can.
c) comparing the circumstances of people fleeing from the tragedy of war, or violence, by conflating the motivation of asylum seekers and the scourge of people smuggling is abhorrent.
Even if it's true, what you say, about many of these asylum seekers being "economic refugees" – and it doesn't appear to be, given that the vast majority are found to be genuine refugees – these individuals have the right to test their refugee status by seeking asylum. And, are allowed to seek asylum in whatever way they are able.
I spoke to a friend, an asylum seeker from the Middle East, a Christian, who had fled religious persecution from his home country – and sure, his reason for specifically seeking refuge in Australia was that it offered new opportunity – both for the freedom to practice his faith without fear, and economically – but the very nature of seeking asylum is to seek new opportunity for life, from a situation where there is no opportunity for life. Every refugee is an economic refugee, it's a meaningless category.
Here's another story. From another asylum seeker.