The Centre for the Study of Science, Religion, and Society is a bit of a mouthful, but it's worth learning how to wrap your tongue around the multiple syllables, or trying to remember the acronym (CSSRS). It's based at Emmanuel College at the University of Queensland (where Queensland Theological College also resides), and is headed up by Dr Leigh Trevaskis. A top bloke with PhDs in science and theology. It's aiming to provide an interface between the academic world and the classical Christian faith, and has regular events and a website that will (hopefully) have increasingly valuable content as these conferences take place and fill the digital airwaves (pixelwaves?) with content.
The Centre just held a conference on Faith and Public Office, I tagged along in my capacity as a member of the Presbyterian Church's committee that thinks about the intersection between faith and public office (and to write a news story about the day that will maybe one day feature in the Eternity newspaper). I don't want to steal the thunder of that story too much, but a 650 word news story (I can still write in less than 6,000 words) is bound to miss some goodness from the stellar line up of panelists. It was a terrific conference, and I'll be keeping an eye on upcoming CSSRS events.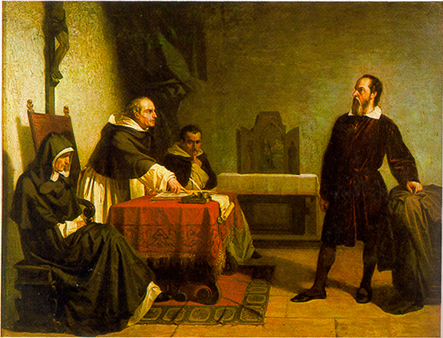 Image: The Trial of Galileo, a picture of faith and public office coming together in a possibly not so helpful way, and the banner image of the CSSRS.
1. A beneficial public square is a public square that hears all voices. A public square that silences dissenting voices and views, or establishes a common denominator that excludes richness is a path to catastrophe.
This was a sort of universally agreed upon point. Former Deputy PM John Anderson gave the opening speech, kicking off a theme that carried through the day. The public square benefits from people of faith bringing their views to the table – not just 'natural law' arguments or arguments based upon an agreed upon set of common assumptions – because hearing all views is vital to a liberal, secular, democracy. The suggestion that views need to be evidence based and speak only of things that everyone agrees on, especially when it is used to silence faith based voices, is not secular but secularist.
If only voices that speak according to an already established general consensus are allowed to be heard, then that consensus will never be able to shift. Anderson gave the example of voices from outside agreed upon norms that have achieved great change, and present examples that should be heard in order to provoke thought. He suggested William Wilberforce, Martin Luther King, and secular ethicist Peter Singer would all be ruled out of contributions to public life on the basis of the assumption that conversation must start with common agreement, rather than seek it.
In speaking of the need for a better public square, many of the contributors acknowledged the challenges presented by social media, as well as the tendency for people to shout down views they're opposed to with increasingly vitriolic methods. But more on that below.
2. Public life, and public office, based on reason, evidence, and the rule of law alone is not enough to stoke the fires of the imagination.
We need a more comprehensive narrative and a fuller view of humanity that speaks to the heart and soul, not just the mind. The conference was co-sponsored by UQ's Law School, and the head of the Law School, Professor Sarah Derrington opened the festivities with the observation that public life becomes soulless if it just emphasises the bones and foundation of the rule of law and rationality. If that's all we have, she said:
"The aching of the soul finds no relief in secular politics; civic life has become a farcical drama"
Others observed that the imagination will only be fired if people in the public square introduce counter-narratives that both have a place for the use of the imagination and the heart, and fire those parts of our humanity up in the process. These aren't exclusively the domain of the Christian, but the Christian has a pretty good story that'll do this.
3. We need virtuous heroes to speak into this public square to remind us of what has shaped the good parts of where we are today.
It's not really enough to just be a good political strategist. A few of the panelists, especially those closest to the political scene, moved the discussion about the ideal politician from someone bound by duty to represent the will of the public, to someone elected on the basis of virtue. Fiona Simpson spoke about virtuous servant leadership using Kathleen Patterson's model of servant leadership, which lists the virtues as:
agape love
humility
altruism
vision
trust
empowerment
service
I'm all for virtue ethics. I found her presentation interesting when it was paired with Michael Cooney's presentation on The Faithful Partisan in Public Office. Cooney is Executive Director of the Chifley Research Centre and former speechwriter for Prime Minister Julia Gillard. He's a church going, card carrying, member of the Labor movement. He talked about a few things but his basic thesis was that the pursuit of political neutrality, or fence sitting, doesn't really serve anybody all that well. There's a bit about the implications of this when it comes to commentators trying to appear objective below, but he suggested there's a real moral challenge for partisan stakeholders when they're participating in a party that requires holding to a party platform you might disagree with. There's some interesting ground to unpack here on the Catholic roots of the Labor Party and its approach to 'excommunication' versus the Coalition's less strident position on floor crossing outside cabinet. But Cooney spoke about the challenge of being a faithful partisan – in being both faithful to God and the Party – he talked about political martyrs, those who disagree with a party's position, and walk away. He said it's easy to find your way out of politics, with integrity via martyrdom. What's harder is finding your way still in. Staying in the party. He discussed this harder way using a political dilemma, the Dirty Hands metaphor. This is for cases where a political actor is forced to choose between two bad options. Cooney doesn't think martyrdom in the face of dirty hands is the best way to serve the public, or a partisan ideology. It's not enough to just wash your hands of situations like this to avoid being confronted by the mess of structuring messy lives via politics. He quoted this article by Michael Walzer which posits a "suffering servant" leader as the ideal actor through messy dirty hands scenarios, one who knows they are sacrificing themselves and the cleanliness of their hands, for the sake of others. For Cooney (and Walzer), the virtuous partisan political decision maker navigates the dirty hands that come from being involved in the system by being someone of virtue, conviction, and conscience, someone who we can be confident acts as rightly as they can because when they do the wrong thing, they know and believe its a wrong thing, not the best thing. Importantly, Cooney made the point that the partisan doesn't just operate on behalf of the party, but also the partial. He said "the party is not your city" – partisan participation in politics isn't just a question of "right politics" but the "good society" and the way to really achieve that, as a partisan, is via humility and repentance. Rather than opting for martyrdom, he suggested partisans should be penitents rather than saints. This is his picture of a political hero.
John Anderson's vision of the virtuous political actor – the hero – is somewhat embodied by William Wilberforce (and the Seventh Earl of Shaftesbury), but also drawn from a speech by Churchill. He loves the way Wilberforce approached politics seeking to bring about social good as the fruits of his faith, rather than detaching them in a secularist sense.
This is what it looks like to be remembered as a virtuous hero. Churchill's hero, and Anderson's, is mindful of history and speaks truth to people who are all too willing to forget history – in this context people who are wilfully ignorant of the fact that a liberal secular democracy – and all the things we love about the system – is, historically, the fruit of Christian principles about human dignity being applied to politics.
"One of the signs of a great society is the diligence with which it passes culture from one generation to the next. This culture is the embodiment of everything the people of that society hold dear: its religious faith, it's heroes… when one generation no longer esteems it's own heritage and fails to pass the torch to its children, it is saying in essence that the very foundational principles and experiences that make the society what it is are no longer valid. This leaves that generation without any sense of definition or direction, making them the fulfillment of Karl Marx's dictum, 'A people without a heritage are easily persuaded.' What is required when this happens and the society has lost its way, is for leaders to arise who have. It forgotten the discarded legacy and who loves it with all their hearts. They can then become the voice of that lost generation, wooing an errant generation back to the faith of their fathers, back to the ancient foundations and bedrock values." – Winston Churchill
What's interesting, I think, is that all these models of talking about virtuous servant leadership talk a little around the example of Jesus, rather than self-consciously being shaped by the example of Jesus. As much as we need to keep acknowledging the gap between our leadership and Jesus' perfect servant leadership, we are being transformed into his image, and we are united with him by the Spirit (this isn't necessarily the lynchpin of Catholic theology, and Cooney, at least, was speaking as a Catholic). Jesus is the real virtuous suffering servant, who embodies the true forms of Patterson's virtues and remembered human history perfectly, drawing on it in order to speak rightly. Anderson did make a bit of a deal about his political heroes consciously seeking to base their actions in the Gospel, and the imitation of Christ, but he turned to Churchill, rather than Jesus, to provide the framework.
In the panel at the end someone, I think the ABC's Scott Stephens, made the comment that virtues are taught by example. By story. Not by rules and regulations. We need more people leading by example.
4. Winsome and thoughtful contributions that assume the validity of our faith based framework are necessary, because actions are shaped by ideology.
I think it's interesting given point 2, above, and the desire expressed by the speakers for truth-speaking, virtuous political actors and a public sphere that accepts all voices, that so many Christian voices buy into secularist assumptions and speak into the public sphere using natural law arguments, or arguments devoid of soul, imagination, and an attempt to articulate the divine mind. We've accepted the secularist position as the secular position without challenging its assumptions. And now. It's coming back to bite.
Dr Joel Harrison is a law lecturer at Macquarie University, he spoke about the problem this presents in the legal sphere, where jurists now reject any transcendent rationale for behaviour in the real world, the legal system is increasingly dismissive of reasons for behaviour that are not based on common assumptions, and (in a technical sense "more immanent") evidence based (meaning empircal, science based or logic based) models, for human flourishing. Harrison cautioned that we need to find ways to speak into this world, but we also need to be modelling winsome alternative visions of the good that accommodate a sense of the transcendent. Part of the reason he gave for the legal system moving this way is how poorly such alternatives have been argued in the legal sphere, and in past cases. He suggested contributions that re-introduce, or assume, the validity of the Christian narrative might be a way forward. He suggested Nicholas Aroney's presentation on The Role of Oaths in Public Office was a good example of what this might look like. It'll be worth a read when it gets released or published.
5. We must match political arguments with an 'eloquent life' in public
Anderson quoted Wilberforce's epitaph. Which I love.
"He was among the foremost of those who fixed the character of their times; because to high and various talents, to warm benevolence, and to universal candour, he added the abiding eloquence of a Christian life. Eminent as he was in every department of public labour, and a leader in every work of charity, whether to relieve the temporal or the spiritual wants of his fellow-men."
6. The media's pursuit of 'objectivity' leaves the media commenting on and highlighting questions of political strategy rather than substance and issues (lest they be seen to take sides).
Cooney made this point as he spoke about the common belief that somehow fence-sitting or non-partisanship is somehow a greater good, or a more ethical and virtuous position. Cooney's broader point was that rightness and wrongness can't easily be assessed from a disinterested position or the centre. He suggested that in not actually digging to the bottom of issues (to avoid being accused of being partisan) the media has to comment on less substantial issues.
7. The media has a self interest in defining the public and reflecting the public's views back at itself as a new orthodoxy. This process is dangerous.
Scott Stephens, from the ABC's Religion and Ethics portal, gave a terrific presentation on the nature of the public, and the public press, and the public square. I hope it gets published somewhere because he crammed three hours worth of great content into 45 minutes. He outlined the process by which the press enlarged, empowered, hollowed out, and then dismembered the public. Here are a some of the questions he raised (and largely answered, though some of them remained questions, and a couple of the points he made that outline this story of the relationship between the media and the public. These are in quote marks to show they come from Scott, but they're hastily typed notes, not verbatim.
The rise of the public happens alongside the rise of the media. The media never tires of repeating this story, because the media is the hero of the story. The heroic narrative is the story of the throwing off of the old order, the regime of monarchy and church. The press fuelled the revolution, then gradually took its modern form, where it became the medium by which common ideas were debated.

If the popular press is a plebiscite in permanence, then what happens is the press becomes the vehicle that extracts what people think, and turns around and tells people, "this is what you really think"… ?

The more people see themselves reflected in the public press, the more interested they become in the public press. In order for the popular press to be the popular press, the people need to become actors in the public square.

How does this help when it comes to issues that are extraordinarily complex? When you actually want expertise not populism?

This all led to opinion polling, which enshrines the plebiscite in permanence function. When polling started there was a rapid uptake by the public. People polled responded more than 80% of the time, but there was a slow uptake from the media. Now. 6-7% of people polled respond to polling requests, but the stories about opinion polls are the major drivers of stories.
8. Journalists have adopted cynicism as something intrinsic to the role of journalism, this is dangerous to the 'public'
This is another part of the media story which explains why giving the press the role we have is a little dangerous to both those in public office, and those of us who make up their "public"…
Young journos who came of age during the cold war really wanted to get back into "muckraking" – not offering the sort of faith to public figures that they'd had in the past, but instead to view public officers with skepticism and distrust. Inspired by Watergate (and All The Presidents Men) the journalist became the modern hero. At the expense of the politicians. Keep tabs on how many '-gates' we have these days as journalists hunt for their own version.

Cynicism became a journalistic virtue. Once you take cynicism and disrupt the big channels of communication, and begin to disaggregate the way people get their information, that's the perfect storm. You're supercharging it. It's a climate of suspicion and doubt.

More than any other thing, cynicism is killing us. Doubt. Secularism. Forget those. Cynicism is killing our common life. Our inability to trust one another and look for and hope for the best from our public figures is destroying the bonds that ought to hold us in common. All journalists want their moment. Changing your mind is condemned as a betrayal of public trust. We are killing the ecology of the public conversation. It's not vested interest that is corrupting public life. It's lack of imagination. It's laziness. It's the inability to have our imagination stimulated by a desire for something more.
9. The church might have a role to play (along with an ethically minded public broadcaster) in shaping the public square in a way that is beneficial to society and especially for voices at the margins.
This was perhaps my favourite quote from my favourite presentation at the conference…
Could it be that the role of the church (and the public broadcaster?) is not so much to be one ideological warrior among many, but the shepherd/keeper of the moral ecology of the public square itself. The defender of whomever is excluded from the public square itself.
This is probably a good way of articulating a big question that I've been grappling with both in my own head, and in some recent posts. This is the virtuous and heroic thing for us to do, according to the views of public heroism outlined above, but it's also the thing that will ensure we maintain a voice at the table even as the public shifts away from us.
10. Social media might be part of the solution. But it is dangerous.
A few speakers, both in their presentations and in the panel discussion at the end, expressed a sense of dismay about the state of the public square, and the way social media seems to be an amplified version of some of the problems with traditional media, where people angrily clamour at one another belting out screeds using keyboards that are sent to wide audiences via ubiquitous screens. There was a sense of optimism from some people that social media could be a game changer, and I believe it could be something the church (and the public broadcaster) use to play the role Stephens articulated above. But it's a question of creating a platform that genuinely invites all voices to be heard, and that's harder than it sounds. Cooney, who often belts out partisan opinion pieces in a couple of hours for the ABC's The Drum, and a few others, acknowledged that there are heaps of online platforms that function just like Q&A, where people go hunting for an ideological champion. People on the panel generally agreed that The Conversation is a pretty good model of what this sort of platform looks like (even if it is a little high brow).
Michael Cooney reckoned the biggest game changer in social media is that it changes the way we receive content. It's not the concentrated editorial policy of a publication with an agenda (and he, as a partisan, acknowledged there are commercial media outlets both sides expect favourable treatment from), but articles shared by friends and people you follow as trusted curators. I think this is certainly true if you can navigate the noise of Twitter. But Facebook is a little more pernicious. The "filter bubble" effect means you're just as likely to become entrenched in your views on social media as you are in the mainstream (see this piece on coverage of the Israel v Palestine conflict in the newsfeed of various Facebook users), unless you deliberately give voice to people you disagree with, or who have a different perspective to you, and pay attention to them. This means combating the default settings of Facebook's algorithm (and to an extent, Google's search algorithms).
The question I wanted to ask the panel was:
Given that Facebook's Mark Zuckerberg says his social media platform functions with the underlying principle that "a squirrel dying in your front yard may be more relevant to your interests right now than people dying in Africa," and given online media is increasingly curated via algorithms that create this 'filter bubble' that are designed to give us what we want to see, how might we play the role Scott Stephens suggests as "keeper of the moral ecology" – the giving and protecting of voices, especially marginalized voices, in an age where new media exists in a 'filter bubble'? What does this look like?
This, I think, is the question the church absolutely needs to grapple with if we want to play a significant role in the public square, and even, I think, if we want to have a voice in the public square into the future.
11. We need more silence. The Media (and social media) operate as Kierkegaardian "irresponsible speech"
Scott Stephens spoke about Kierkegaard's (very negative) view of the press, and the sense that moral thought is something that comes through silence as a person considers what is right and true, not through simply speaking opinion without any responsibility or obligation being attached to your words. Both the media and social media function as noisy echo chambers that don't give people the silence they need to consider moral questions, and worse, they simply entrench opinions people already hold (this is even more dangerous if the social media world is shaped by algorithms and filter bubbles, but Stephens didn't get to speak much about that). He did speak about the problem with the media as typified by panel discussion shows…
The debate itself, the nature of the conversation, destroys the conversation. The way in which the conversation is had pulls down all sides. It's about appealing to one's constituents rather than persuading. All people do is appeal to their constituents so audiences now expect a champion to speak for their point of view well, not to be persuaded. WE don't get the best versions of the arguments but cardboard cutouts. You already know what people are going to say. The point is that an already fractured audience can look at the panel and say "there's my champion" and "there's the person I love to hate"
12. Politics is a tricky business. And we need more people of character. More prayer. More understanding. And more politicians following the 'golden rule'
In her opening address to the conference, the head of UQ's Law School, Professor Sarah Derrington, talked about how people of faith in public office have come up with a common agreement about a golden rule that guides their contributions to public life. I tried to capture as much of this golden rule as I could, but I missed a couple of bits.
The Golden Rule involves always showing respect for the other, acknowledging the limits of one's understanding, listening patiently, using precise language, trying to understand the experience that led to the other person's views, looking for mutual agreement. Praying for leaders. Not using inflammatory words or derogatory names, not delighting in difficulties, not assaulting character or falsely assuming motives, not demonizing, not questioning the patriotism of others.
Derrington quoted a prayer from Dag Hammarskjöld, the second Secretary General of the United Nations, as a prayer that is a model for how faithful office bearers might pray.
You who are over us,

You who are one of us,

You who are also within us,

May all see you-in me also.

May I prepare the way for you,

May I thank you for all

that shall fall to my lot,

May I also not forget the needs of others.

Give me a pure heart-that I may see you.

A humble heart-that I may hear you,

A heart of love-that I may serve you,

A heart of faith-that I may abide in you. Amen.
I like this. One thing I was reminded, hearing from various people engaged in public life, in various roles, in a most excellent conference, was that one way the church is meant to serve those who serve us — be they people of faith or otherwise — is through prayer. Faithful prayer because we have a virtuous suffering servant as our true king, who marks out our true citizenship, defines virtue by example, and calls us to live where we are as exiles who live good lives for the sake of our neighbours and enemies. Here's how Paul puts it in 1 Timothy 2…
"I urge, then, first of all, that petitions, prayers, intercession and thanksgiving be made for all people—  for kings and all those in authority, that we may live peaceful and quiet lives in all godliness and holiness. This is good, and pleases God our Savior, who wants all people to be saved and to come to a knowledge of the truth. For there is one God and one mediator between God and mankind, the man Christ Jesus, who gave himself as a ransom for all people."