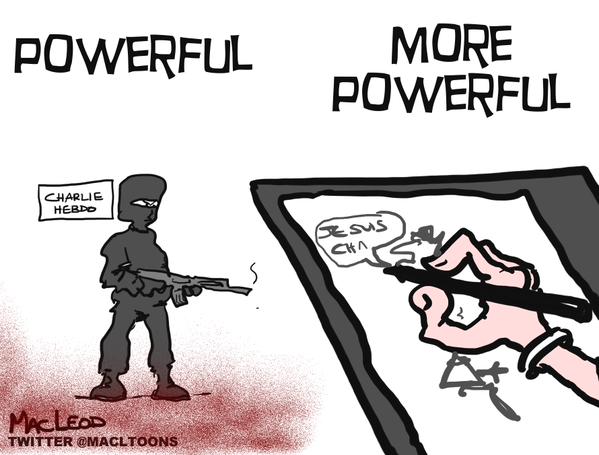 Image Credit: @macltoons (tweet)
Am I Charlie?
I've pondered this question a bit since the first tweets and placards started carrying the phrase 'Je suis Charlie' — ' I am Charlie'— following the shootings in Paris.
Am I Charlie?
I certainly feel a natural inclination to identify myself with the press, I've never quite shaken off the sense that I'm a journalist, even as I plied my journalistic skills in the name of public relations, even as I've poured pixels onto white space as a blogger, even now as I form sentences to be delivered as sermons not news stories, part of me desperately wants to be Charlie. I want to strike blows for a free press, for free speech, for the power of the pen in the face of the sword (or in the face of AK47s and fear).
Am I Charlie?
Do I actually want to be Charlie? Is Charlie Hebdo and what it stood for, and published, actually journalism? Or are they simply agent provocateurs operating under the guise of the press, seeking to test the limits of free speech? Even that appeals to my inner contrarian just a little bit.
Am I Charlie?
What about as a follower of Jesus — how much can I be Charlie? How much do I want to align my quest with theirs? How much can I align my life with theres? Certainly there is much of their humanity that I share, but what about their ideology, or their practice? What overlap is there between the tenets of the Christian faith, expressed in the person of Jesus, and the tenets of a satirical newspaper perhaps best expressed in the mockery of those who don't conform to a left-wing political ideology.
I am Charlie inasmuch as I am human, but I am more than Charlie.
When it comes to my humanity, and how I understand it. I am not Charlie, I am Jesus. This offers a better comfort, a better solution, and a better course of action, in times of tragedy. It helps me respond not just to the situation in Paris, but also the situation in Nigeria, and not just to the situation in Martin Place, Sydney, but the situation in Pakistan.
It teaches me the value of human life, and how to respond to my enemies, and my neighbours.
It teaches me not to respond first by reaching for pen, or sword, but by clinging to the Cross.
Je suis Jesus. I am Jesus.
At least, so far as the Bible accounts for my humanity when I follow Jesus, I am Jesus, because I am united with him through his death and resurrection, by the Holy Spirit.
Here's what Paul says to the Galatian church in the letter we now know as Galatians…
" I have been crucified with Christ and I no longer live, but Christ lives in me. The life I now live in the body, I live by faith in the Son of God, who loved me and gave himself for me."
Paul's words in his letter to the Colossian church are handy to hang on to when we're trying to figure out what this means in the aftermath of tragedy — or, indeed, any where and any time in this tragically broken world.
"Since, then, you have been raised with Christ, set your hearts on things above, where Christ is, seated at the right hand of God. Set your minds on things above, not on earthly things. For you died, and your life is now hidden with Christ in God. When Christ, who is your life, appears, then you also will appear with him in glory."
Je suis Jesus.
This has to be our perspective, as Christians, when horrible stuff happens in this world. It doesn't let us stand back and not be involved, it moves us to respond to the brokenness and pain around us knowing that Jesus took on the brokenness and pain of others — including our own — to love us, to redeem us, to fix us — even as we were his enemies.
Over and over again the Bible calls us to imitate Christ because the underlying spiritual reality is that we have been united with him, by the Holy Spirit, and we're being made over into his image and likeness. Our humanity is redefined, and rediscovered.
I'm not just united with him — I'm called to live as a part of his body in the world, the church. To be Jesus to this world, in the midst of turmoil, tragedy, and grief. To point people to God's solution to the world's brokenness, not my own.
Here's what Paul writes to Corinth…
"Just as a body, though one, has many parts, but all its many parts form one body, so it is with Christ. For we were all baptized by one Spirit so as to form one body—whether Jews or Gentiles, slave or free—and we were all given the one Spirit to drink. Even so the body is not made up of one part but of many."
… to Colossae…
"He is before all things, and in him all things hold together. And he is the head of the body, the church; he is the beginning and the firstborn from among the dead, so that in everything he might have the supremacy. For God was pleased to have all his fullness dwell in him, and through him to reconcile to himself all things, whether things on earth or things in heaven, by making peace through his blood, shed on the cross."
And to Ephesus…
Instead, speaking the truth in love, we will grow to become in every respect the mature body of him who is the head, that is, Christ. From him the whole body, joined and held together by every supporting ligament, grows and builds itself up in love, as each part does its work.
A body is not disembodied. It is not just ideals and ideologies. My body gives life to my thoughts, and dreams. It turns them into action. It makes them real. And in a sense, that's what we're called to do when we say "je suis Jesus," we respond to tragedy in a way that embodies not simply who we are, but who he is.
Being conformed into the image of Jesus in a way that brings certain responsibilities in public discourse, and in public life. Images are powerful. Images motivate people to all sorts of behaviour. Images stir the emotions. The shootings in Paris teach us that, if nothing else. Images can stir crazed gun men to take up arms in the face of provocation and offence, images can draw our attention to the horror humans are able to inflict on one another, and images can unite people in the wake of a tragedy by pointing to some more redeeming features of our shared humanity.
The pen, the sword, and the Cross
The pen, it seems, is the weapon of choice for the left — not just Charlie Hebdo — but as we digest the events in Paris, and even further afield in Boko Haram, it's common to see solutions based on free speech, education, hashtags, and other tokenism. Fundamentally it's the idea that we can talk ourselves out of this hole, out of this despair, that somehow if we just get the words right, we can stop the bloodshed. We can respond to offensive words with more words. And words, of course, should never hurt us.
The sword, then, is the weapon of choice for the right. I've read commentators conducting post-mortems on recent tragedies, or suggesting solutions to the underlying issues whose opinions range from giving everybody guns (relying on the threat of mutually assured destruction), or sending in guys with bigger guns to stamp out these issues and bring order.
Je suis Jesus. I am not called to solidarity — or conformity — with those who would wield the pen as a weapon to secure their ideology (like Charlie Hebdo), though I am called to love the cartoonist, the journalist, and, I believe, to value and preserve free-speech (or to be prepared to speak freely, and face the consequences, when speech isn't free). My identity is not caught up with my ability to speak, to write, to draw, or to have others do this in a way that expresses who I am. Nor, am I called, to solidarity — or conformity — with those who want to take up arms to defend their ideology (like the terrorists, or the anti-Islamists), even if the ideology closely matches my own, even if taking up arms is the response the government chooses this is only my responsibility if I am a politician, or soldier, and there are other ethical issues that kick in there.
There's no doubt that the Biblical solution, at least temporarily, to the chaos in this world involves a wisely discerned mix of left and right. Certainly the New Testament describes the Government as a sword, wielded by God (and this wielding, as God's interactions with human history via governments always have been, happens through human agency). And certainly there's an expectation from the very nature of the Bible, and the nature of humanity, that we are made to communicate with each other, to relate, and to approach problems with words, and reason, not simply with fists. This is one of the things that clearly marks us out from the rest of God's creation right from the opening chapters of the Bible. We, like God, speak. And things happen.
But I am not in government. I vote for a government. I pray for our government, and other governments. But I am not a wielder of the sword.
It's simplistic to say Jesus wasn't interested in words simply because he didn't write much down himself. He was the word made flesh. It's simplistic to say Jesus wasn't interested in the process of government, and saw no place for armed responses to events simply because rather than taking the throne he died at the hands of the government, and rather than carrying a sword he carried his Cross. The reality is much more complicated than either of these caricatures allow.
What is clear though, is that when it comes to transforming the broken world, and when it comes to the transformation being conformed into the image of Jesus involves, there's a certain flavour to what Jesus did that goes beyond employing pen or sword to triumph over our enemies.
The use of the sword or the pen as a means to fix this broken world will only be temporary so long as their use is detached from God's own solution to the mess. Jesus. Specifically the Cross. If we want real and permanent solutions that transform humanity for the better, then the Cross must organise our approach to chaos, and our wielding of pen or sword.
Je suis Jesus. The mark I make on the broken world should not be in my name, or the name of my ideology, or my platform. If I am Jesus, if I am being conformed to his image, if I am to represent and identify with him, the mark I make should look much more like the mark he made. Not with the pen, not with the sword, but with the Cross.
Je suis Jesus. How do I respond?
How did Jesus live? What did he call me to do? What does 'setting my mind on things above' even look like?
The calls to imitate Jesus based on the theological truth that we are united with him, and being conformed into his likeness, always look like expressions of what Jesus did at the Cross. What he calls us to do— to love God, love our neighbours, and love our enemies.
Look what Paul says in his letter to the church in Philippi. Imagine a world where this is the solution people adopt in times of conflict and you can see how the cross is the solution to every imaginable human to human conflict.
Therefore if you have any encouragement from being united with Christ, if any comfort from his love, if any common sharing in the Spirit, if any tenderness and compassion, then make my joy complete by being like-minded, having the same love, being one in spirit and of one mind. Do nothing out of selfish ambition or vain conceit. Rather, in humility value others above yourselves, not looking to your own interests but each of you to the interests of the others.

In your relationships with one another, have the same mindset as Christ Jesus:
Who, being in very nature God,
    did not consider equality with God something to be used to his own advantage;
rather, he made himself nothing
    by taking the very nature of a servant,
    being made in human likeness.
And being found in appearance as a man,
    he humbled himself
    by becoming obedient to death—
        even death on a cross!
Or there's these words from his second letter to the church in Corinth. Paul talks about what it means to face up to human enemies, with competing ideologies, while preaching the Gospel and taking part in what he later calls "God's ministry of reconciliation"…
"But we have this treasure in jars of clay to show that this all-surpassing power is from God and not from us. We are hard pressed on every side, but not crushed; perplexed, but not in despair; persecuted, but not abandoned; struck down, but not destroyed. We always carry around in our body the death of Jesus, so that the life of Jesus may also be revealed in our body. For we who are alive are always being given over to death for Jesus' sake, so that his life may also be revealed in our mortal body. So then, death is at work in us, but life is at work in you.
And finally, to complete the circuit, what Paul says life looks like when we "set our minds on things above"…
"Put to death, therefore, whatever belongs to your earthly nature: sexual immorality, impurity, lust, evil desires and greed, which is idolatry. Because of these, the wrath of God is coming. You used to walk in these ways, in the life you once lived. But now you must also rid yourselves of all such things as these: anger, rage, malice, slander, and filthy language from your lips. Do not lie to each other, since you have taken off your old self with its practices and have put on the new self, which is being renewed in knowledge in the image of its Creator…

Therefore, as God's chosen people, holy and dearly loved, clothe yourselves with compassion, kindness, humility, gentleness and patience. Bear with each other and forgive one another if any of you has a grievance against someone. Forgive as the Lord forgave you. And over all these virtues put on love, which binds them all together in perfect unity.

Let the peace of Christ rule in your hearts, since as members of one body you were called to peace. And be thankful. Let the message of Christ dwell among you richly as you teach and admonish one another with all wisdom through psalms, hymns, and songs from the Spirit, singing to God with gratitude in your hearts. And whatever you do,whether in word or deed, do it all in the name of the Lord Jesus, giving thanks to God the Father through him."
The message of Christ — the message of the Cross — is what motivates the sort of virtues Paul lists here, these are the virtues of the Cross. The virtues Jesus displays as he dies for his enemies, as he calls out "father forgive them" not just in the face of the insults of the crowd, but the massive ignomious insult of the Cross, where he, in very nature God, is murdered by the ones he came to save. People. Me. You. People who had set ourselves up as God's enemies, and showed that enmity by nailing him to a plank of wood in a manner of death reserved for slaves and traitors.
That's a whole lot of Paul's letters covered — and a whole lot of Paul saying essentially the same thing. If we are Jesus, if we share in his death and resurrection, and the transformation that brings, we're called to respond to the brokenness in this world like Jesus did. Stepping into it, experiencing the pain and suffering of this world, in order to bring love, forgiveness, and reconciliation, to others, especially our enemies, not simply because this is a good way to live (it is), but because it points to what God did for us, his enemies, in Jesus Christ, and at the Cross — which is where real transformation can be found.
This approach — being the body of Christ in the midst of a broken world and in the wash-up of a tragedy also helps us answer the big philosophical question that is almost always asked in the aftermath of a disaster — where is your God in this chaos? The answer is that he is right in the thick of it, working through his people. Until that answer is true we're leaving our world in an existential quagmire.
Until all of us who want to say "Je suis Jesus" start stepping up and carrying our metaphorical crosses (starting at home, there's plenty of tragedy in our nation, in our streets, in and our homes, as well as the global stuff), until those of us who own the name of Jesus are loving like this, being the body of Christ in our world, we're relying on pen and sword to answer these questions, or provide solutions to problems these tools are ill-equipped to solve.
Wielding the pen just produces more hateful and hurtful words (alongside beautiful expressions of our shared humanity).
Wielding the sword might save some lives, but it always comes at the expense of others. Those we're called to love.
Wielding the Cross, living like Jesus, should only come at our expense, mirroring the way that a restored relationship with God, for us, came at God's expense, not ours.
The pen is mightier than the sword, but the cross dwarfs them both. The cross is how God makes his mark on the world. How he signed his name on the world, his name, which brings reconciliation and salvation to those who take it up.
The Cross guides our use of pen and word, and the government's ideal use of the sword. The cross is the weapon God uses to transform the world, life by life.