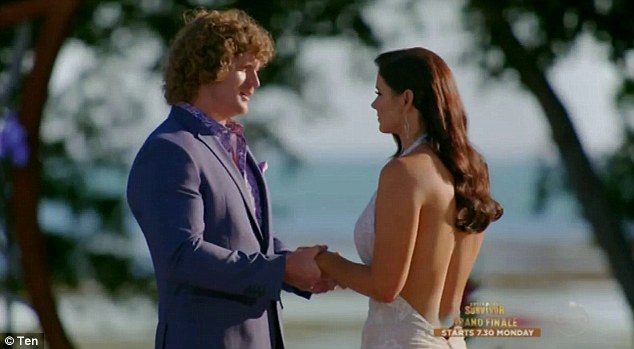 Like many Aussie blokes, I watched The Bachelor this season. Nick Cummins is a hero. A professional footballer (in the wrong code), who churns out colourful metaphors with every sentence, and seems to be a genuinely great guy. He turned down a Wallabies jersey (having already played for Australia a bunch of times) to move to Japan to make money to support his dad in his battle with prostate cancer, and his two younger siblings who have cystic fibrosis. There's class, commitment, drive, and humour attached to the Cummins name, or rather, to his nickname: 'the honey badger'… a name he apparently picked for himself.
"These documentaries would come on about this fearless little mongrel; just charging around, 40ks a day it'd do, 40ks… get around, eat everything, attack anything… You've all seen that one where it got bitten by that cobra or whatever, and after a while the venom gets too much, so she just keels over for a while, has a bit of a kip, and then she sparks back up, and keeps eating the bloody cobra. That's how I want to live life."
The Bachelor hasn't exactly been known for class, commitment, or humour, and yet, somehow the producers lined Nick up, because a guy like this is bound to be a ratings hit. The Badgelor was born. And it was a ride. Right up until the wheels fell off…
I'm fascinated by this show like I'm fascinated by car accidents when I'm driving along the highway; there's that 'rubbernecking' impulse that means you can't look away, but you know what you're looking at is a mangled mess. The concept of the Bachelor, for those who've managed to keep their eyes fixed on the road, is that one man enters a house with around 20 women. They're all looking for love. Each episode features a group date, a single date (with one 'lucky' girl), and a rose ceremony, where the Bachelor decides who he wants to keep around by handing out a rose. The numbers get whittled down until the finale, where the Bachelor has to decide between the two women he's kept around for the longest.
Last night the Honey Badger chose nobody.
And he's being condemned on social media, and in the mainstream media stories that now just consist of sharing what people are saying, because, you know, Vox Populi, Vox Dei (two things: One. This could well be the only review of The Bachelor season finale that uses Latin? Two. That means 'the voice of the people is the voice of God,' in journalism a 'vox pop' is a bit of content produced just by asking people their opinion, suddenly, in journalism, all stories are 'vox pops' because we are, more than ever, the gods of the media. The media just exists now to reflect our image back to us like a magic mirror telling us how beautiful and wise we are).
Now, I know you're not meant to take shows like The Bachelor too seriously; you're not meant to shed revealing light on how 'everyone knows' the mechanics of this sort of show aren't realistic and don't produce real love (despite the consistent narrative that lots of successful couples started on this program)… it's like a magician unpacking his best trick… we want the magic. We want to believe. It's even worse to try to use a show like this to 'shed light' on the culture that produces it… but the Bachelor is revealing, apocalyptic even, in that an 'apocalypse' actually just shows things the way they really are by using 'fantasy' (technically). The Bachelor is fantasy, and it is revealing about our modern story — and our modern gods — so it is apocalyptic.
The headline FoxSports is running on the finale is 'Honey Badger roasted over Bachelor fail'… calling it a 'disappointing finish'. Nick then had to face Lisa Wilkinson in a 'tell all' interview that will air on Sunday (so we have to wait for days, in this outrage), and in the news.com.au story anticipating this interview we're told that Nick, the man who sacrificed the fame of a Wallabies jersey for the fortunes of his family, has "a lot of work to do to salvage his reputation which is in tatters after last night's shocking finale." His reputation is being savaged online by fans taking to "social media to share their outrage at his decision with one viewer labelling the Honey Badger a "coward."" These reactions reveal more about us than they do about Nick; about how much is at stake for us in the sort of 'love story' The Bachelor offers for us to escape into; at the same time that the story reflects and reinforces what we think about love with the trappings of 'fantasy'…
Nick, an earnest sort of fella, seemed to go into this arrangement in good faith. Perhaps with too much faith in the process. And it did a number on him. A bloke isn't meant to pursue love while simultaneously dating twenty women, or four, or three, or even two. In the last couple of episodes you could see, and hear, Nick starting to realise this — that the artificial environment had done a number on his head. That he was being asked to do the impossible. That the fantasy wasn't going to deliver a fairy tale 'happy ending' but unless he changed the game and refused to play by its rules, was going to end in tragedy.
How is a bloke meant to decide 'who he has feelings for' when it's clear he has feelings for all of them? In not choosing either girl at the end, Nick didn't reveal so much about his character, but plenty about the character of the show — it's a horrific circus, about those who watch it, and about what people think love is — including the contestants. To come to the end of a circus without being able to say 'I love you' to one of the two women willing to say 'I love you' to him isn't a character fail on Nick's part; it's a failure for a culture that no longer knows what love is. Nick shared a bunch of 'hot dates' and 'steamy kisses' with plenty of these women. What was wrong with him? Why couldn't he commit? Why couldn't he say "I love you"?
Here's why. As a culture, we've decoupled sex and intimacy from love, so that love now comes after sex, which is what it is… "Love is love," after all, which is a meaningless platitude that has somehow become a definition for a 'feeling' we find hard to define, but we're apparently able to recognise it when it is there, or not yet there… But we've also made 'love' more a noun than a verb — a feeling rather than a decision.
I'm marrying a couple this afternoon (as in conducting their wedding), and one of the beautiful things about their story is that they understand that love isn't just a thing you feel and then say, it's a thing you say and then do. This isn't to say feelings aren't important. They are. But that posture of love and commitment — being on a journey together when life gets hard, being on a journey through more than just orchestrated 'perfect dates' with cameras rolling — that's what love looks like. I'm utterly unsurprised that Nick, who seems to have a pretty level head on his shoulders, was 'confused' and 'cloudy' and unable to commit in an environment that is totally artificial. Last night was a triumph because he was able to see through the fog clearly enough — to shed enough light — that he realised the whole thing was artificial. That he couldn't succeed if success is determined by that 'story' he was taking part in. Can Nick's apocalypse prompt an apocalypse for us? His moment of clarity and revelation? The very artificiality, the artifice, of the Bachelor — where relationships unfold in 'perfect environments' — starting with 'the Mansion' and ending in New Caledonia — sets the relationships up for failure. Relationships are forged through hard times — even the drama in the show is created artificially, the drama of group dates and women competing for the attention of one man. That's not 'through sickness and health'…
But it's not just The Bachelor that is broken, it's our cultural narrative (which produces it as a 'fantasy') — the idea of 'the one' who is out there who will complete me, such that all my life (and relationships) are experiments in pursuit of that 'one' — is broken. The problem with Nick's narrative last night was that he wanted to find a woman he liked enough to say 'I love you' to; there's a nobility there, to taking love seriously… but given his 'connection' to several of these women he could've simply picked any one of them to make that commitment to, and then to start that journey. That's what love is.
We got the couple whose marriage I'm conducting today to read Tim and Kathy Keller's The Meaning Of Marriage. It's a good book that unloads on some of the cultural narratives that The Bachelor imbibes and perpetuates. They quote Stanley Hauerwas to make the point that no two people are ever 'truly compatible' because the very nature of being on a journey of life together, 'life partners' as Nick called it, is that life changes us. Hauerwas says 'we always marry the wrong person' and that the challenge of marriage, of working through life is 'learning how to love and care for the stranger to whom you find yourself married.' The Kellers say:
"Modern people make the painfulness of marriage even greater than it has to be, because they crush it under the weight of their almost cosmically impossible expectations."
Where we used to look to God for satisfaction and a sense of where we sit in the universe, now we place that expectation squarely on the shoulders of 'the one'… There was plenty of language about being 'completed' in the finale last night, because sex and love now occupy the place of God. And people can't shoulder that weight. The Kellers say there's a secret to not crushing each other with these modern expectations — a secret that frees us to commit, and to love, but also that teaches us what love is.
"This is the secret — that the gospel of Jesus and marriage explain one another. That when God invented marriage, he already had the saving work of Jesus in mind."
Their summary of the Gospel is:
"We are more sinful and flawed in ourselves than we ever dared believe, yet at the same time we are more loved and accepted in Jesus Christ than we ever dared hope. This is the only kind of relationship that will really transform us."
If we bring that understanding of ourself, and each other, to marriage — without the God stuff — it stops us pinning unrealistic hope for our relationship and the 'one', so that we're always looking elsewhere, and the realistic picture of ourself, and the other, helps us to forgive and forbear. It helps us stick with each other on the journey. The God stuff matters because it gives us somewhere else – somewhere right — to pin those hopes and expectations.
At this wedding this afternoon I'm giving the 'words of counsel' from Ephesians 5, a passage that has unfortunately been abused in bad marriages over the years because it uses the word 'submit', and people miss that the posture of submission is mutual, and that submission (and love) means sacrificing strength for the other, and that for marriage to do something Paul, who wrote Ephesians, says is 'mysterious' — for it to teach us about God's love for us, the call on the husband, to sacrifice, is even bigger than the call on the wife.
Paul says, at the start of chapter 5, to:
"Follow God's example, therefore, as dearly loved children and walk in the way of love, just as Christ loved us and gave himself up for us as a fragrant offering and sacrifice to God."
This 'way of love' is the way of self-sacrifice, it's a path you walk together having made a commitment to do that… that's what love is. An action, not a feeling. That's what The Bachelor gets wrong in elevating feelings, sex, and romance, components of that journey, to 'love' — but it's not just them, it's our whole modern narrative, and the Bachelor (and the twitter commentary around it) throws open the curtains to reveal just how small and hollow this picture of love is, and how hollow we are if we think 'not finding love' on a TV show is a shattering failure rather than the start of a journey towards something true.