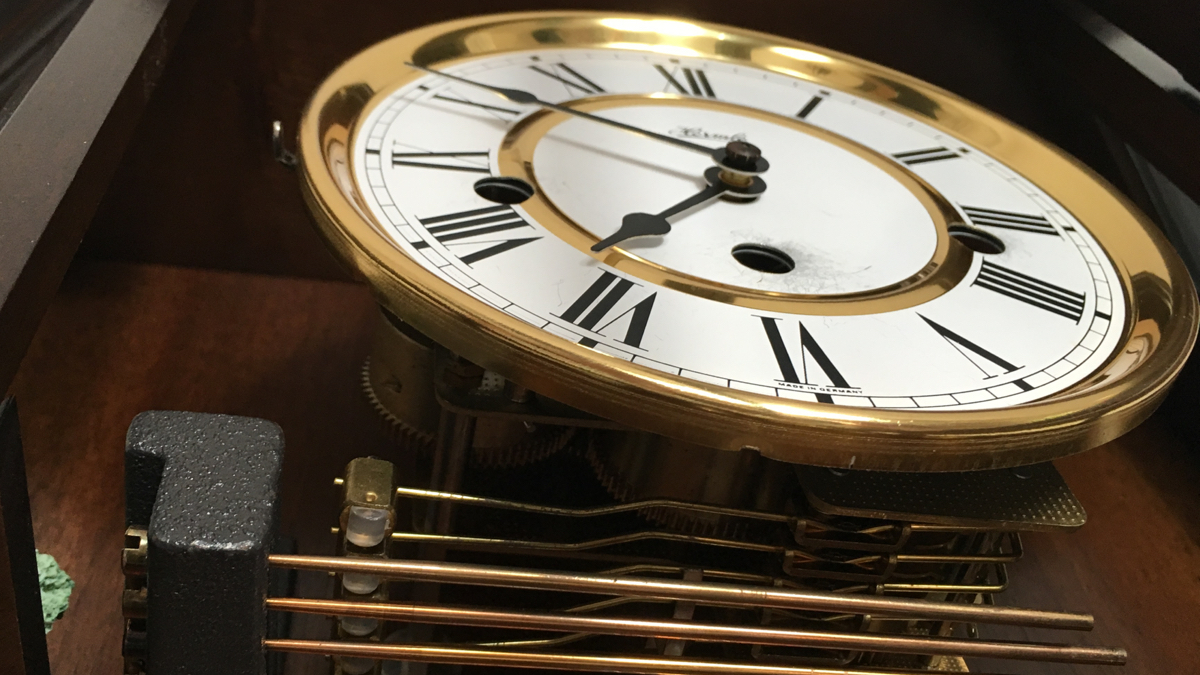 This week I inherited a grandfather clock.
I inherited it from my deeply and dearly loved grandmother who died last Friday. It's now proudly displayed on our lounge room wall, where it marks my own mortality. Every ticking and tocking swing of the pendulum, every cheerful 15 minute chime, marking both the passing of time and the countdown to that day when my body will also draw breath for the last time.
My gran, Cynthia Campbell, was 92; she'd lived a full life which included travelling the world as an adventurous and independent nurse before finding love in perhaps the unlikeliest of places; regional New South Wales with a man, my pa, whose sense of place meant he wanted to put down roots and put them down deep. Pa and Gran, as we called them, had two kids — my dad, and my aunty — and they built a home that served as a base for hospitality but also got as close to self-sufficient as a house in town can get. Their veggie patch was a marvel; pa's toolshed well stocked; and the house marked by his little innovative 'fixes' to little problems that arose through the wear and tear of long life in the one place. All of this marked by the ticking and chiming of this clock.
Inanimate objects don't really 'witness' anything; though we might wish they did, so the clock's connection to the life of this house is mostly in the imagination. It's timber has not absorbed the smell of the Anzac biscuits baked fresh for our arrival; the chime does not echo the laughter or words of love spoken around the table or on the telephone that sat next to it; the hands of the clock have not learned to give an embrace that is both warm and safe. But the clock was there for these things and so in some ways it roots me to them; to gran.
One of the nice tactile things about this particular clock (and many like it) is that you have to wind it; its marking of time requires clock work and clockwork. It will run for as long as it is maintained; and were I to stop winding it, one day it too would stop (8 days later, in fact). In this a clock is both like and not like a human body. We cannot perpetually wind our bodies up, nor do we vivify our hands so that we go about our purposes marking time; but there comes a time where the clock stops being wound and we switch off. Gran's death has been the first real opportunity our kids have had to be confronted with death and mortality; and Soph, 6, when we were talking about how gran died summed it up as 'her body just switched off'; which it did. At 92, and even with a pacemaker helping her heart keep time, no amount of winding or retuning could keep gran going; and so her breathing, once as regular as a ticking clock, started slowing and becoming irregular. And then it stopped. But while we're a complex mix of biological cogs and levers, we are not machines. A machine with a careful maintenance schedule and the right parts should be able to run forever; but machines have no soul; no sense of themselves, their purpose, or the lives they touch. Machines do not live and so they cannot die; it's a curious anthropomorphism that we talk about our machines dying. Machines don't die; but people do; it's because our best machines outlive us that we can turn them into family heirlooms and pass them on to new generations. 
It's interesting to consider the changes wrought on the world and how we see it by the simple clock and its clockwork engineering; the ability to measure time with machine like precision, and our ability to observe an intricately integrated and complex machine and make inferences about the workings of the universe… machines disrupt and change the ecosystems they're introduced to; but machines do this without intent or a will. I've long been fascinated by the Luddite movement; an uprising of humans against sophisticated machines that were taking jobs and changing society. I understand the Luddite impulse but I also wonder about the emotions of the creators of those machines as they saw their handiwork destroyed. Those beautiful machines turned into something ugly and pointless… but I wonder if they were more glad that the Luddites took out their anger on the engines not the engineers… machines don't take jobs, machinists do. We tend to anthropomorphise machines — to expect them to have human qualities and to talk about them dying, but the flipside is that we increasingly see the cosmos, and people, in machine like terms; with the rise of clockwork we even started to speak of God as the 'clockmaker' and to imagine him somewhat distantly winding up the universe and then stepping back to watch time unfold; and this means we talk about death in terms of 'flicking a switch' or to see it as a natural end to our life, and the operations or machinations of our body being all there is. We see death as something akin to sand passing through an hour glass, as a natural and normal part of the machine-like universe doing its thing. 
But it isn't.
We see ourselves as cogs within this machine, or as little machines; operating like clockwork, wound up, and now just waiting for the kinetic energy that is loaded up into our bits and pieces to run out so that we expire.
But we aren't.
Machines are not people; nor are people machines. If I took a sledgehammer to my beautiful clock and destroyed it the world would lose something beautiful and intricately crafted; how much more has the world lost with the loss of my gran? Or the destruction of every human body, bodies knit together more intricately and beautifully than a clock? Death is the ugly destruction of something much more beautiful than our most beautiful machines. Machines break, people die. 
On the day gran drew breath for the last time, the Victorian government's lower house passed its euthanasia bill; the word euthanasia is derived from the greek words for good and death, and the pursuit of a 'good death' seems noble. And inasmuch as a death can be good, passing away gently in your sleep, with pain managed via the miracles of modern medicine, at 92, and surrounded by family, gran had a good death. A death that made me appreciate what a service palliative care built on the belief that people have a dignity that sets us apart from machinery can be to our world… But as members of my family gathered to say goodbye as we could, and as my folks and aunty were there when gran drew her final breath in as good a death as you might see, I came to realise there is nothing good about death. There gran lay in her room, with this clock on the wall relentlessly beating away like a metronome, while the rhythm of her breathing faltered and the beat of her heart faded away, and there was nothing inherently good about death; which is why we grieve, and this wasn't simply the mechanical process of a machine being shut down for the last time either. Death stings. We think it's natural because it happens so much — and will happen to all of us — or is happening to all of us. Death didn't begin last week for gran, it began 92 years ago with her birth. It's a lifelong process marked by the passing of time; time which now passes to the rhythmic beating of a second hand on the wall… tick… tock… and if you're lucky to those cheerful chimes that mark every quarter hour, and peal out some extra notes for each passing hour. If you're extra lucky you'll be reminded of your mortality by having to keep winding up that clock every seven days to mark the passing of each week. That's what clocks, especially grandfather clocks, do; they count down towards our death… and they last beyond it.  
And so I inherit a clock, a clock which hung on the wall still ticking as my gran passed into death, still ticking after her heart stopped, which I can't help but see as measuring my days. Inheritances are a funny thing, I've known my whole life I'd be inheriting 'the family clock,' but have not wanted it because to claim it would require the death of the grandparents I loved dearly; first pa, and now gran. A clock that now ticks and tocks, that with careful preservation I too will be able to hand on to another generation of Campbell progeny.
But this clock is not the inheritance I prize most from my gran; the inheritance I most appreciate is one I've been enjoying for as long as I remember, it's more in the realm of the heritage her life (and pa's) has created for our family, and the things she has been passing on to our family. A heritage of good news about the world and about death. A heritage that has both her son and daughter in vocational church ministry (and a grandson and granddaughter), and that extends beyond her line of her family tree to her siblings, and her nieces and nephews (and their kids).
I love the picture of Timothy in the Bible whose mum and grandma raised him with a heritage so that Paul can say Timothy 'has known from infancy the Holy Scriptures' (2 Timothy 3:15), we know it came from his grandma because Paul says earlier: "I am reminded of your sincere faith, which first lived in your grandmother Lois and in your mother Eunice and, I am persuaded, now lives in you also." (2 Tim 1:5). Despite what the euthanasia advocates desires (with good intent), there is no good death, but there is a good word about death. On Friday we'll say goodbye to my gran at her funeral, and I'll be part of giving her eulogy; like 'euthanasia' the word eulogy has greek roots — 'good' 'word' — I have many good words to say about my gran. About her love for us; her generosity; her hospitality; her kind and anxious soul; that she sacrificed much out of love for her family… but I'm most thankful for the good words I inherited from her; good words that give me hope in the face of her death; hope that we are more than machines; hope that means the ticking of the clock which counts down my remaining days on this mortal coil is not just a countdown to me being 'switched off' in the best death I can hope for… I'm most thankful that in these good words I discover good words from my creator about my gran, and about death. Because in the 'good words' found in those Scriptures; in the good news of Jesus; I see that God is not a watchmaker who sees my gran (or us) as wind up toys that will fall over and be discarded. I see that God is a father who looks at my gran as a beloved daughter. I see that God is not distant — that he didn't step back after making a 'machine' but stepped forward into this world, in the coming of Jesus, to destroy death, that he holds all things together (Colossians 1), gives life and breath and everything to each person (Acts 17), and that he promises to step in again — to return and raise the dead — because death is not some natural thing — an end — where we can find a 'good' — death is an enemy to be destroyed.
"Brothers and sisters, we do not want you to be uninformed about those who sleep in death, so that you do not grieve like the rest of mankind, who have no hope. For we believe that Jesus died and rose again, and so we believe that God will bring with Jesus those who have fallen asleep in him. According to the Lord's word, we tell you that we who are still alive, who are left until the coming of the Lord, will certainly not precede those who have fallen asleep.  For the Lord himself will come down from heaven, with a loud command, with the voice of the archangel and with the trumpet call of God, and the dead in Christ will rise first. After that, we who are still alive and are left will be caught up together with them in the clouds to meet the Lord in the air. And so we will be with the Lord forever. Therefore encourage one another with these words" — 1 Thessalonians 4:13-18
This is a good word that God speaks into and beyond the grave. This, more than anything, is something my gran wanted her kids and grandkids to inherit — a heritage — a legacy — and while her physical possessions have been divided up amongst our family so that we might remember her — this above all was her desire and prayer for her family.
On Friday I'll speak some 'good words' about my gran, last Thursday as I said my goodbyes I said some good words to her. I kissed her on the forehead for the last time and said "thanks for loving us so well; but more than that, thanks for loving Jesus." I do not know that I could stand the constant beating rhythm; the tick tock; of my new-but-old clock without this hope. Nor could I face the death of my beloved gran. Or death at all.