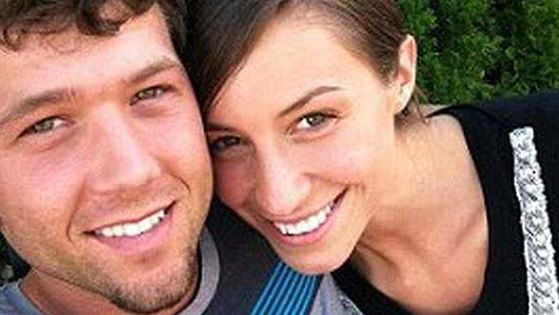 Image: Maryann Kauffman and her late husband Marcus, Source: Lifted from the Courier Mail's Facebook post linked below
Jesus, in his enduringly popular Sermon On The Mount said:
"You have heard that it was said, 'Love your neighbour and hate your enemy.' But I tell you, love your enemies and pray for those who persecute you, that you may be children of your Father in heaven." – Matthew 5:43-45
A few years later while he's dying on the cross – being hated and persecuted while lovingly sacrificing himself for people (which is, itself, a demonstration of this concept), Jesus says:
Jesus said, "Father, forgive them, for they do not know what they are doing." – Luke 23:34
When Christians get it right this is the example we follow. Loving our enemies in a way that demonstrates how God loved us. When this happens, in the real world, it's pretty surprising. Apparently it's newsworthy. Even thousands of kilometres away from events.
The Courier Mail shared Maryann Kauffman's story on Facebook yesterday. Of all the click bait 'fodder' the page served up yesterday, this had the least sensationalised introductory text.
Here's how the Courier Mail billed this particular story:
"MARCUS Kauffman returned home from a church service with his wife Maryann to find burglars in their house. Marcus, 25, was shot in the head and, after nearly three weeks on life support, died. The death penalty is being sought for the killers but his widow wants something else"
Maryann has forgiven them, because she wants to love like Jesus loved. Here's what she said…
"I don't see any exceptions in the bible depending on how terrible the sin is, or how much it hurts me," she went on. "Jesus forgave me, I can forgive them. Thank you all for caring, but please don't feel hate towards them on our behalf. I don't want that, and Marcus wouldn't want that."
Wow. I think this is incredible. Such a powerful demonstration of the counter-intuitive love at the heart of the Gospel. Where God loves those who, in essence, take part in the murder of his son, as we all play our part in humanity's shared rejection of our creator (that's the charge laid against all of us by the Bible and according to how Christians understand the world).
This is the example of Jesus put in to practice in the most horrific of tragedies.
Just in case you want some more heart strings pulled – it's not enough these guys were so clearly in love. Maryann was pregnant when the shooting happened. Their son was born two months later. And Maryann Kauffman has forgiven the people who did this.
And how did Facebook's punters respond to this demonstration of cross-shaped love? It was a mixed bag. A few Christians chimed in with some awkward jargony defences of Christianity. Lots of people expressed sympathy for Maryann. As you'd expect. What surprised me was the vitriolic outrage, and, in particular, the direction of this outrage.
People, real people, were prepared to put their faces and names on horrible sentences, words not directed at the murderers but at Maryann. Nasty stuff. I usually try not to read comments on stories like this. For reasons like this:
"Sounds like she's using jesus to cover up something sinister, there's no way in hell I'd forgive anyone no matter how religious I was"

"Sounds like she organized the murder if she isn't even sad…"

"She is insane.. they killed her husband and she wants forgiveness. ? She cannot love her husband sorry but thats absolutely shocking… yer death penalty I say.."

"they KILLED her husband, how can she even consider forgiveness?"

"She is delusional, Jesus probably appears in her toast"

"Stupid woman, lethal injection is the way to go"

"If it's happened to me, my family. I would not give this scums any chance to survive."

"It may sound noble but if anyone shoots one of my relatives, I would never be able to forgive them, no matter how much it is stressed by a religion"

"There is a reason Christians used to fed to lions!"

Sorry for your lose…but the bible stuff just doesn't cut it with me..If someone shot and killed my wife..I would want them cut to prices…without pain killers . make them really suffer as I am.
Perhaps my "favourite" bits of the vitriol are the bits where people quote the Bible (and various Ancient Near Eastern law codes) to support not forgiving.
"Well im sorry but the society we live in today if you do the crime you do the time end of story . I can understand if someone dies accidentally by your hands then forgiveness may be needed but you enter private property without an invertation armed then use that gun on the owner who is unarmed and protecting his property and family well im sorry but you don't deserve forgiveness you don't deserve to be call a human being you don't have a place in this society.An Eye For An Eye"

"Eye for an eye should be both put to death"

"Eye for an eye is totally just… Forgive them and they will just repeat this heinous crime encouraging others to follow. Its reality and human nature in todays day and age unfortunately"

"Great…..let the Killer off with it to go kill a few more people!!!! I believe the wife is still in shock, not thinking straight right now…. There are many "Christian Opinions" just now…… But read the Bible "AN EYE FOR AN EYE"….. People were stoned to death for crimes much less violent than the CRAZY ARSED PEOPLE AROUND THESE DAYS!!! Serial killers, baby rapists, Pedo's…. AND all at an alarming increase!!!!
The Prisons are FULL these days, the Professionals KNOW these MONSTERS can't be rehabilitated….. Death Penalty hopefully will be brought back soon for the safety and justice of all the MILLIONS of people murdered…."
Jesus uses this "eye for an eye" quote in the Sermon On The Mount – immediately before the quote about loving your enemy. He says:
"You have heard that it was said, 'Eye for eye, and tooth for tooth.' But I tell you, do not resist an evil person. If anyone slaps you on the right cheek, turn to them the other cheek also. – Matthew 5:38-39
This is so counter-intuitive. An eye for an eye appeals to our rights based approach to the world, willingly giving up your rights for people who have wronged you is crazy. But that's the heart of the Christian message. That's why, in the age of the click bait headline (the Courier Mail's Facebook stream is full of clickbaity badness), loving like Jesus doesn't need to be dressed up to be shocking and newsworthy.