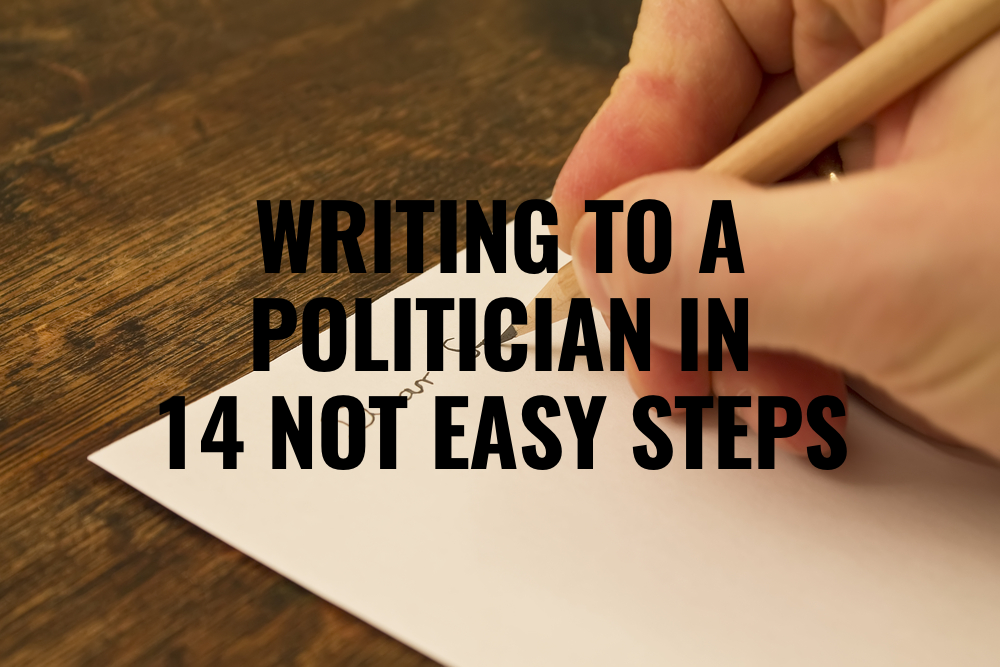 There are lots of good reasons to write to your local member of parliament or the appropriate government minister as a Christian; we have the incredible privilege of being part of a democracy; where each individual and community of individuals is viewed as having an equal say in how our nation is governed, and where individuals and communities should in principle be entitled to participate equally in public life. One way to participate in our democracy is to vote; but our participation shouldn't end there (nor should we think that participating well in a democracy, or the public life of our nation is limited to the political sphere and how we influence our politicians and vote).
There are lots of issues where Christians are passionate about how our government makes decisions, and the decisions they make. In my pre-vocational-ministry life I worked for a not-for-profit advocacy group and one of my jobs was to come up with and coordinate public campaigns that involved getting people to contact politicians to ask for things (like V8 Supercars races, significant transport infrastructure, or various election commitments); I've put some thought into how the principles for that sort of letter or advocacy translates into how I participate in our democracy as a Christian; and here are my thoughts, please note, there are other ways to skin a cat, how you participate is up to you, and some of this advice is more oriented at what writing a letter should do to you, not just to the recipient, so it might actually end up not being the most effective way to secure a result because there are certain types of persuasion or argument that are no go areas for Christians (manipulation, and or power-grabs run counter to the Gospel).
Communication is always an act of some sort from a communicator to a recipient with the aim of achieving some outcome (understanding and action). It's helpful to approach writing a letter thinking about each of the elements of this equation and how they relate.
If communication feels easy (as easy as belting out a letter when you're angry about something, or signing a petition feels) then you're probably doing it wrong. To make these steps as not easy as possible I've also linked to some interesting political theology stuff that you could grapple with if you want to make it even harder to write a letter that doesn't cost you anything.
So here's 14 difficult steps to take when writing to your local politician or the relevant minister.
1. Remember the humanity of the person you are writing to; our politicians should be afforded the same dignity that anyone made in God's image is afforded, and are every bit as human as those we advocate for.
So be gracious and charitable.
Nobody wants to be berated, especially if they feel misunderstood or misrepresented. Don't make the mistake of dehumanising the person you are writing to because what they're doing —even if it is dehumanising other people — is making you angry. You're also less likely to persuade someone if all you do is bang them on the head.
2. Remember to listen well so that you represent and are engaging with the best picture of the person you are writing to and their motivation. If you want to be understood, practice understanding.
So don't engage with a caricature or simply put forward your own view of reality; take seriously the best and most loving explanation offered by the people you are engaging with and explain how you feel the reality might be different.
3. Remember the complexity of politics, and that you're not always across all the factors in a decision. Don't always assume a politician is operating out of self-interest, or a hunger for power, or for an evil ideology (but know that these might be factors in their heart as well as in your own).
So be wise and humble.
4. Remember that a politician is someone who has entered that complexity to 'get their hands dirty' and work to a particular vision of what life in our 'public' should look like.
So offer an alternative vision and be prepared to be part of the solution you offer.
It's easy to tell politicians to fix our problems — especially complicated ones — if we stand apart from the solution. It's easy to be idealistic if we stay pure and detached from the business of compromise and the necessity of governing for and representing people who aren't exactly like us. Politics, especially democracy, involves the compromise of ideological purity; so we need to be prepared to give and take in order to work towards better outcomes; not in a way that stops us articulate the 'best' outcome, but in a way that shows we know change requires staying at the table with people we don't agree with and working with them.
There's certainly a time when we need to, as Christians, say we will not participate in evil simply because it is a way to work towards good outcomes; but we also need to realise that working towards good outcomes starts with our actions, but also includes the incremental progress that comes from co-operation and compromise with people we disagree with.
This is really tricky, and where political stuff requires wisdom and grace. There's a great piece by Michael Walzer called Political Action: The Problem of Dirty Hands that is worth reading and grappling with; one of the implications of his piece might be that your action shouldn't start and stop with letter writing, but include volunteering for your local MP, or joining a party, and working towards improving things from within the system. If you're not going to do that, you should at least recognise that being part of the system brings a cost in itself.
5. Remember that politicians (and their staff who will probably have to read your letter and decide what to do with it) are busy.

So keep things short and to the point; don't waste their time.
People who get these letters say anything over a page won't really be read, and suggest around 500 words; it's hard to get all this stuff into 500 words… but that's ok, because I think part of the value of letter writing is about what it does to you as a sender as the act of communication shapes you and points you to a particular course of right action… but you don't want to waste someone's time, so keep things as short and punchy as you can, and put the important stuff first so they don't have to get to the end to know what you are asking.
6. Remember who you are (as a Christian); an 'exile' who belongs to the kingdom of heaven but who is called to love your neighbours and use whatever power you have for the sake of others not yourself.
So don't try to play a power game by lobbying or speaking out of self-interest.
It's not our job to sell a decision based on the votes in it; but on the basis of its inherent goodness for our neighbours (including our politicians). We have a role to play by speaking with a 'prophetic voice' which I think is a voice that calls people back to the goodness of God and his design for humanity as we see it in Jesus.
7. Remember that the ultimate good you stand for, for both the politician and the public is tied up with the kingdom you belong to.
So articulate the virtues and values of this kingdom and offer them as a better alternative to the values and virtues put forward by whatever it is that has prompted you to write.
It's ok to talk about Jesus in talking to the secular state; it's a massive misfire not to because the ideal secular state provides space for all 'religious' or 'political' views as much as possible; it's not our job to find common ground between religions, that in many respects, is the state's job (though we do need to model what this looks like in our relationships with other religious views, including affording space and 'representation' in our laws to views that say religion is irrelevant to public life).
8. Remember that politicians make decisions based on what is best for other people; first the people they're called to represent. Make your correspondence about (these) people (and you are one of them).
So show why what you're saying — including the Gospel — is better for the people our pollies are representing.
We have to show our representatives why they should care about the people effected by their decisions, but also how their decisions will effect all of us in a positive or negative way. It's a mistake to buy into the idea that the only goods for our people are security or economic prosperity. Virtue formation is a good end in itself.
It's actually possible to argue that acting completely out of something other than self-interest is actually good for our society; we don't need to frame our advocacy as being good for people in any way other than that it is a call for us to do good. Doing good is its own reward. My friend Luke Glanville wrote this great (journal) article called Self Interest and the Distant Vulnerable that is worth a read on this, I especially liked this bit of John Donne that he quotes:
"No man is an island, entire of itself; every man is a piece of the continent, a part of the main; if a clod be washed away by the sea, Europe is the less, as well as if a promontory were, as well as if a manor of thy friend's or of thine own were; any man's death diminishes me, because I am involved in mankind, and therefore never send to know for whom the bell tolls; it tolls for thee"
9. Remember that as a Christian you have a view of the state and its relationship to God's plans and purposes (whether the state is an unwitting participant in God's judgment or an agent of the common good who restrains evil), and that your ultimate calling is to love and pray for those in authority.
So don't just write to our politicians. Pray for them and be a good neighbour to them.
And tell them you are not to make yourself look Holy (which almost inevitably would make you a hypocrite), but because this is what you are called to do by God. And ask them how you can pray for them; demonstrate a commitment to relationship, and also a belief that their role is one ordained by God so that you'll respect and submit to them as an act of obedience to him. If letter writing isn't part of some commitment to a relationship to your representative, and our shared public (our neighbours), then don't do it; or at least search your heart as to why you are…
I urge, then, first of all, that petitions, prayers, intercession and thanksgiving be made for all people — for kings and all those in authority, that we may live peaceful and quiet lives in all godliness and holiness. This is good, and pleases God our Saviour, who wants all people to be saved and to come to a knowledge of the truth. — 1 Timothy 2:1-3

Submit yourselves for the Lord's sake to every human authority: whether to the emperor, as the supreme authority, or to governors, who are sent by him to punish those who do wrong and to commend those who do right. For it is God's will that by doing good you should silence the ignorant talk of foolish people. Live as free people, but do not use your freedom as a cover-up for evil; live as God's slaves. Show proper respect to everyone, love the family of believers, fear God, honour the emperor. — 1 Peter 2:13-17
10. Remember that every interaction is a Gospel opportunity and that ultimately it is the Gospel that shapes what you're asking for and it's ok to say that; that our democracy is best served by hearing a 'Christian' voice, not a 'one size fits all natural morality' voice.

So show how your position is a Gospel position and invite people, including the politician you are writing to, to adopt this position by adopting the Gospel; or at the very least to see how your position is part of the practice of your religion and occurs within a community or 'social institution' apart from the state.Paul seemed pretty happy, when he was on trial, to attempt to convert those sitting in judgment over him (Read Acts 24-27).
"Then Agrippa said to Paul, "Do you think that in such a short time you can persuade me to be a Christian?"Paul replied, "Short time or long—I pray to God that not only you but all who are listening to me today may become what I am, except for these chains." — Acts 27:28-29
In a democracy every issue is, in some sense, a trial of competing ideas and our lawmakers are our judges. If you're going to take an opportunity to speak truth to power, why not also speak the truth to power; part of belonging to God's kingdom includes belief that the best thing for them (as our neighbour) and for our other neighbours whom they represent is that they come to know Jesus. It's interesting, and not irrelevant, that almost all 'prophetic ministry' in the Old Testament involved God's spokespeople calling foreign powers to repent by turning to God (eg Jonah); and that when a leader in a culture like this turned, it turned the whole country to God; our western individualism (and our reformed emphasis on salvation as an individual thing) makes this seem less significant; but, you know, read about the Emperor Constantine and the impact of his conversion and Paul doesn't seem so silly (except that sometimes Christianity gets co-opted as a means to wield worldly power).
11. Remember that ethical speech isn't free; it's costly and obliges you to a particular sort of action.
So love with actions; not just words.
There's a tendency to reduce our participation in the democracy to token activities – like voting (which for many years in many places involved putting your 'token' into a particular place to indicate your support), or signing a petition, or writing a letter, and worse, to showing that you're much better and more ethical than the politician because you've done this token thing. This is a particular danger for the left; it seems, in part because often the left turns to the state to solve problems and be an ethical guide, so it is their job to fix stuff. Tokenism is perhaps better than nothing, but it certainly isn't better than getting your hands dirty and trying to change the situation by acting.
When people were writing textbooks about ethical persuasion in the early years of democracy (in the Roman Republic, or in an attempt to take the Empire back to the Republic) they'd often (think Plato, Cicero, etc) write big books on the ideal politics (eg Plato's Republic or Aristotle's Politics), on the ideal orator or person (eg 'Rhetoric' or Cicero's De Oratore); these guys almost universally connected the character or ethos of a persuasive participant in the political realm with the arguments they'd need to make to persuade people. Words don't exist apart from actions in the ethical and persuasive political life. This is certainly true for Christians; Paul's life, suffering, and chains, were part of his persuasive presentation of the Gospel, and there's this bit from John which I think should guide how we seek to love our neighbours:
" This is how we know what love is: Jesus Christ laid down his life for us. And we ought to lay down our lives for our brothers and sisters. If anyone has material possessions and sees a brother or sister in need but has no pity on them, how can the love of God be in that person? Dear children, let us not love with words or speech but with actions and in truth." — 1 John 3:16-18
12. Remember that not all solutions to complex issues are political, and if you want your letter to be more than empty tokenism you need to be acting already, or committed to public action apart from the political solution you are seeking.
Before you write, ask yourself 'is there anything I could already be doing, apart from this politician to address this problem and bring about the change I'm looking for'… then if you're not doing that, start doing it before you write.
If there is something you could be doing, and you're doing it, that'll also make your voice worth hearing because of the logos-ethos nexus; true persuasion starts with your character and actions, not your words… but true participation in the public starts in the public realm and with what is already possible, not just in what you would like to make possible.
Laws provide a floor, ethics provide a ceiling; sometimes the law gets in the way of good solutions, and that's where I think we should be particularly engaged as ethical agents in a democracy. This will also keep you from the tokenism of the left, and from the weird assumption that it's your representative's job to fix things, not yours, or ours together.
It's a mistake of modern life to assume that every issue is the state's issue to solve; and that political solutions are the ones we should devote our energy to… Christians buy into this often when we assume our real fight begins and ends with the law's approach to something like gay marriage or abortion, such that we've lost if the law doesn't represent our view, or that winning looks like overturning a law. This is a failure to really imagine what we can do in the world apart from politics, and an accepting of a status quo view that only really serves the interests of the 'ruling class' or the political establishment. It's also boring and depressing.
James Davison Hunter has some really good stuff for how we should think about this politicisation of everything as Christians in his book To Change The World, while this article 'Killing For The Telephone Company' by William Cavanaugh explores the issue further and includes this cracker of a quote from Alisdair MacIntyre about the danger of having no institutions but the state, and having the state be in control of all aspects of public life (and so deciding what is ethical or what the good and flourishing life looks like).
"The modern nation-state, in whatever guise, is a dangerous and unmanageable institution, presenting itself on the one hand as a bureaucratic supplier of goods and services, which is always about to, but never actually does, give its clients value for money, and on the other as a repository of sacred values, which from time to time invites one to lay down one's life on its behalf… [I]t is like being asked to die for the telephone company." — Alisdair MacIntyre
13. Remember politics, and the job of the politician, is about more than the issues you disagree on, and about more than crisis management.
Why not sometimes write encouraging and thankful things to politicians; perhaps especially to those you are most inclined to disagree with or oppose.
14. Remember that the Gospel — the story of God drawing near and becoming flesh — is one that values face to face relationships over the distance. The best communication breaks down distance to bring people together.
So work towards that in your writing… seek to meet with your local MP in person and work towards a longer term relationship.

Our communication often reinforces the distance between us and the people we are trying to communicate with; physical presence breaks that down. All communication between two separate people is 'mediated' but some mediums are more distant (in terms of both time and space) than others; and this distance in space and time makes the distance between us feel bigger… when we're face to face our communication is immediate, proximate, and personal. Face to face communication with all its non-verbal goodness helps you do communication better and to listen to, love and understand the person you are speaking to better.