This is brilliant.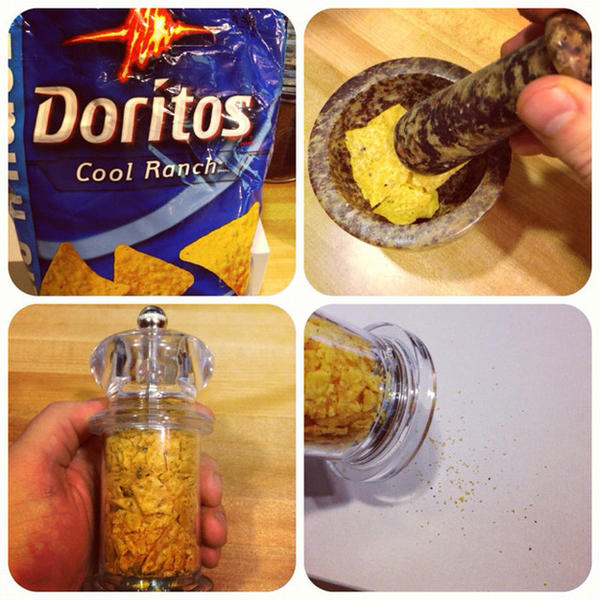 Via @Buzzfeed
There must be other foods this works for…
Modernist Cuisine brought the art and science of food together beautifully in the pursuit of the perfect burger.
I want to try one. But wow. So complex.
Rather than posting all of these separately, here are some food related stories I currently have in my queue of stuff to blog.
Peel garlic in 10 seconds
I want to try this. It's amazing.
How to Peel a Head of Garlic in Less Than 10 Seconds from SAVEUR.com on Vimeo.
Make your own marshmallows
Serious Eats has a quick run down on making marshmallows.
I had no idea it was this easy. I probably should have. I know plenty of people who have made marshmallows – but the home made version has never really struck me as being as good for toasting, or putting in hot chocolate.
Make a biscuit bowl
This has been doing the rounds – but it seems so much smarter than trying to make a bowl in the inside side of a muffin tray…
Wilton.com has a recipe for biscuit bowl success.
Cheeseburgers at home
Maybe it was self discipline, maybe I just forgot – but I didn't take advantage of the amazing $1 cheeseburger happy hour deal that McDonalds was running as a birthday celebration.
Lifehacker tried to figure out how much it would cost to make a cheeseburger at home. They calculated the cost at $1.38. That's a cheap lunch.
Some "Babushka" knives
These don't just look cool – they're conceptually cool in their use of Fibonacci ratios.
Details on Design Sojourn. You can buy 'em for millions (well, hundreds) on Amazon.com

.
So you're holding a Viking themed party, but don't know what to cook. That's a dilemma. You could cook some beancakes. Yum.
Here are the ingredients.
broad beans, in their pods
stoneground flour
goats milk
honey
optional: hazelnuts and linseeds
If that doesn't excite you then get on board the history train and find something that does. There are dishes from prehistoric time through to today.
Serious Eats may have shown us how to build a better Big Mac at home. But what would happen if a string of fancy pants restaurants had the opportunity to turn the iconic burger into something, well, a little bit fancy (a la Fancy Fast Food).
The Challenge
"We asked four chefs to turn a Big Mac combo (burger, fries and a Coke, plus lots of condiments) into a five-star dish. To our surprise, they agreed. The only rule: other than oil and water, no extra ingredients allowed. The result is four meals that won't be seen on a specials board anytime soon."
The Results

Local Kitchen's McLumi Platter
"It took chef/co-owner Fabio Bondi three tries to get this dish right. He made mortadella (an Italian cold cut) out of emulsified patties, lettuce, onions and sweet-and-sour sauce. But when he poached the sausage, it exploded. The same thing happened when he put it in a hot pan. In the end, he prepared it in the restaurant's backyard smoker. The buns were toasted and made into crostini (the sesame seeds were mixed with ketchup to resemble mostarda, a fruit and mustard condiment). The nodini (bread knots) were made from fries."

Aravind's Open-Faced Samosas
"Father-and-son team Raj and Aravind Kozhikott wanted their creation to reflect their restaurant's Indian cuisine. To make the samosa filling, they diced the meat, mixed it with the onion and used barbecue sauce as a binding agent before wrapping it in two rolled-out-and-fried burger buns. The fries were bundled up using strips of a cut-up fry box. The cheese from the burger was scraped off the patty and used as a sauce."
There are a couple more here at The Grid, and some behind the scenes info about the project here.
There's a robot for that. In the day an age of every intangible calculation being performed by an iPhone app, it seems fitting that there are also robots for almost all tangible activities. I for one welcome our technological overlords.
Some very useful photography tips, not just food photography tips, from Serious Eats here (there's a Serious Eats cook book coming out at the end of the year – fantastic news, it's available for pre-order on Amazon

).
I take a lot of food photos, more coffee photos though… for my coffee blog. Here are my tips.
1. Buy an iPhone.
2. Download Instagram.
3. Take a photo of your food with Instagram from a cool angle.
4. Choose a filter.
I need to get me some of this…
The other day, over at thebeanstalker.com (my coffee blog, read it, click some ads – I make money), I did a little experiment with coffee and beer. I bought a proper coffee beer and made my own. It was science. Tastebud stretching science. I like beer. Nothing beats it on a hot summer's afternoon. I also like marshmallow. And chocolate. But I'm wondering if chocolate-coated beer-marshmallows is taking things a bridge too far (though coffee beer probably is too). Why not just enjoy all these things separately…
But they look so good.
And here's how to make them. To whet your appetite – here are the ingredients from this recipe.
Chocolate-Dipped Beer Marshmallows with Crushed Pretzel Garnish
Makes 18-22 marshmallows, depending on how you cut them

For the Bloom:
1 1/2 tablespoons (just under 1/2 ounce) unflavored gelatin
2 teaspoons vanilla extract
1/3 cup (2.5 ounces) flat dark beer

For the Sugar Syrup:
1/4 cup (2 ounces) flat dark beer
1/2 cup + 2 tablespoons (5 ounces) corn syrup or sugar cane syrup
3/4 cup (6 ounces) granulated sugar
pinch salt

For Coating and Topping
10-12 ounces milk chocolate
2-3 teaspoons canola oil, optional – for thinning the melted chocolate
1/2 cup stick pretzels
I love duck. If it's on the menu at a restaurant, and I'm not paying, I'll order it every time. I was thrilled, last time I was checking out the meat section at Coles, to find whole ducks for $17.99. I bought one. Tonight, I cooked it. Duck a l'orange style. That's how I'm spelling it anyway. I mostly followed this recipe here, but I made a few additions.
It was spectacular. I served it with roasted baby carrots, potatoes and garlic.
Here are some grainy iPhone photos.
I was a little surprised to unwrap the duck to find the neck still attached.
I salted the skin and pricked little holes in it (following that recipe) to let the fat drip out during cooking.
This was my little tray of veggies.
Here's the duck after an hour. It took about three and a half hours to cook.
The sauce was orange juice (squeezed by hand, with a fair bit of pulp), roughly a cup of moscato, a spoon full of orange marmalade, and some of the duck fat. I reduced it a fair bit, basically until it was a syrup. I cut a couple of slices from the middle of each orange to make my candied orange garnish (one of my additions).
I tipped a few lid-fulls of castor sugar (from one of those CSR bottle things… I think they're CSR bottles) into a fry pan with a dash of water, and let it heat for a little while. Then I dropped my orange pieces in and tried to caramelise them. They ended up tasting a bit like marmalade and being a nice sticky texture. Perfect.
This sauce had been sitting for a while (as I finished off the veggies) a quick stir settled the oil (from the duck juices) back into the orange syrup. Delicious.
If I could take my perfect food holiday it would be to travel the world visiting restaurants with eating challenges… well, not really. But if that's your dream getaway here's a compilation of some of the best and biggest in the category.
The Bull Burger

"This massive burger contains 2-½ pounds of hamburger, four slices of cheese, four slices of bacon, lettuce, tomatoes, onions, pickles, mayo, mustard and French fries. Complete this challenge in 30 minutes and you'll see your photo on the Bull Board, a T-shirt and your burger for free."
Red Devil's Pizza

"Finish a 28-inch pizza between two people within a half hour. Finish the pie and receive a gift certificate for two additional 28-inch, four-topping pizzas and Red Devil Pizza merchandise. After every 20 winners, there will be a drawing for a $500 prize."
Mt Olympus Burger

"You and three friends can try to mount the 50-pound Mt. Olympus Burger in three hours. It's free if you finish."
More here.
Have you ever looked at the colour of your carrots, peas, or corn and thought "gee, that would make a great crayon?" To be honest, I haven't either. But I'm still enamoured by this concept – crayons made using food. And they're edible.

Nice. From Luxirare.
I love Overthinking It. They truly raise the stakes of analysis to amazing levels. Take this post on sandwiches. It opens with a rather spectacular chart of the relationship between ingredients and preparatory skill.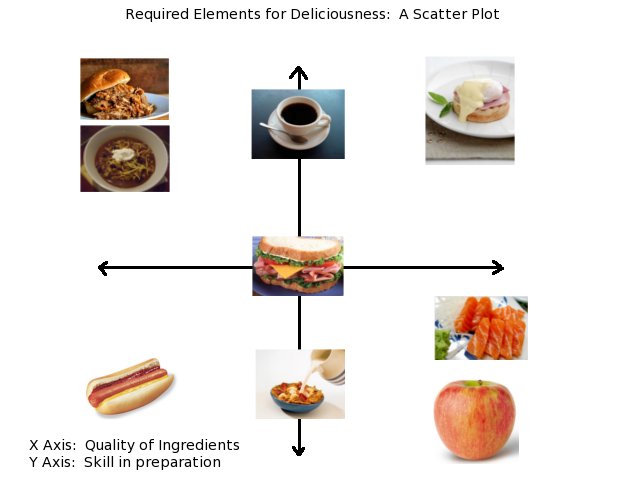 They also get points for knowing about coffee.
Coffee is in the top middle. The ingredients do matter here, some, but not nearly as much as the preparation. It's very easy to take some high-end small-batch free-trade shade-grown hand-roasted Ethiopia Harrar, and turn it into something that tastes like cat piss by messing up the brewing process. Its opposite number is breakfast cereal. This is all but impossible to screw up: your culinary experience is determined entirely by which brand of cereal you buy…
But it's their take on sandwiches that really deserves to be considered.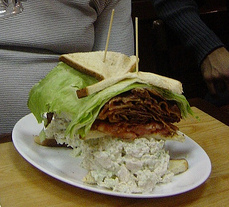 The atrocity at left [above]  is the "Bacon Whoopee," available at the Carnegie Deli for a mere $22.  As a bacon-delivery vector, this is superlative.  As a sandwich, it is completely incompetent.  A properly calibrated sandwich is all about balance.  It is an exquisitely tuned chord.  Allow any one element to overwhelm the others, and the sandwich is ruined.  Ruined!  You need to be able to taste every component.  At the Carnegie Deli, this is not going to happen.  This is also the problem with the sandwiches at Subway.  It doesn't really matter what you order at subway:  they basically all taste like the bread, with a little crunchiness from the lettuce.  (This is why when I have to eat at Subway, I just get the vegetarian sub.  It tastes the same, and it's cheaper.)
The solution… summarised.
Cheese: The slices should be very, very thin, and no more than two layers… If you want more cheese, don't put the layers next to each other. I list cheese first because it's the sandwich's limiting factor.

Meat: About two to three times the size (by thickness) of your cheese layer. Thin slices are important here too: this is the one thing that the standard deli sandwich gets right. But it's not so much because of the flavor. It's because a thick slice of meat is hard to bite through…

Lettuce, Tomatoes, Pickles, Cucumbers, and the like: The combined [vegetable] layer, though, should be exactly the same size as the meat layer. Obviously if you're using something very strongly flavored… you want to use less…

Condiments: Less than you think… Spread thin, using just enough to moisten the surface of both slices of bread, and let it go. Grinding a some fresh black pepper onto the bread after you apply the condiments is often a nice touch.

Bread: …firm enough to hold the sandwich together… not be so coarse as to scratch the roof of your mouth. The two slices, together, should be about the same thickness as the meat layer…
The three/ten/180 second rule is hotly debated. Just how long can food sit on the ground before you eat it? According to the doctors it's not a long time (if you're worried about bacteria transfering from surface to surface). But who listens to doctors anyway.
Here's a handy flow chart that'll help you know when to hold it, know when to fold it, know when to walk away and know when to run. I found it here.